Biography
Childhood & Early Life
Anu Prabhakar was born on Sunday, 9 November 1980 to M V Prabhakar (Father) and Gayathri Prabhakar (Mother) an Actress and Dubbing artist in Bangalore, Karnataka. She has a brother Vikram Prabhakar.
Her father was from Mangalore but brought up in Dharwad, his father had a hotel in Dharwad, her mother is from Bangalore, Anu was born & brought up in Bangalore, where her parents were based.
Her mother Gayathri Prabhakar is a popular TV Serial, Movie actress, she has lent her voice to actresses in more than 100 movies.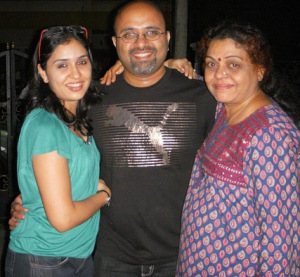 Anu prabhakar with mother Gayathri Prabhakar and brother Vikram.
As a kid she wanted to be an Air hostess.
Education:
High School: She completed her High School from Nirmala Rani High School in Malleshwaram.
College: She dropped out of her college to take up acting as a fulltime profession.
Graduation: Later in life she completed graduation in Sociology course from Karnataka University, securing a good 70% of the marks.
M.A: She recently completed Masters in Sociology.
PhD: She is contemplating a PhD, for now though busy with the work at hand.
Anu thanks her Uncle, Cousin sister & her mother for pressing her to continue her education.
Film Career
Being brought up in an artist's family made it easy for her to get into films.
As a Child Artist: She started her career as a child artist in the film Shanti Kranti (1991) alongside V. Ravichandran, Ramesh Aravind & Juhi Chawla, the film was directed by V Ravichandran himself.
As a Lead actress: She made her debut as heroine in Hrudaya Hrudaya(1999) opposite ShivaRajkumar, it was directed by M S Rajashekhar.
She has acted around 50 Kannada movies and some Tamil movies so far.
Her roles in movies like Shaapa(2001), Shreerasthu Shubhamasthu(2002), Vishalakshammana Ganda(2001), No. 73, Shanthi Nivasa(2007) made her well know throughout Karnataka.
TV Career
She has appeared in Some of the TV reality Shows like:
Bale Bangara: A game show for housewives
Shrimati Karnataka
Home Minister: A show where she visited numerous homes talking to Housewives
Autograph Please
And has been part of TV serials like:
Manju Musukida Haadi
Nooru Dinagalu
TRIVENI SANGAMA: An upcoming horror serial on Star Suvarna.
Marriage & Personal Life
First Marriage: Anu Prabhakar was married to Krishna Kumar, Son of famous Kannada actress Jayanthi from 2002-2014, after her separation she stayed alone for a while.
Second Marriage: Raghu Mukherjee, a fellow Kannada actor and Model & Anu were friends for a long time, Raghu & Anu were brought together by the mothers of the duo. Raghu's mother Rathna & Anu's mother Gayathri had become friends & they pushed the couple into thinking about Love & marriage. The couple were hesistant at first because of their experiences from the previous marriages.
Raghu was divorced at that time from his first marriage with Bhavana. They kept their relation private for a while, they finally tied the knot on April 24th 2016 in a private ceremony at Yelahanka attended by a few close friends & well wishers.

Anu prabhakar marrying Raghu Mukherjee
S Narayan and Pawan Wadeyar were among the friends from film fraternity to attend the event.