Biography
Ravi Belagere is a Kannada writer, Journalist, anchor & story writer known for his weekly paper "Hi Bangalore", a magazine for the young "O Manase", and for his appearances on TV & films.
Childhood & Family Life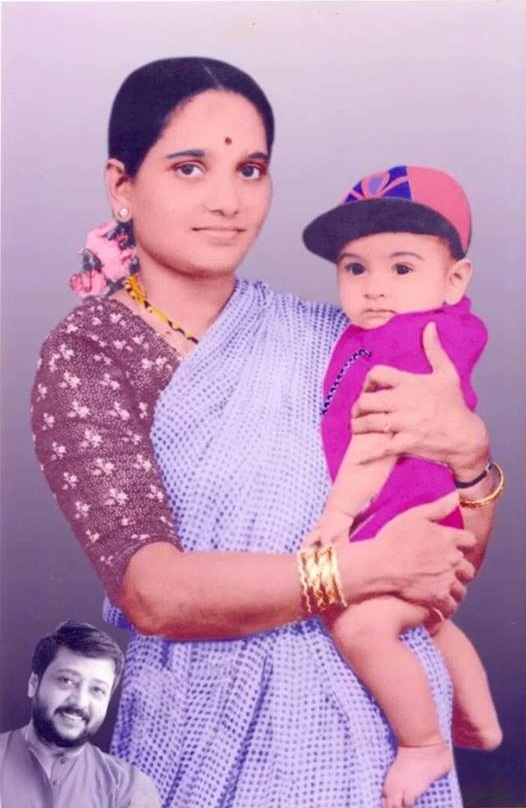 Ravi Belagere in Childhood with Mother Parvathi
Ravi Belagere was born on 15 March 1958 in Ballary, Karnataka to Parvathi (Mother).
Education: He studied in Tumkur Siddhaganga high school for couple of years. He studied masters in History & Archaeology from Veerashaiva College, Ballary, later took Journalism as profession as it appealed to him.
Marriage- Family: He is married to Lalitha(wife) with whom he has three children, two daughters & a Son. Chethana Belagere is his first daughter. Bhavana Belagere is his second daughter, she is married to Kannada actor Srinagara Kitty & is involved with films. Ravi Belagere's last child (from first marriage) is a son named Karna. He has two granddaughters Guddi and Chukki.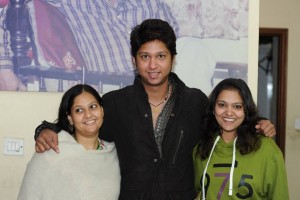 Ravi Belagere Children: Daughter Chethana, Son Karna & Bhavana (from Left to Right)
Second marriage: Ravi Belagere is married to Yashomati, a colleague at "Hi Bangalore" office, they have a son named Himavanth. Ravi Belagere isn't divorced from his first marriage. He is married to both.

Ravi Belagere with Wife Yashomati & Son Himavanth
Life & Career
He worked as a lecturer of history in Ballary, Haasan & Hubli for some time before moving to Bangalore in search of a future in writing.
In his days of desperation he has worked as a room boy, receptionist, newspaper boy, milk seller, Medical representative, Printing press owner, Theatre gate keeper and so on.
His paper Hi Bangalore, changed the way people looked at news, he revolutionized the industry, till date it stands out as the most successful Kannada weekly. After establishing himself as a Journalist & Writer of many best sellers in Kannada he ventured as the editor of a magazine "O Manase" aimed at the difficulties and troubles of Life, especially the young people, it too was an instant success from the beginning.
Crime Diary on ETV Kannada: Crime Diary was a crime investigation show aired on ETV Kannada, narrated by Ravi Belagere.
Murder Attempt: A gang of eight members tried to attack him in Harapanahalli, Davanagere for writing an article on the Gold exchange crime gang. Ravi Belagere fired in defense and was unhurt, one of the gang members was hurt in the leg.
School in Bangalore: Ravi Belagere runs "Prarthana School" in South Bangalore a donation free school started in 2002. A school dedicated for excellence in education, the strength of school exceeds 6500.
Book Shop in Gandhi Bazaar: He has recently opened a book shop in Gandhi Bazaar named "Belagere Books & Coffee."
Controversies
Spat with Prathap Simha& cricisim of Vijaya Karnataka: Ravi Belagere made a derogatory comment on Vijaya Karnataka writer Prathap Simha, now the M.P of Mysore-Kodagu district. This lead to the resignations of the editor in chief Vishveshwara Bhat, Prathap Simha & Others.
Prathap Simha hit back at Ravi Belagere with a series of his own writings on his website. The spat continued for a while as each wrote articles on each other.
Extra-marital relationships: A magazine named "Duniya" printed a Love letter alleging it was written by Mr. Ravi Belagere to a girl of 22 begging for Love. The editor wrote an article later informing that his team received calls from many girls that at some or other time had relationship with him & wanted to share that. There was no police involved and nothing is officially known clearly.
Copyright issues: Ravi Belagere was angry with the producers of the movie "Bheema Theeradalli", the movie is based on a real life incident on which Ravi Belagere has written a book, he alleged that the story has been ripped from his book without his approval. A similar issue was raised when the movie OM was released.
Works of Ravi Belagere
1980: Daari (Path) (Collection of Stories)
1983: Agin Kavya (Collection of Poems)
1983: Golibaar (Novel)
1983: Vivaaha (Marriage) (Translation)
1984: Nakshatra Jaaridaaga(When Star Slips) (Translation)
1990: Arti (Novel)
1991: Pyaasa(Thirsty)(Biography)
1991: Rajeev Hathye Yekayithu? Hegayithu? (History)
1995: Pa. Vem. Helida Kathe (Collection of Stories)
1995: Paapigala Lokadalli Part-1
1996: Mandovi (Novel)
1997: Khasabath 1996(Biography)
1997: Paapigala Lokadalli Part-2
1997: Khasabath 1997(Biography)
1997: Khasabath 1998(Biography)
1998: Lavalavike 1
1998: Maatagaathi (Novel)
1998: Mysore Serial Killer Raveendra (Murder mystery)
1999: Omerta (Novel)
1999: Himalayan Blunder (Translation)
1999: 17 Day war in Kargil (War Story)
2000: Company of Women (Translation)
2000: Sarpa Sambandha (Novel)
2000: Sanjaya (Biography)
2001: Ottaare Kathegalu (Collection of Stories)
2001: Timepass (Translation)
2001: Bheema Theerada Hanthakaru (Gangster History)
2001: Keli (Collection of Articles)
2001: Paapada Hoovu Phoolan (Biography)
2002: Muslim (War Story)
2002: Bottom Item Part 1 (Collection of Articles)
2002: Indireya Maga Sanjaya (Life Story)
2002: Raja Rahasya (Translation)
2003: Heli Hogu Karana (Novel)
2003: Gandhi Hathye & Godse (Life Story)
2003: Nee hinga nodabyada Nanna (Novel)
2003: Khasabath 1999 (Life Story)
2003: Khasabath 2000 (Life Story)
2003: Bottom Item Part 2 (Collection of Articles)
2004: Lavalavike Part 2
2005: Godfather (Translation)
2005: Black Friday (Translation)
2005: Paapigala Lokadalli (Crime)
2006: Bottom Item Part 3 (Collection of Articles)
2007: Diana (Biography)
2007: Hanthaki I Love You (Translation)
2007: Baba Bedroom Hathyakaanda (Investigation)
2007: Khasabath 2001 (Life Story)
2007: Reshme Rumalu (Translation)
2007: Manase (Audio CD)
2008: Khasabath 2002 (Life Story)
2008: Chalam (Biography)
2008: Dangeya Dinagalu (Translation)
2008: D company (Crime)
2009: Neena Pakistana (War)
2009: Avanobbanidda Godse (History)
2009: Major Sandeep Hathye (War)
2009: Lavalavike Part 3
2009: Bottom Item Part 4 (Collection of Articles)
2009: First Half
2010: KamaRaja Marga (Novel)
2010: Anil Lad Matthu Nalavattu Kallaru (Novel)
2011: Bottom Item Part 5 (Collection of Articles)
2011: Lavalavike Part 4
2011: Khasabath 2003 (Life Story)
2011: Khasabath 2004 (Life Story)
2011: Bottom Item Part 6 (Collection of Articles)
2012: Kanase (Audio CD)
2012: Udugore (Selected Writings)
2012: Himagni (Novel)
2012: Olave (Audio CD)
2012: Amma Sikkidlu (Novel)
2012: Kalpana Vilasa (Biography)
2012: Khasabath 2005 (Life Story)
2012: RangaVilasa Bangaleya Kolegalu (Crime)
2012: Idu Jeeva, Iduve Jeevana (Biography)
2012: Pramod Mahajan Hathye (Translation)
2013: Enaythu Magale (Life Story)
2013: Bottom Item Part 7 (Collection of Articles)
2016: Aatma (Novel)
2016: Bottom Item Part 8 (Collection of Articles)
2016: Samadhana
2016: Khasabath 2006 (Life Story)
2016: Raj, Leela Vinod (Biography)
Awards won by Ravi Belagere:
1984: Karnataka Sahitya Academy Award for translation of Vivaha.
1990: First Prize in Masti Story Competition for Vandya.
1997: Karnataka Sahitya Academy Award for Pa. Vem. Helida Kathe (Colelction Of stories)
2004: Shivarama Karantha Award for the novel "Nee Hinga Nodabyada Nanna"
2005: Computer Excellancy award for his school from Central Govt.
2008: Karnataka Medium Academy Award for Lifetime achievement.
2010: Rajyothsava Award
2011: Kempe Gowda Award.