Biography
Shalini Satyanarayan is an Indian TV & movie personality. She first became famous for her Comic role in the TV serial Papa Pandu.
Personal Life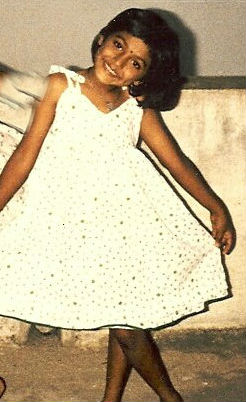 Shalini childhood photo
Shalini was born in Bangalore to Sathyanarayan (Father), she was working in a private company for a while before moving into TV.
She is married to Anil Kumar & has a cute daughter named Aabha, fondly called Dimpu as well.
Education: She studied at Mary Immaculate Girls' High School, Bangalore

Shalini family- Husband Anil, Daughter Aabha
TV Career
Her first breakthrough came from Papa Pandu, a comedy serial aired on ETV Kannada, the show was about the plight of an innocent husband suffering under his strong wife, the serial captured the audience for its humor.
She has appeared in many TV shows after that. She was part of "Nati Mani" a cooking show specializing in traditional cuisine aired on Udaya TV.
She was part of the comedy show called "Comedy Circle", in which she became the leading personality after Arun Sagar had to stay away because of his schedule, the show was a delight to watch.
She was a participant in the Dancing Star 3 , a celebrity dance competition on Colors Kannada. She was quite good with her movies, and was an inspiration to watch.
Chinnara Chilipili, was a children's show, where she hosted bunch of naughty & cute kids, it was fun to watch little ones being creative.
She has been a performer, host & Anchor on numerous events, including Film & TV award events like Anuandha Awards on Colors Kannada, Film release events like that of recent hit Jaguar starring Nikhil Gowda.
Radio Career
Unknown to many Shalini has also been a part of many Radio Channels, as an RJ, as a programming head and with other creative roles.
She was a guest RJ at 92.7 BIG FM, a Programming Head at Sunnetwork RED 93.5, Radio Jockey at Fever 104 fm, Radio Jockey at BIG 92.7 FM.
Movie Career
She has appeared in the movie Maduveya Mamatheya Kareyole, a 2016 Romance Drama film featuring Amulya & Suraj Gowda, directed by the famous Kannada lyricist Kaviraj.
Bigg Boss Kannada House- Season 4:
Shalini entered the season 4 "Bigg Boss Kannada" house on October 9th 2016 along with other participants like Kirik Keerthi, Director Pratham, Sparsha Rekha, Bhuvan Ponnappa, Mohan shankar, Malavika Avinash and others.
She is one of the final few remaining in the house and considered one of the favorites to enter the final, she is known for her wits & openness.