kajal aggarwal
Kajal aggarwal (1985-0) is a
Kannada
Singer
known for the movies
Chakravyuha
(2016)
Titles
Queen of Tollywood
Other Names
kajal agarwal
Date Of Birth
19 June 1985 (Age: 31 years 11 months 3 days)
Place Of Birth
Mumbai, Maharashtra
Mother Tongue
Punjabi
Hair color
Black
Eye color
Black
Height
5 feet 5 inches (1.65 m)
Favorite Actor
Nagarjuna
Favorite Movies
Andaaz Apna Apna,Sarfarosh(Hindi) , Scent of a Woman, Godfather(English) , Manmathudu(Telugu) , Gajini(Tamil)
Favorite Actress
Madhubala,Noothan,Sridevi, Madhuri Dixit
Father
Suman Aggarwal
Mother
Vinay Aggarwal
Wiki Page
https://en.wikipedia.org/wiki/Kajal_Aggarwal
Favorite Food
Punjabi, Malayali
Twitter Profile
https://twitter.com/MsKajalAggarwal
Facebook Profile
https://www.facebook.com/ImKajalAggarwal/
Weight
55kg
Instagram Profile
https://instagram.com/KajalAggarwalOfficial
YouTube ID
https://www.youtube.com/user/kajalaggarwal

Biography

Kajal Aggarwal is an Indian actress, who is mostly popular in South Indian industries of Tamil & Telugu cinemas. She is also a Model who appears in Commercials and stage shows.

Childhood, Family & Personal Life


Kajal Aggarawal childhood

Kajal aggarwal was born on Wednesday, 19 June 1985 in Mumbai, Maharashtra to Suman Aggarwal(Father) a business man & Vinay Aggarwal(Mother), a Punjabi couple settled in Mumbai. Her mother has a sweets shop.


Kajal Aggarawal family: Vinay Aggarwal(mother), Suman Aggarwal(father), Nisha Aggarwal (sister)

Kajal has a little sister Nisha Aggarwal(born 1989), who is into movies as well, she is popular in the south as well. Her grandparents are in Amritsar.

Education:

High School: St. Anne's high school
Pre-university College: Jai Hind College
Graduation: She has a degree (B.M.M) in Mass Media (Advertising & Marketing) from Kishinchand Chellaram College, Churchgate, Mumbai.

Career

Movie Debut: Kyun! Ho Gaya Na..., a 2004 movie directed by Samir Karnik, starring Aishwarya Rai, Vivek Oberoi. Kajal played the role of Aishwarya's friend in the movie.

Telugu Debut: Lakshmi Kalyanam (2007) marked her entry to Telugu industry, she acted with Nandamuri Kalyan Ram, Sayaji Shinde, it was directed by Teja.

Tamil Debut: Pazhani(2008) is her first movie in the Tamil language. it was an action film directed by Perarasu.

Brands endorsed by Kajal Aggarwal:

Lux soap
She is an ambassador of "Celebrity Cricket League"
RS Brothers
Sri Lakshmi Jewellery
AVR
Bru instant coffee
Samsung Mobile
The Chennai Shopping Mall
Panasonic
Dabur
DaburAmlaNelli
Green Trends
CavinKare
Loreal
Dabur
Marsala Jewelry

She has sung her first song in the Kannada movie Chakravyuha(2016), in the song "Yenaithu Hridaya Ello Haaroythu."

She has been nominated for numerous Filmfare awards, SSIMA, CineMAA awards. She has one many of these nominations.
Kajal aggarwal: Photos, Pictures
(
All Kajal aggarwal Photos
)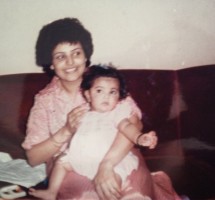 Kajal aggarawal with mom in childhood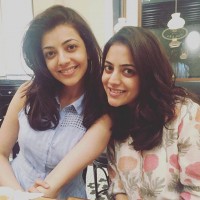 Kajal aggarawal with sister nisha aggarwal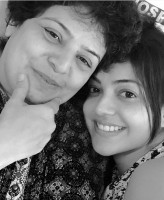 Kajal aggarawal with her mom vinay aggarwal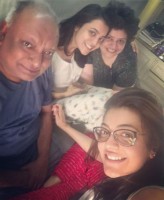 Kajal aggarawal family: vinay aggarwal(mother), suman aggarwal(father), nisha aggarwal (sister)
Kajal aggarwal: Videos

Kajal Aggarawal Interview

Kajal Aggarawal Interview About Khaidi No 150
Kajal aggarwal: Filmography (1)
List By:
2016
Chakravyuha[Playback Singer]
A 2016 Kannada Action, Drama movie by M Saravanan starring: Jyothi, Baby Janvi, Akshatha
Interesting Facts and Trivia
[
Top ⇑
]
She wants to do M.B.A in future, she wanted to do MBA from INSEAD Paris
Kajal is one of the highest paid actresses in Tollywood
She has acted opposite both Charan Ram & his father chiranjeevi as a lead actress
She is very concerned about environment, she makes sure to switch off lights without fail when not in use, to use as little water as needed and never to let tap run.
FHM magazine published her altered picture without her consent.
Among her co-stars she likes Junior NTR, Vijay, Prabhas
She cooks sometimes, she doesn't cook a lot, mostly smoothies and stuff she eats.
She likes all kinds of food, especially Ice Cream
One trait she wants to remove from her personality- Anger.
She wants to act in action movies, historical & mythological movies
Her mother is her close confidant, she goes to her for when in trouble, she is 1 in her speed dial.
Two things she will not do even if invisible- she won't sneak into her parents' rooms, she won't go to work.
If not for acting Kajol would have liked something in Marketing Management.
She was part of Akanksha, an organization to teach underprivileged kids
She works with U.B.M which bring corporates & NGOs together to help fund causes.
she has had two relationships in life so far, both outsiders to film industry. One was before entering industry and one after.
She was part of "Make A Wish" foundation which helps needy.
She believes in Karma, she says "what goes around comes around"
She uses Aloe Vera for freckles and pimples
Se loves celebrating Christmas, she comes from Convent School where she liked Christmas party.
She confesses she is not that tech savvy and claims she is not technology addicted.
One thing she wants to learn form her parents- Patience
If she were a vegetable she would like to be Sweet Potato, and Strawberry among fruits.
Someone misquoted her as saying "I don't consider myself South Indian Actress", which sparked controversy, when all she said was "I stay in Mumbai with my family, I haven't found it necessary to move to Chennai or Hyderabad, I feel comfortable travelling from here.", she clarified saying "I'm definitely as south Indian actress, I'm proud of it and my loyalties remain with South."
She was a Naughty and fun kid in school & colleges.
She credits her family as her strength without whose love & support she wouldn't have been so successful
she is a fan of Aamir Khan movies.
Shooting for Magadheera was done in Rann of Kutch, it literally burnt the feet of the actress.
She wears spectacles, she has been wearing since 8th standard, she wears lenses while shooting & glasses when she doesn't have to for long stretches
If she is lost in an Island, she would want it to be- Ambanis(who can get her our of there), Obama(who can flow in the air force), George Clooney.
She has flown a plane as co-pilot in Kualalumpur twice with her family in the back.
She has been romantically linked with "Prabhas" by the Media, she laughs at these as rumors.
Her One/two word description of actors/sctresses: Vijay(Wonderful Dancer), Mahesh Babu(Good looking), Karthik(Talkative), Allu Arjun(Energetic), Prabhas(Laid back), Nisha Aggarwal(My Baby)(she is her sister)
She has a lip lock scene in Businessman with Mahesh Babu.
Magadheera is among the films that made her popular among South Indian film fans. It is till date one of the biggest grosser in Telugu Cinema.
She looks at script first, then director, actor before selecting a movie
Kajal while onscreen she uses brands like Lakme, Chanel, La Prairie.
She has appeared in many item songs as well.
Quotes
[
Top ⇑
]
I prefer Telugu film industry as women are respected more
She is a swimmer & She likes adventures
I'm proud of Nisha, my little sister, I'm her biggest critic & biggest fan.
You don't have to be on screen for two hours to show you have talent, you can prove yourself in 15 to 20 minutes.
The only time I have cried in my life was due to boyfriend problems. I cried at my grandfather's death when in ninth standard
Rumor and Gossip are part & Parcel of any popular person