Biography
Shankar Nagarakatte (9 November 1954 – 30 September 1990) popularly known as Shankar Nag is an Indian theatre, Film actor, screen writer, director, activist, philanthropist, thinker popular for his action movies as an actor & Family, Comedy & Art films as a director.
Childhood, Family & Personal Life
Shankar Nag was born to Sadananda Nagarakatte (Father) & Anandi Nagarakatte (Mother) as their third child on on Tuesday, 9 November 1954 in Mallapur, Honnavar, Uttara Kannada, Karnataka. He hails from a Konkani speaking Saraswat Brahmin Family settled near Shirali of Bhatkal. Shankar Nag could speak Kannada, Hindi, Marathi, English fluently other than his mother Tongue Konkani.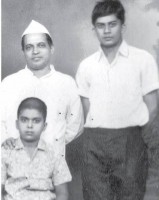 Shankar Nag childhood photo with father Sadananda nagarakatte & brother Anant Nag
He is the younger brother of Veteran Kannada actor Anant Nag, the brothers were inseparable and very close. Shyamala is his elder sister. Being the youngest child Shankar was pampered by everyone in the family.

Shankar nag childhood photo with brother Anant nag
Shankar Nag moved to Mumbai after his basic education, In Mumbai he involved himself with theatre activities, incidentally Shankar met his future wife Arundathi Nag (nee Rao) on the sets where she worked as an actress.
Marriage: After marriage Shankar Nag & Arundhati moved to Bangalore, into a farm house far away from the city. Shankar Nag & Arundhati have a daughter Kavya Nag.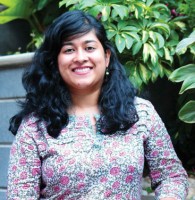 Shankar nag's daughter Kavya Nag
Film Career
Shankar's elder brother Anant Nag was an established actor in the Kannada film industry when Shankar Nag was active in Marathi theatre, It helped shankar move to Karnataka to try his luck in Kannada movies.
Movie Debut: Before coming to movies he worked as a clerk in Bank. After returning from Bank he was seen at a Drama rehearsal by Girish Karnad who offered him a role his next movie. Shankara Nag entered movie industry through the movie Ondanondu Kaladalli(1978) , An Action movie directed by Girish Karnad starring: Sundar Krishna Urs , Sundar Raj & Akshatha Rao.
Marathi movies: Shankar Nag Co-wrote the script along with Nachiket Patwardhan for the National award winning Marathi movie 22 June 1897.
Seetha Ramu was his first commercial success; Minchina Ota was a heist thriller and a well recieved movie, the duo of Anant & shankar became popular after this. Moogana Sedu, Minchina Ota, Janma Janmada Anubandha, Auto Raja- story of an auto driver falling in Love with a rich woman, Muniyana Madari, Geetha, Nodi Swamy Navirodu Heege, Hosa Theerpu, Gedda Maga, Makkaliralavva Manethumba, Indina Bharatha, Accident, Parameshi Prema Prasanga, Sangliyana are among his popular movies.
As director: Shankar Nag had interest in story writing & direction from his theatre days, Shankar Nag wrote & directed Minchina Ota- an action thriller, Janma Janmada Anubandha - A tale of reincarnation, ghosts & past lives, Geetha- a romantic tragedy of a dying cancer patient; Ondu Muttina Kathe- story of a poor tribe living on the shores starring Dr Rajkumar, super star of Kannaa films; Nodi Swamy Navirodu Heege- a family comedy movie with Ramesh Bhat & Shankar's wife Arundhati Nag. Accident
Sundarakanda was the last film he ever appeared, the movie was released a few days after his death. The audio parts which were unfinished were completed by a voice actor name Murali.
Shankar was a very versatile personality, He liked experimenting & stretching creativity to its limit. His stories range from fiction, comedy, family drama, court drama covering topics like poverty, friendship, romance, misunderstanding, family troubles, social problems, judiciary system, police system.
TV Career
Shankara Nag is popular in Karnataka for his roles in movies, but as a director he is known throughout India for his work of bringing R K Narayan's novel Malgudi Days onto the TV.
Before economic liberalization in 1991 India had one TV channel, DD National, it was watched throughout India. Malgudi Days was aired on DD National from 1987 and it was watched by millions & millions from those times still remember Malgudi Days fondly for it was a big part of their childhood. Malgudi Days is one of the unique TV serials ever made in Indian TV history. Malgudi Days were re telecast in 2012 in Hindi with Kannada Subtitles.
TV shows he appeared in:
Malgudi Days(1987): on DD National: Picturization of the classic novel of R K Narayan by the same name.
Parichaya: on DD Kannada: He anchored the show.
Swami(1987): on DD National
Theater: Shankar Nag along with his brother Anant Nag, Wife Arundhati & close buddies Ramesh Bhat & Kashi formed a theatre group called Sanket. He directed play "Anju Mallige" by Girish Karnad.
Awards & Recognition
1978: Ondanondu Kaladalli: Best Actor National Award (Delhi International Film Festival)
1979: 22 June 1897(Marathi film) : Best Film on National Integration (National Film Award)
1980: Minchina Ota: Second Best Film Award Won (Karnataka State Film Award)
1980: Minchina Ota: Best Screenplay Award Won (Karnataka State Film Award)
1981: Geetha- National Award
1983: Nodi Swamy Navirodu Hige: Third Best Film Award Won (Karnataka State Film Award)
1984: Accident- Best Film on Social Issues (National Award)
1984: Accident- Best Film (Karnataka State Film Award)
1987: The Watchman: Won Best Film in English Hindi (National Film Award)
Shankar Nag's Death
Shankar Nag was attending the Mahoorat of the movie "Jokumaraswamy" in his car along with his wife & Daughter. They met with an accident at Anagodu, Davanagere on 30 September 1990. A Lorry jammed into the car they were travelling in. His wife Arundhati & daughter Kavya survived the accident, but as fate had it Shankar could not make it alive. Shankar Nag was killed at the spot, Arundhati & Kavya had broken parts and injuries all over hands, head & legs.
Shankar Nag was an interesting personality, his contribution to the world is beyond movies.
Other Contributions:
Ranga shankara: Shankar Nag conceptualized a drama theatre which is now named after him by his wife Arundhati & is looked after by her.
Bangalore Metro: Shankar Nag was thinking of bringing Metro trains to Bangalore even as early as 1990, based on London Metro.
Country Club: He was planning to start a club near his farm house in Bangalore.
Ropeway to Nandi Hills: Construction of Rope ways to Nandi hills was one of his ideas.
Prefab housing scheme: He had ideas for low cost prefab housing scheme for poorbased on German construction technology.
An alternative health care: A planned health care system, for the sake of poor & middle class who couldn't afford the expenses.
Sanket Electronics: He started an electronic recording studio based in Bangalore, it was the first of the kind. Before this studio Kannada movies were recorded in Madras, it was started with the help of Kannada Film Chamber.
Shankar Nag's biography: In 2011, Anant Nag released a biography of Shankar Nag "Nanna Tamma Shankara" recollecting all the time they had spent in childhood and then through their adult life creating many marvels in Kannada industry.