Biography
Pavithra Lokesh is an Indian actress, well known in the southern India for her acting in Kannada, Telugu movies & TV Serials. She has acted in more than 150 movies so far including all languages, viz. Tamil, Telugu, Kannada & so on.
Family & Personal Life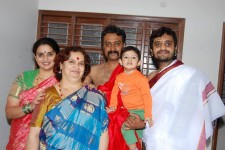 Pavithra Lokesh family: Mother, Brother Adi Lokesh, Husband Suchendra Prasad & Daughter Viskrutha
Pavithra Lokesh was born in a family of movie actors, she was born on Monday, 19th February 1979, to Mysore Lokesh(Father) in Mysore. Her mother is a teacher in Mysore.
She has a younger brother Adi Lokesh, who is also an actor, who plays both negative & lead roles.
Education: She is a Graduate, she completed her B.Com from Mahajanas, Mysore. She wanted to do M.B.A & aspired to become an IAS officer, but later decided to become a full time actress. She even worked in an office from 2000-2001 in Bangalore. She credits Ambareesh for her helping her bring into the industry after her father's death.
First Marriage: Pavithra Lokesh was married to a Hyderabad based software engineer for some time before they separated citing professional reasons.
Second Marriage: She is married to Suchendra Prasad , a versatile actor from the drama background known for his characters with social concern. Suchendra Prasad had divorced Mallika Prasad (co-star of Pavithra Lokesh in Gupta Gamini) by that time. They got married in 2008 at Dharmasthala Manjunatha temple. The couple have a daughter named "Viskrutha Suchendra".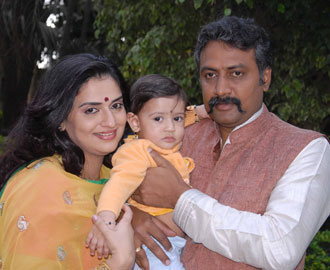 Pavithra Lokesh Family- Husband Suchendra Prasad, daughter Viskrutha
Film Career
Pavithra Lokesh made entry into movies through the movie Mister Abhishek in 1995 alongside Rebel star Ambareesh and Sudharani . The film was directed by veteren director Jayarama Reddy.
She has been acting in Kannada films & TV serials for more than 20 years now, she has played roles of sister/friend of hero/heroine in the beginning when she joined film industry at 16, later when she was just 21 she played lead actress roles, now plays sister, sister in-law and mother characters.
Some of her impressive acting can be seen in movies like Janumada Jodi, Huccha, Swathi Mutthu, Namma Preethiya Ramu, Nayi Neralu and and others.
She has played emotional roles to comic roles as well as hot masala type roles in her youth. The beautiful actress with her acting prowess can suit variety of characters.
In Telugu Film industry: She is recently making it big in Telugu industry with her appearance on both TV & movies. She has been playing mother roles for the top lead actors of industry like Ram Charan, Allu Arjuna, Siddharth.
Race Gurram, Malli Malli Idi Raani Roju, Lakshmi Raave Maa Intiki are among her first movies in Telugu
TV Career
Gupta Gamini was one of her most watched TV serials & most appreciated characters.
Some of her TV serials are:
Gelathi
Neethi Chakra
Dharitri
Jeevanmukhi (she played the role of a middle aged widow at her young age)
Punarjanma
Gupta Gamini (directed by Ramesh Krishna)