Other Names
Naga Shourya Mulpuri,Shaurya
Date Of Birth
14 January 1989
Age
34 years 4 months 27 days
Place Of Birth
Eluru, Andhra Pradesh
Hair color
Black
Eye color
Black
Father
Shankar Prasad
Weight
68kg
Favorite Actor
Nagarjuna
Wiki Page
https://en.wikipedia.org/wiki/Naga_Shourya
Debut Movie
Cricket, Girls And Beer(2011)
Height
5 feet 9 inches (1.75 m)
Facebook Profile
https://www.facebook.com/Actor-Naga-Shourya-611679935604289/
Mother
Usha Prasad
Favorite Sports
Table Tennis
Pet Name
Nani
Education
B.Com (Computers) from St.Marys College, Hyderabad
Caste
Kammas
Favorite Director
Srinivas Avasarala, Rajamouli
Favorite Music Director
Keeravani
Favorite Food
Perugu Vada
Favorite Actress
Anushka Shetty, Soundarya
Favorite Singer
Deepu
Brother
Gautam Prasad(Software Engineer)

Biography

Naga Shourya is a Telugu film actor known for his acting in films like Cricket Girls and Beer, Chandamama Kathalu.

Childhood, Family & Personal Life

Naga Shourya was born as Naga Shourya Mulpuri on 14 January 1989 in Eluru, Andhra Pradesh to Shankar Prasad(Father), Usha Prasad(Mother). He has an elder brother Gautam Prasad, who works as a software engineer.

His father is a real estate businessman & Mother is a homemaker.


Naga Shourya Family: Shankar Prasad(Father), Usha Prasad(Mother), Gautam Prasad(Brother)

Education:

Schooling: Vijayawada
Graduation: B.Com, St.Marys College, Hyderabad

Career

He entered films as an assistant director, he tried to become an assistant director for Puri Jagannath for 3-4 months, when he was an assistant director, the director offered him to act as the leading actor, Naga Shourya called his father, talked to him and finally became an actor.

Movie Debut: Cricket, Girls And Beer(2011) was his debut movie. Oohalu Gusagusalade(2014), a romantic Telugu comedy gave him the boost he much needed, he has had a busy career after that.
Naga Shourya: Photos, Pictures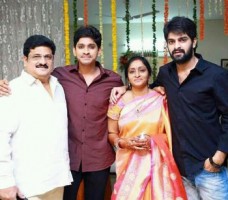 Naga shourya family: shankar prasad(father), usha prasad(mother), gautam prasad(brother)
Interesting Facts and Trivia
[
Top ⇑
]
Favorite politician: Hanumantha Rao

He likes experimental movies

Vamshi, Poojith are among his best friends.

Convtroversy: He has a big supporting personal staff of about 10, which often irks the producers.

Initially he got no role for the first five years after his entry in to the industry.

He is the youngest of his parents, he has an elder brother.

He was a studious kid in school, he had been the top ranker in school throughout his childhood.

He was good at sports, he participated in National level competitions in Tennis & Basketball.

He wants to financially help disadvantaged kids.

Naga Shourya has been influenced by Nagarjuna since childhood, his dressing, roles often are inspired by him.

Convtroversy: He is said to have come late to the sets of the movie "Kalyana Vaibhogame", a set costing 25 lakhs had to be destroyed to allow other movie set to be erected.

Director Rajamouli praised the actor's role in Dikkulu Choodaku Ramayya & said he would become a promising lead hero in future.

He lived in Vijayawada for studying, later he moved to Hyderabad to seek career in films.

He studied in Boys school till 9th standard, he moved to a co-ed school for 10th.

He doesn't use his phone, he doesn't carry it with him.

He was also into sports like Cricket, Lawn Tennis, Golf. His mother encouraged him to continue with his interests.

There was a rumor that Naga Shourya was junior NTR's relative.

He is complimented as "Lover Boy", "Chocolate Boy", he doesn't like such titles

He has more than 10 pet Dogs, he loves dogs.

Inspirational personality: Junior NTR

His Dad supported him financially initially, his mother has been a moral support to him.
Naga Shourya: Filmography (2)
List By:
Quotes
[
Top ⇑
]
Every time I was on the verge of signing a film, something or the other would happen and I was back to square on

My family is very supportive, they allowed me freedom to choose my interest in sports.

You need at least 15-20 years to attain stardom