Biography
Srujan Lokesh also known as Sruja, is a Kannada TV anchor, host and a movie actor. Popular among Kannada TV viewers for his comedy shows.
Childhood, Family & Personal Life
Srujan Lokesh was born on Saturday, 28 June 1980 in Bangalore, Karnataka to Girija Lokesh (Mother) an actress & Lokesh (Father) an actor/ director. His paternal Grandfather Subbaiah Naidu was a popular Drama artist and he was the first Kannada hero to appear in a movie Sati Sulochana(1934). His grandmother Lakshmibai was an actress too, she was one of the earliest Kannada actresses.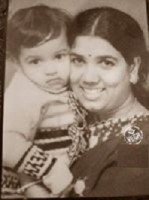 Srujan Lokesh childhood photo with mom Girija Lokesh
He has a sister Pooja Lokesh, who has acted in few movies as heroine. Pooja has also been a TV actress in Kannada & Tamil languages.
Marriage: In February 2010 Srujan married Greeshma an artist, television actress and dancer. Srujan & Greeshma have a Son born in 2014.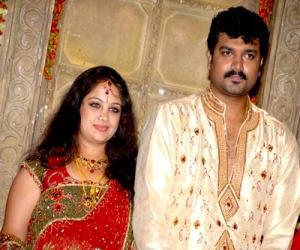 Srujan lokesh with wife Greeshma
Srujan was engaged to actress Vijayalakshmi a long time acquaintance of the family in 2006, they had relationship for three years. however relationship broke before marriage due to unknown reasons.
Education: He completed his graduation from SSMRV college, Bangalore.
Friendship with Darshan: Srujan and Darshan have been close friends in the industry for a long time, Srujan once in a while makes appearances in Darshan's movies. Srujan was in financial difficulty a few years ago, Darshan came to the rescue and helped his friend out off difficult times.
Srujan is good at cooking, he likes cooking for his crew. He is specialized in cooking Biryani, he says he can cook for 300 without any difficulty.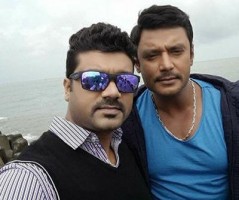 Srujan lokesh with Darshan Thoogudeep
Film Career
As a Child Artist: Srujan Lokesh made his debut through the movie Veerappan(1991), the movie had cast of Devaraj & Vanitha Vasu in the lead. Later Srujan appeared in Bhujangayyana Dashavathara(1991), a movie directed by his father Lokesh, this movie had both his mother & father in the cast.
As a Lead actor: Srujan entered the industry as a lead actor through Neela Megha Shyama (2002), a romantic movie opposite Radhika Kumaraswamy, directed by Raj Kishor . Aane Pataki is another popular movie in which he appeared as a lead actor.
Srujan has acted in many movies in supporting roles, the list includes Chakravarthy, Jaggu Dada, Sapnon Ki Rani, Love U Alia, Typical Kailas, Paramashiva, Andar Bahar, Chingari, Snehitharu, Edegarike, Porki, IPC Section 300, Navagraha, Preethigagi, Laati Charge, Darshan.
He has worked on Radio & TV as well.
TV Career
Though he has appeared in many TV serials, hosted and anchored numerous events & award functions he earned recognition as a host for the comedy shows like Maja with Sruja & Maja Talkies.
TV Production: Srujan started producing TV porgrammes under the banner Lokesh Productions in 2013 along with his mother Girija Lokesh, their production team has produced shows like Challenge, Chota Champion & Kaasige Toss. Mangaluru hudgi hubli hudga is the new serial by the company.
Some of his TV appearances are:
Sye on Suvarna Kannada: A dance competition show hosted by Srujan
2011: Maja With Sruja on Suvarna Kannada: A comedy show aired on ETV Kannada, it made Srujan a familiar name throughout the state of Karnataka. The show enjoyed the luxuy of being the most watched Show at the prime time.
Kitchen Kiladigalu on Suvarna Kannada: A cooking show hosted by Srujan.
Sye 2 on Suvarna Kannada: second version of the dancing competition SYE.
Mummy No. 1 on Zee Kannada: A TV show for mothers.
2013: Kaasige Toss on Zee Kannada: A TV game show played for real prize money.
Chota Champion on Zee Kannada: A TV game show played with little kids (of age 1.5 to 3 yrs) & their parents.
2014: Chota Champion 2 on Zee Kannada: Second season of the TV game show. Auditions were held in Hubli, Davanagere, Mangalore, Hassan, Mysore and Bangalore. 120 children & Parents were selected out of 1200.
Kaasige Toss 2 on Zee Kannada: sesond season of the TV game show.
2014: Bigg Boss season 2 on Suvarna Kannada: Srujan was one of the participants in the secons season of Bigg Boss Kannada show, along with the likes of Akul Balaji, Adi Lokesh, Neethu, Shakeela, Shwetha Changappa & Deepika Kamaiah. Akul Balaji was adjudged winner while Srujan was the runner-up & Deepika Kamayya came third.
2015-2017: Majaa Talkies on Colors Kannada: A comedy show hosted by Srujan with special appearances by other notable comic figures like Aparna, Mimicry Dayanand, Kuri Prathap, V Manohar, Mandya Ramesh. director Indrajith Lokesh is also a parmanent member of the team. The show is produced in Kanteerava studio. Maja Talkies completed 200 Episodes recently.
Other Events & Shows:
Star Singer Grand Finale on Suvarna Kannada: A Singing competition
Suvarna Film Awards on Suvarna Kannada: An award ceremony Srujan hosted for Suvarna Kannada.
2016: Deepavali with Kannada Balaga UK: He was a guest at the event.
Awards & Recognition
2011: Best Anchor award at Suvarna Channel Awards.
2011: Best Anchor award at Bigg entertainment Awards.
2012: Best Anchor award at Madhyama Awards.
2013: Best Anchor award at Madhyama Awards.