Biography
Radhika Kumaraswamy credited as Radhika, is an Indian film actress and producer. She has primarily appeared in Kannada films and is a lead actress in the Kannada film industry in the early 2000s.
Childhood, Family, Personal Life
Radhika was born on 11 November 1986 in Mangalore, Karnataka to Devraj Shetty (Father). She has a younger brother.
She lives with her Parents, brother & Grandmother.
First Marriage: Radhika at the tender age of 14 was married to Ratan Kumar of kankanady at at the Sri Durga Parameshwari Temple, Kateel in November 2014. Her mother asked for the annulment of the marriage as she was just a minor back then. Ratan accused her father of snatching her away from him. Ratan Kumar died of heart attack in 2002, he was alleged to have abused her.
Marriage to H D Kumaraswamy: HD Kumaraswamy, former Chief Minister of Karnataka, Son of Former Prime Minister H D DeveGowda & Radhika had kept their relationship secret for a long time, in 2010 she came in the open and disclosed that they were married back in 2006. Industry, Fans & Friends have accepted the fact without much fuss.
Radhika & Kumaraswamy have a daughter named "Shamika K. Swamy" (born 2009)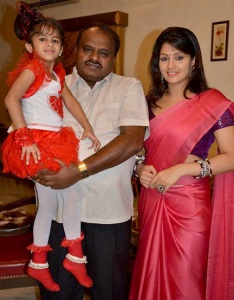 Radhika Kumaraswamy family: husband H D kumaraswamy & daughter Shamika k Swamy
Radhika's father
Movie Career
Radhika started her acting career with the Kannada film Neela Megha Shyama (2002) when she had just completed her ninth standard. She was just 15 at the time, it was directed by Raj Kishor, starring opposite Srujan Lokesh & Ravi Shankar.
Her next films like Mani, Ninagagi, Tavarige Baa Tangi established her as an actress.
As Shivaraj Kumar's sister: She has acted as sister to Shivarajkumar in movies like Thavarige Baa Thangi, Anna Thangi, their performances together were so much appreciated that they are officially "brother-sister" in the Kannada industry. She sends Raaki to Shivarajkumar on every Rakshabandhan.
Tamil Debut: Radhika appeared in Iyarkai, a 2003 Tamil Romantic Drama movie directed by S.P.Jananathan starring Shaam, Arun Vijay.
Telugu Debut: Bhadradri Ramudu, a 2004 Telugu movie where she acted as Seetha is her first movie in Telugu.