Biography
Malavika Avinash is an Indian actress, advocate, activist & politician, Known for her works in South Indian films, mostly in Kannada films, and often in Tamil, Hindi & Malayalam movies as well.
She has appeared in TV Serials & Shows both in Tamil & Kannada language.
Childhood & Early Life
Malavika Avinash was born on 28th January, 1976 in Chennai, Tamilnadu to N Ganesan (Father), a writer & Banker (Retd) & Savithri (Mother), a dancer & singer. She has a sister Ranjani Ganesan who is married to Ramesh Ramani.
She was born in a Tamil Iyer family, Tamil is her mother tongue, being brought up in Bangalore she speaks Kannada fluently as well.
Education:
Bharatanatyam: She was trained in Bharatanatyam first under M R Krishnamurthy, later by the famous Bharatanatyam teacher Leela Samson, a Padmashri awardee who served as the head of "Central Board of Film Certification" from 2011-2015.
Sitar: Pandit Partho Das taught her the basics of playing Sitar.
Primary & Higher Education: She studied in Spring dales School & Army School, Bangalore.
L.L.B: She secured a Bachelor's degree in Law from the Bangalore University (University Law College, Bangalore), she even secured the 3rd Rank in the entire University.
She was a moot court competitor while in college, where she would fight cases against other competitors to learn the legal skills.
Personal Life & Family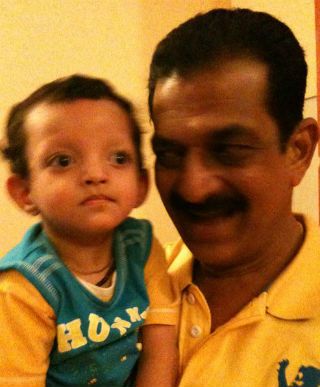 Malavika's husband Avinash & Son Galv
Malavika and Avinash had been friends for four years before marrying in 2001, Avinash is a veteran Kannada known for his versatile acting, the couple has a Son named Galv.
She is a follower of Nithyananda Swami, she says he has helped her Son Galv's growth, Galv has had growth problems.
Film Career
As Child Artist: She made her debut in G V Iyer's movie Krishnavataara (1988), playing the role of Bala Krishna. She was selected for the role after her dancing skills were appreciated by Iyer Sir.
As Lead Actress: Prema Karanth chose her for the role of Princess, in her children's movie Nakkala Rajakumari(1991), movie had stalwarts of Kannada industry like Shankar Nag & Kashinath in the cast.
Debut in Malayalam: She made her debut in Malayalam through the movie Daivathinte Vikrithikal(1992) directed by Lenin Rajendran. The movie Cast included Raghuvaran & Srividya. She played the role of Elsie in the movie. The movie went on to become a multi award winner, including the best movie award.
She consider T N Sitaram as her Guru & mentor in the film industry.
TV Career
Kannada TV Success: Despite her success in movies, it was her appearance on TV which brought her the fame, She appeared in Mayamruga, a Kannada TV serial run on DD Chandana. She became popular throughout Karnataka.
She appeared in numerous TV Serials, hosted many Reality Shows. She headed programming at "Zee Kannada" TV channel for some time.
Bigg Boss: She has been a part of the 4th season of Bigg Boss Kannada along with Sparsha Rekha, Director Pratham, Comedian Shalini, internet sensation Kirik Keerthi, actress and host Sheetal Shetty, actor/writer Mohan, actor Bhuvan Ponnanna among others.
Success on Tamil TV: Legendary Tamil director K. Balachander chose her for the lead role of Anni, in the Tamil TV serial Anni(2003-), The serial was aired on Jaya TV & completed 339 Episodes. It is being repeated from September 2016.
She stars in the Tamil Serial Chellamay(2009-) in the role of Muththazhagi.
Writer Malavika Avinash
It is less known that Malavika is a prolific writer. She was an editor of college journal while in college.
In Tamil: In the Tamil weekly Kumudam she used to write columns "Malavika Pakkam" & "Agony aunt".
In Kannada: She writes "Malavika order", a weekly Column for the Kannada daily Vijaya Karnataka.
List of Malavika's TV Appearances:
Kannada Serials:
1998-2000: Mayamruga, a TV serial on DD Chandana directed by T N Seetharam, Where she played the role of Malavika.
2001–2003: Manvantara, a TV serial on ETV Kannada directed by T N Seetharam, Where she played the role of Gargi.
2001–2003: Grihabhanga, a TV serial on ETV Kannada directed by Girish Kasaravalli, Where she played the role of Nanjamma. (she was playing the role of a woman who was suffering extreme poverty, Malavika lost a lot of weight during this serial to suit the character.)
2004–2006: Muktha, a TV serial on ETV Kannada directed by T N Seetharam, Where she played the role of Madhavi Patel (Police Superintendent).
2013-2014: Mahaparva, a TV serial on ETV Kannada directed by T N Seetharam, she acted as the Court Judge.
Agni: She anchored the program "Agni" on ETV Kannada
Kannada TV Shows:
2010–2011: Baduku Jataka Bandi, a Zee Kannada reality show, she acted as the host of the program.
2015-2016: Aradirali Belaku, another Zee Kannada reality show which she hosted.
Tamil Serials:
2001–2003: Anni, a TV serial on Jaya TV directed by K Balachander, Where she played the title role of Anni.
2004–2006: Nilavai Pidippom, a TV serial on Raj TV directed by K Balachander.
2004–2006: Chidhambara Ragasiyam, a TV serial on Sun TV.
2004–2007: Raja Rajeshwari, a TV serial on Sun TV, Where she played the title role of Raji.
2008–2009: Comedy Colony, a comedy serial aired on Jaya TV.
2008–2009: Arasi, a TV serial on Sun TV directed by Samuthirakhani, Where she played the ole of Madurai Thilakavathy.
2009–2013: Chellamey, a TV serial on Sun TV directed by O N Rathnam, Where she played the title role of Muthazhagi.
Tamil TV Shows:
Takadhimithaa: She was the judge of the Bharatanatyam dance show Takadhimithaa which was aired on Jaya TV.
Kathayalla Nijam, a reality show aired on STAR Vijay.
Malavika in Politics
Malavika was first seen campaigning for Sushma Swaraj(BJP) in 1999, when she was sontesting from Ballary against Sonia Gandhi(Congress).
In 2012 it was reported that she joined Janata Dal(Secular) a party headed by Ex Prime Minister of India H D Deve Gowda. She was part of the party for 20 months, she quit Politics after that until later.
Malavika officially joined BJP in 2013, she has been appointed by the party as one of the spokesperson for the party in the state since 2014.
She has publicly expressed her opinions opposing celebrations of Tippu's birthday as well as hiring of Pakistani actors in Bollywood. She is critical of Delhi's CM Arvind Kejriwal's antics.
She intends to serve people through honesty & dedication.