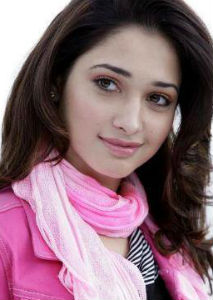 Tamannaah
Tamannaah (1989-0) is a
Kannada
Actress
known for the movies
Jaguar
(2016)
Titles
Queen of Kollywood,Tammy, Milk Beauty
Other Names
Tamannaah Bhatia,Tamanna
Date Of Birth
21 November 1989
Age
34 years 0 months 10 days
Place Of Birth
Mumbai, Maharashtra
Height
5 feet 6 inches (1.68 m)
Favorite Food
Punjabi
Mother Tongue
Sindhi
Hair color
Black
Eye color
Black
Wiki Page
https://en.wikipedia.org/wiki/Tamannaah
Father
Santhosh Bhatia(diamond merchant)
Mother
Rajani Bhatia
Education(School)
SJR high School, Bangalore
Twitter Profile
https://twitter.com/tamannaahspeaks
Facebook Profile
https://www.facebook.com/Tamannaah
Religion
Hinduism
Languages Known
Sindhi,Hindi,Tamil,English,Telugu
Favorite Writer
Osho and Paulo Coelho
Favorite Book
Harry Potter
Favorite Song
ou Say it Best When You Say Nothing at All
Teacher
Neeraj Kabi
Instagram Profile
https://www.instagram.com/tamannaahspeaks/
Brother
Anand Bhatia(elder)
Weight
45 Kgs
Favorite Director
Shankar
Favorite Dress
Saree, Long Frock
Favorite Color
Orange
Hobby
Movies, Reading

Biography

Tamannaah is an Indian actress who has appeared frequently in Telugu & Tamil films. And also in some Hindi, Kannada films.

Childhood, Family & Personal Life

Tamannaah was born as Tamanna in Lokhandwala, Andheri, Mumbai, Maharashtra to Santhosh Bhatia(Father) a diamond merchant by Profession and Rajani Bhatia(Mother) on Thursday, 21 December 1989 in a Sindhi speaking family.


Tamannaah family: father Santhosh Bhatia, mother Rajani Bhatia, elder brother Anand Bhatia

Tamannaah has an elder brother named Ananda Bhatia.

Education:

School: Maneckji Cooper school
High School: SJR high School
Graduation: She did her Bachelor of Arts through Distance Education from National College, Bandra, Mumbai

Career

She was a dancer, a friend of her's took her to Prithvi theatre where she took interest to acting.

Movie Debut:Tamannaaa appeared as a supporting actor in 2003 in the movie Enakku 20 Unakku 18, she played the role of lead actress Trisha's childhood friend.

Movie Debut as a lead actress: Tamannaah made her beginning with Chand Sa Roshan Chehra(2005), when she was just 16 year old. It was directed by Shabah Shamsi, starring Samir Aftab, Tamannaah, Talat Aziz, Kiran Kumar.

Music album: Tamannaah appeared in "Lafzon main", a video song in the album with singer Abhijeet Sawant.

Telugu Debut: Telugu movie Sri(2005) directed by Dasarath marked the entry of Tamannaah into Telugu film industry.

Tamil Debut as lead actress: Kedi(2006) is Tamannaah's first Tamil movie as lead actress. It was directed by Jyothi Krishna, with Ravi Krishna, Tamannaah Bhatia, Ileana D'Cruz, Ramesh Khanna, Suman Setty in the cast.

As a Model: She has appeared in many of TV commercials & print Ads. So far she has been the face of brands like

Celkon Mobiles (with Virat Kohli)
Fanta
Fair and Lovely
Chandrika Ayurvedic soap
AVR Jewellery
Khazana Jewellery
Shakthi Masala
Power Soap
Sun Direct
PETA
Zee Telugu brand ambassador
Wite-n-Gold jewelry
Beti Bachao, Beti Padhao, initiative of FOGSI
Saravana Store

She has received more than 10 wards in Tamil & Telugu together.
Tamannaah: Photos, Pictures
(
All Tamannaah Photos
)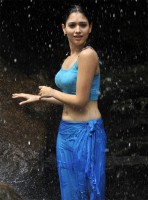 Tamannaah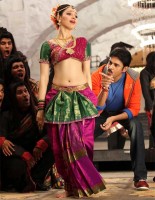 Tamannaah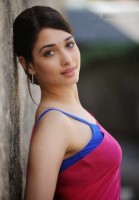 Tamannaah

Tamannaah
Tamannaah: Videos

Abhijeet Sawant & Tamannaah- Lafzon Mein

Tamannaah Tamil interview

Tamannaah English/Telugu interview

Tamannaah English/Telugu interview

Actress Tamannaah Candid Interview
Interesting Facts and Trivia
[
Top ⇑
]
She has very few friends, she is close to family, she isn't an adventurous person (not into sports & real life adventures)
She is fond of Actor Ajith as a person, she says "He is one of the most grounded and humble in the industry."
She worked with Prithvi Theatre in Mumbai for an year.
She wants to spend her free time sleeping, being with family & friends.
In Bollywood she feels like a south Indian girl, in Chennai she's the actress from Mumbai.
She hates that there is bias towards fairer complexion in India.
She often forgets to add salt to her omelettes. Other than that she loves cooking.
She is a devotional person, she visited Tirupati temple with her family on her 21st birthday
Good scent, Aroma turns her On
She learned Tamil by speaking in Tamil to directors & crew.
Tamannaah was studying for her 10th exams when she got an offer to act in Sri, she had English exams the day she met the producer Mohan Babu, she got the chance as well.
Tamannaah believes in numerology, she altered her name to Tamannaah from Tamanna after suggested by a numerologist in Mumbai
She hates that she can't say NO.
She likes how director Vamshi is so knowledgeable on women's lipstick
She has a pet dog named "Bubbles"
Tamannaah is one of the few to leave the sets late, she is director's actress.
She likes going out with friends, she likes dinners & Pajama parties
She listens to the script before taking up a role, she likes scripts with quality.
She refused to do paragliding when she was in Paris, she fears height.
She likes Prabhudeva, Tiger Shroff's dancing
Tamannaah doesn't watch Tragedy movies, she wonders why such movies are made.
She is a big foodie, even her close friends don't share food with her, she is a fast eater, which she attributes to the competition she had with her brother growing up
Among Amitabh Bachchan, Rajinikanth, Kamal Haasan She would pick Rajinikanth as someone to act with.
Her family is her backbone
Hrithik Roshan is her crush in Bollywood, Prabhas in Tollywood
She eats when she gets angry.
She has celebrity crush on Leonardo DiCaprio.
She does Yoga & is a runner too. She is not into sports much.
Incident she cherishes: Her shooting of the Ad films that changed her life & got her offers.
She wants to work with personalities like Trivikram(director), Nani(actor)
She has been busy travelling for last few years, she doesn't feel bad about staying away from home for long time, her parents and brother often visit her on special occasions.
She sometimes takes breaks from movies to watch other movies, especially when she has been busy for long time.
She likes item songs, because the whole song is focused on the girl.
Tamannaah was awarded Kalaimamani Award in 2010 by the C.M of Tamil Nadu for her contribution to Tamil cinema
She is the highest paid actress in the Tamil industry.
A dubbing artist named Mansi dubs for her frequently, though Tamannaah speaks good Tamil, she prefers dubbing for the sake of right pronunciation. Recently she has taken up dubbing for her characters herself.
she calls Hyderabad & Chennai as her "Karma Bhoomi" and Mumbai as "home"
Tamannaah has her own jewelry brand
She likes Sense of humor the most in a guy.
Tamannaah entered films as early as 13. Started lead roles in 16.
She is one of the highest paid actresses in South Indian cinema & is one of the actresses in demand.
She is a big movie fan, she sometimes would watch as many as six movies a day, She loves Hollywood movies
There was rumor that Tamannaah was to be cast in Avatar 2, her posters with blue face were shared on Social Media, Tamannaah Enjoyed that rumor.
She says she learned about fashion because of her many early fashion mistakes.
She eats Diary free and glutton free food.
She would have liked to be a doctor if not doctor, there are many doctors in her family. "I might become a Sadhu Baba, later in life" she jokes.
She is scared of losing her hair.
She often appears in item songs. She is said to have charged up to 2.25 crores for an item song.
Tamannaah was selected to play the role in a movie after being recognized for her performance in her school day functions.
Her earliest memory in Life: She wore a hat to school to avoid her hair touched by other kids
Her New Year Resolution: Getting up to the first ring of an alarm clock in the morning, without hitting the snooze button
She is the first Indian actress to be nominated at Saturn Awards for Best Supporting Actress.
She misses fighting with Karthik on the sets.
Actresses Kajol Agarwal & Illeana D Cruz are her friends with Tamannaah.
Actresses Vedhika, Kamna Jethmalani and Sonia changed their named as suggested by Tamannaah's numerologist after Tamannaah introduced them.
She celebrates every New year with her family in different places each year.
Tamannaah: Filmography (3)
List By:
Quotes
[
Top ⇑
]
Tamannah about her dream man "Man is not a balance sheet, I want him to be some one who prompts respect, someone with whom I can grow together, That's it."
I'm so far happy with my profession, I truly believe in Marriage, but not in hurry for now.
I don't take success too seriously. I'll be focused and dedicated to whatever I do, to the best of my ability.
I'm a huge star of Surya. I have watched his films. I am waiting to meet him and take his autograph.
I think every woman is incomplete without her sensuous side. There are different ways of showing and portraying it. I would always do something within my comfort level and keeping in mind, my pluses
I feel we change every few months, that's good, only change is the permanent thing. We are humans because of it, otherwise whats the difference.
I'm just a normal girl from Mumbai.
Friendship in the industry is as fickle as your Friday release.
My life is the most open book in the industry.
On acting with Dhanush "He is more like a friend. We had lots of fun while shooting the film. After finishing the shot, we would shoot each other giving some punchy dialogue on our phone cameras."
The South gave me fame and recognition, I would never want to give it up, but any actress would want to make it big in Bollywood.
Nobody is born with a great fashion sense – it grows on you, you keep observing, trying to figure out what looks good.
I don't like to be alone for a long time. I want company.
I want to make a mark in the South.
It's not a jewelry set or car that my parents brought me, but them being with me is my biggest birthday gift.