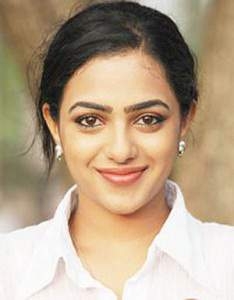 Nithya Menen
Nithya Menen (1988-0) is a
Kannada
Actress, Singer
known for the movies
Kotigobba-2
(2016),
Myna
(2013),
Aidondla Aidu
(2011)
Name
Nithya Menen (ನಿತ್ಯಾ ಮೆನನ್)
Other Names
Nithya Menon
Date Of Birth
8 April 1988
Age
35 years 7 months 29 days
Place Of Birth
Bangalore, Karnataka
Favorite Director
Mani Ratnam
Wiki Page
https://en.wikipedia.org/wiki/Nithya_Menen
Facebook Profile
https://www.facebook.com/ItsNithyaMenen
Favorite Actress
Shobhana
Eye color
Brown
Favorite Actor
Sudeep
Mother Tongue
Malayalam , Malayalam, Kannada, Tamil, English, Hindi, Telugu
Religion
Hinduism
Favorite Car
BMW 1
Height
5 feet 3 inches (1.6 m)
Weight
58kg
Twitter Profile
https://twitter.com/nithyamenon180
Hobby
Music, God, Writing, reading, Meditating
Favorite Music Director
A.R Rahman
Favorite Singers
Shreya Ghoshal , Vijay Prakash
Contact(Phone)
94 75 230 0479

Biography

Nithya Menen is an Indian actress & singer who has acted in all South Indian languages including Kannada, Malayalam, Tamil, Telugu & English films.

Childhood, Family & Personal Life

Nithya Menen was born on Friday, 8th April 1988 in Bangalore, Karnataka to a Malayali background family. Both her parents are Government Employees.

She has a brother and she is the only daughter of her parents.

Nithya menen family: brother & mother

Nithya Menen with her father

Education:

Graduation: Journalism at the Manipal Institute of Communication, Manipal, Karnataka
Graduation: Cinematography Course at Film and Television Institute of India (FTII), Pune, Maharashtra.

Movie Career

Growing up Nithya wanted to become a journalist, but destiny had different plans. She later tried to become a cinematographer, but her friend Nandini Reddy convinced her to become an actress and thus she is now an actress.

Nithya appeared in the English movie The Monkey Who Knew Too Much (1998) as a child artist.

7 O'Clock(2005), a Kannada film directed by Santhosh Rai Pathaje starring Mithun Tejasvi, Pooja Kanwal, marked Nithya's debut into films.

Malayalam Debut: Aakasha Gopuram(2008), A drama by K. P. Kumaran with Mohanlal, Nithya Menon, Bharath Gopi marked her debut in Malayalam. She was in her 12th standard when Mohanlal saw her photo on a tourism magazine cover, it got her an opportunity into the film.

Singing Career: Nithya started Singing when she was just one year old, her parents were so surprised that an year old child could so attentively listen to songs and repeat them so beautifully. They had expected her to become a singer from childhood. Her Singing started with Kannada movie Payasa(2010).

Controversy:

Air India pilots allowed her into the cockpit: Two pilots Jagan Mohan Reddy and S. Kiran are reported to have apparently been suspended for allowing Nithya Menen to the cockpit while travelling from Bangalore to Hyderabad.
Nithya Menen: Photos, Pictures
(
All Nithya Menen Photos
)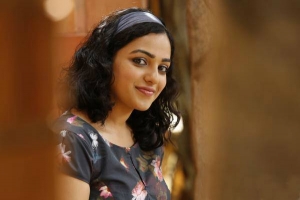 Nithya menen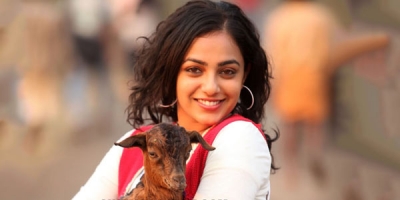 Nithya menen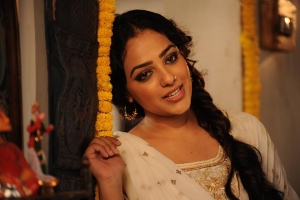 Nithya menen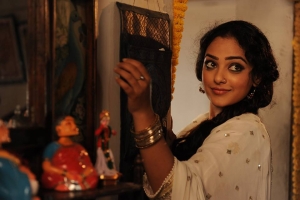 Nithya menen
Nithya Menen: Videos

Nithya Menen Special Interview

Nithya Menon: Open Heart With RK
Interesting Facts and Trivia
[
Top ⇑
]
She likes classic music, her friends tell her "You are an old soul in new body"
She doesn't use her phone much, she wants to use her phone for communications, not conversations.
she was paid 50000 Rupees for her first film as a child actress, her father rejected taking more than that
She likes God Krishna & his teachings, she often meditates as well. Her parents were mostly atheistic but never discouraged her.
She likes all kinds of food, and not particular about any cuisine
She likes cars & driving, she has a BMW 1
She was a disciplined kid, she would take time assisting her mother, helping her clean the house than play outside.
When she was in Journalism college, her lecturer was teaching her the topic "Negativity Sells", Nithya tells, she gave up the career in journalism right then
Nithya Menen dubbed for the actress "Isha Talwar" in Gunde Jaari Gallanthayyinde.
She listens to Vedic chants to relax herself.
Nithya Doesn't feel marriage is a compulsory part of life.
She doesn't like to be on social media much. She doesn't even get in front of computers unless needed, she thinks it is mostly time waste.
Nithya has not received any remunerations for her singing, she says she is so happy to have an opportunity to sing that she doesn't even expect any money.
Nithya was in relationship with her college mate for some time, eventually it broke. She fell in love when she was 18
Actress Rohini is her close friend, Kranthi Madhav, Jenuse, Shekhar & others in the industry are her friends.
Nithya was criticized by some for her expressing that "We need to accept what is natural today, 'living together' is natural for today and should not be criticized. Society is progressing naturally towards a different social structure and we need to accept that."
She is the only daughter of her parents, and is her Daddy's pet.
She is said to take less than 3/4 takes
She likes silver ornaments & she likes traditional things
She wants to become a director in future, she also want to do writing and production
She never felt bad about her height of 5 feet 3 inches. She is surprised how some people take it as a lack, despite her many positives.
She never took any acting or Drama classes or even participated when in school/ college except of Singing. Her interest in acting came late, when she making career choices
She is compared with Soundarya in Tollywood for her acting skills.
When she had just entered Telugu films she wasn't aware of Prabhas and she is said to have asked "Who is Prabhas", it was made into a controversy by some knuckleheads.
Nithya Menen: Filmography (5)
(
All Nithya Menen Movies
)
List By:
Quotes
[
Top ⇑
]
Height, Color, beauty, voice are not things we achieve, these are gifts from God. Judging a person by these is foolish
Prabhu Deva is a very down-to-earth person
Money isn't the most important thing, but it is important for the life in the world
I want to act in meaningful films, which I can watch with my dad, without being embarrassed
I feel Tamil cinema suits me. They make the kind of cinema I want to be part of. I like their balance between good scripts and commercial success.
My dream was to do cinematography and make films on wildlife. I wanted to travel.
I love to do intelligent films like Kerala Cafe
If the universe wants to test you, it makes you an actor
I don't want to get into scandals. I am here to do my job, get paid and go back.
Working in different languages doesn't bother me