Biography
Bullet Prakash is a south Indian actor who has acted primarily in Kannada films, and occasionally in other South Indian film industries. He is known for his comic roles and supporting roles.
Childhood & Personal Life
Prakash, popularly known as Bullet Prakash was born on Saturday, 3rd April of 1976 in Bangalore to Gowramma (mother). He studied & grew up in Bangalore. He was a classmate of Narendra Sharma, a popular Swami on TV.
Family: He is married to Manjula, he has a daughter named Monika Varshini & Son Rakshak Sena .
He has studied up to 10th standard, after that he joined electronics & failed no less than 13 subjects (according to his own saying).
He rides Royal Enfield Bullet all the time, thus nicknamed "Bullet Brakash".
Film Career
Debut: Bullet Prakash made his debut through AK 47 (1999) , a film with with Shivarajkumar in the lead role, directed by N Omprakash Rao, he appeared in a small role.
Dhruva (2002), Partha (2003), Excuse Me (2003), Omkara (2004)were among his early films, he has been part of many successful films like Kalasipalya(2004), Veera Kannadiga(2004), Sye(2005), Shastry(2005), Deadly Soma (2005), Hubli(2006), Jackie(2010), Sanju Weds Geetha(2010).
Bigg Boss: Prakash took part in the second season of Kannada version of Bigg Boss.
Friendship with Darshan: Bullet Prakash & Darshan Thoogudeep have acted together in numerous movies, over time their friendship has grown, Prakash stood with Darshan when he was going to marriage problems, Prakash now has turned producer, he will produce a movie named "Sulthan", a remake of Tamil movie Poojai. Darshan will be appearing in the movie in the lead role.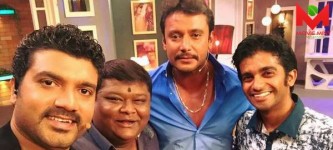 Bullet Prakash with Darshan Thoogudeep, Srujan Lokesh & Friends
Controversy/ Fight with Dinakar Thoogudeep: Bullet Prakash alleged (in Feb,2015) that Dinakar Thoogudeep abused him with bad words. Dinakar was unhappy that Prakash was already publicizing his next movie sultan ahead of those movies which were already in Queue. Misunderstanding lead to exchange of harsh words in the influence of alcohol. Darshan, their common link is said to have made a compromise between the two.
Entry into Politics: In July 2015 Bullet Prakash joined Bharatiya Janata Party. A party his mother had been a member & volunteer for more than 25 years. Deputy Chief Minister R. Ashok was present at the venue
Death: Prakash died of Kidney failure on April 6th 2020 in Bangalore.