Biography
Disco Shanti is an Indian actress, particularly famous in the Southern India for her appearances in the Item Songs, she ruled the niche for quite a long time, lead actresses weren't keen to accept glamorous roles/appearances back then, Disco Shanti rose to fame in the 1908s and 1990s.
She has appeared in various languages including Tamil, Telugu, Kannada, Malayalam, Hindi & Oriya language movies, in a total of more than 100 movies.
Personal Life
Disco Shanti was born as to C L Anandan (Father) in Hyderabad, Telangana. Her father was a veteran Tamil actor, popularly known "Vijayapuri Veeran". She has a sister named Lalitha Kumari, who is an actress as well and is recognized for her lead roles.
Marriage: Disco Shanti married Srihari, an actor popular in the Telugu film industry in 1996. It is said that he fell in love with her after her appearance in the movie Ghayal, he tried proposing to her a few times, he was seen in small roles back then and she did not take him seriously as it was normal for her to get many proposals back then. Finally when she realized he was seriously in Love with her, she took him to her mother.
She left her career as an actress after her marriage. Srihari died of Lever complications caused by Jaundice in 2013 while shooting for the movie "Rambo Rajkumar". (Shanti too has a liver ailment, she was admitted to an hospital in Singapore for the lever transplant, which was successful.)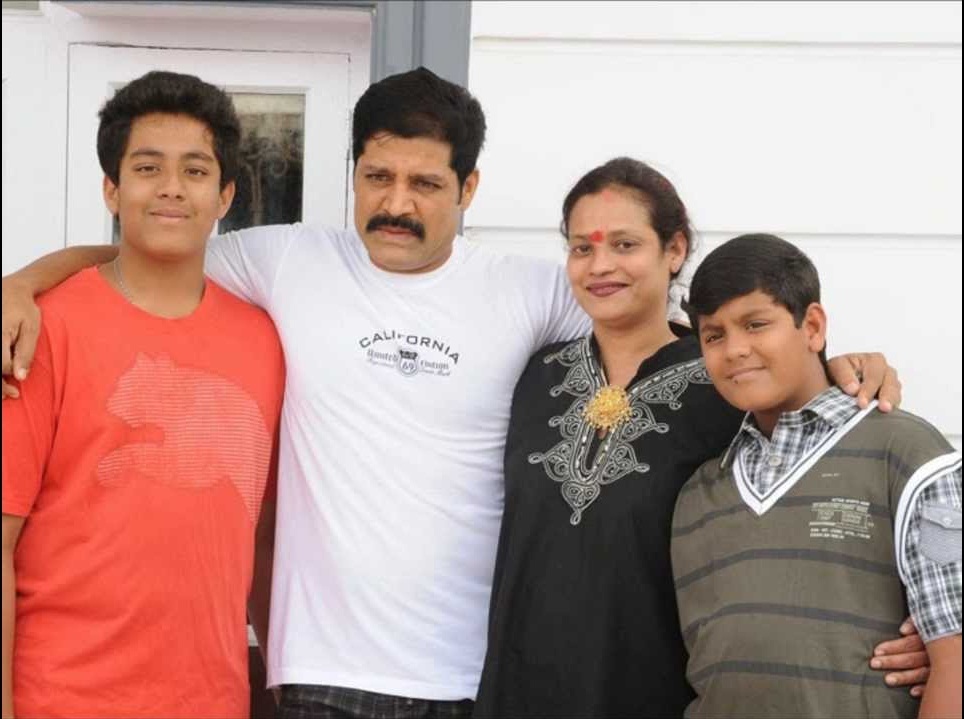 Disco Shanti family- Husband Srhari, Sons Shashank & Megamsh
Children: She has three children with SriHari; 2 boys & a Girl. Her daughter Akshara Srihari deceased when she was just four months old. Shashank Srihari & Megamsh Srihari are her two sons. Her elder Son Shashank wants to be a movie director, while the younger one Megamsh wants to become an actor.
Film Career
Shanti made her debut through 1986 Tamil movie Udaya Geetham, a movie starring Mohan, revathi & Lakshmi; directed by K Rangaraj.
Shanti tried few supporting roles in some of the movies hoping to get better roles & to show off her acting skills. By that time she was getting offers for item songs, flooded by the demand she chose to get recognized for her dancing skills.
She has appeared in more than 100 movies in a career spanning 11 years from 1985 to 1996. She has stopped acting after marriage, her husband was an actor and she took the family responsibilities.
Hindi movie Dirty picture which is inspired from Silk smitha's life is also said to have picked few incidents from Disco Shanti's experiences in the film industry.
Hindi movie Aatank(1996) is her last movie on screen before marriage. the movie starred Dharmendra, Hema Malini.