Biography
Prajwal Devaraj is a young Kannada actor popular in Action Romantic comedies. He is the Son of veteran actor "Dynamic " Devaraj. He is favorite among the youngsters, especially girls for his roles which are comic, romantic & action oriented.
Childhood, Family & Personal Life
Prajwal Devaraj was born on Saturday, 4 July 1987 in Bangalore, Karnataka to actor Devaraj & Chandraleka Devaraj, a producer.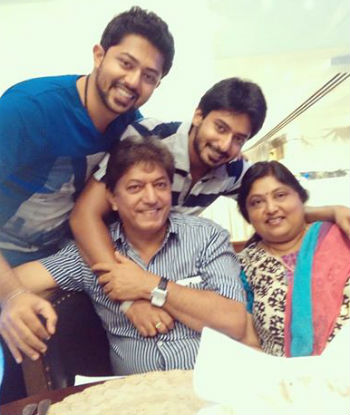 Prajwal Devaraj family: father Devaraj, mother Chandralekha, brother Pranam Devaraj
Prajwal Devaraj has a younger brother Pranam Devaraj who is into producing movies.
Education: Prajwal is a graduate with a degree in Management from Sri Bhagawan Mahaveer Jain College, Bangalore.
Marriage: Prajwal Devaraj married Ragini Chandran on 25 October 2015 at Castle Rocks, Bangalore Palace Grounds in. Prajwal & Ragini met when he was in 9th standard & she was in 6th standard then, there were friends at their dancing school. She is a Kathak dancer & Model by profession, she appeared in many Commercials and print Ads. They had been together for quite some time before marriage. She has been involved occasionally with costume designing in films as well. She is from Iyer family and he from Vokkaliga Gowda community.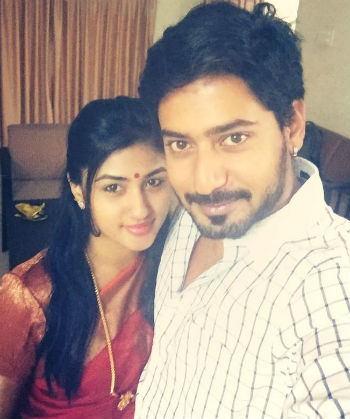 Prajwal Devaraj with his wife Ragini Chandran
Movie Career
Movie Debut as child artist: Prajwal made his debut as a child artist in Channappa Channegowda(1999) , a film directed by Anand P Raju, starring: B C Patil, Ruchita Prasad, Sadhu Kokila.
Movie Debut as a lead actor: Sixer(2007), was Prajwal's first movie as a lead actor with Devaki, Smitha, Adi Lokesh in the cast, directed by Shashank. It was a super hit movie and in fact it earned Prajwal the "Best Debut actor" award at the "Suvarna Film Awards".