Biography
Samyukta Hornad is an Indian Model & actress who has acted in South Indian languages like Kannada, Tamil & Telugu. She mostly appears in Kannada movies.
Childhood, Family & Personal Life
Samyukta Hornad was born on 23rd May in Bangalore, Karnataka to M G Sathya Rao (Father) & Sudha Belawadi (Mother).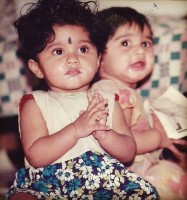 Samyukta Hornad childhood photo
Her mother Sudha is a veteran actor in Kannada film industry, known for supporting roles, mostly playing mother's roles for lead actors & actresses.
Her grandmother Bhargavi Narayan also has film & theatre background.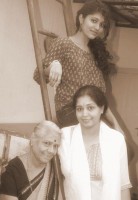 Samyukta Hornad with family- mother & grand mother
Her father Sathya Rao is a script writer, he wrote script for the popular Shahrukh khan starrer Swades.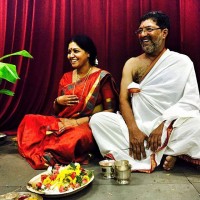 samyukta hornad parents- sudha belawadi & sathya rao
Her grandfather Make-up Nani was a makeup artist.
Actor Prakash Belawadi is her uncle, he plays negative & supporting roles.
Education: She completed her undergraduate studies in Media, English & Pscyhology at Chirst University, Bangalore.
Movie Career
Samyukta was TV anchor & host on few shows before entering the films.
Samyukta started her film career with the movie Aa Dinagalu(2007), a Drama movie by K M Chaithanya starring Chetan Kumar, Veda Sastry, Sharath Lohitashwa. Her appearance on screen in the movie was not for more than a minute though.
Her next movie Lifeu Ishtene(2011) was one of the top hits of the year. She had a prominent role in the movie, it earned her recognition.
Her movie Oggarane was dubbed in Tamil & Telugu as Un Samyal Arayail & Ullavacharu Biryani respectively. The movie was a hit in all three languages. Oggarane itself was a remake of Malayalam movie Salt & Pepper.
She worked with Raghu Mukherjee on the film "Dayavittu Gamanisi" a film by Rohith Padaki.
She will be seen in T N Seetharam's next venture Coffee Thota, produced by Manvantara Productions.
Awards & Nominations
2013: Nomination- Best Debut Actress Award for Lifeu Ishtene at South Indian International Movie Awards (SIIMA) 2013.
2014: Won- Best Supporting Actress Award for Oggarane Dabbi at Filmfare Awards.