Agni Sridhar
Agni Sridhar is a
Kannada
Writer, Director, Singer
known for the movies
Aa Dinagalu
(2007),
Edegarike
(2012),
Thamassu
(2010)
Name
Agni Sridhar (ಅಗ್ನಿ ಶ್ರೀಧರ)
Place Of Birth
Kanakapura, Karnataka
Debut Movies
Aa Dinagalu(writer) , Thamassu(director)
Wiki Page
https://en.wikipedia.org/wiki/Agni_Shridhar
Biography
Agni Shridhar is an Kannada former gangster, writer, critic and artist. He founded Karunada Sene. Later he founded the weekly Kannada newspaper and turned a professional writer, Agni. He has written a book called "Dadagiriya dinagalu", meaning the days of goondaism.
Agni Sridhar: Photos, Pictures
(
All Agni Sridhar Photos
)

Agni sridhar

Agni sridhar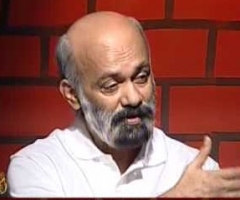 Agni sridhar

Agni sridhar
Agni Sridhar: Filmography (6)
(
All Agni Sridhar Movies
)
List By:
| | |
| --- | --- |
| 2016 | Kiragoorina Gayyaligalu[Writer (Screenplay),Writer (Dialogue)] |
| 2012 | Edegarike[Writer (story),Writer (Screenplay),Writer (Dialogue)] |
| 2010 | Thamassu[Director,Writer (story),Writer (Screenplay),Writer (Lyrics),Writer (Dialogue)] |
| 2009 | Kallara Santhe[Writer (story),Writer (Screenplay),Writer (Dialogue)] |
| 2008 | Slum Baala[Writer (story),Writer (Screenplay),Writer (Dialogue),Playback Singer] |
| 2007 | Aa Dinagalu[Writer (story),Writer (Screenplay),Writer (Dialogue)] |