Biography
Shakeela was born as C.Shakeela Begum on Satiurday, 20th November 1971 in Nellore, Andhra Pradesh to Chand Beegam (mother) & Chandbasha (father). She has 6 siblings.
She has acted in Various language films over the years mainly in Malayalam, Tamil, telugu & Kannada films.
Education: She has studied until 10th standard, she failed the 10th standard, after which she started her career in movies.
Entry into Softcore & B-Movies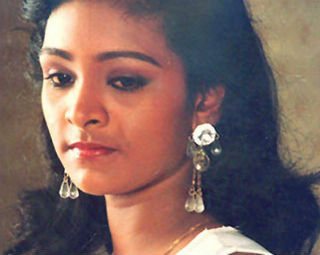 Young & beautiful Shakeela
When Shakeela was studying in 5th standard she would often go and watch film shooting near her school "Saraswathi Vidyalaya", inspired by rtists like Suhasini, Rekha and others she wanted to get into films.
For the lack of chances in mainstream movies she acted in glamorous roles, her career started during early 1990s, she made her debut in the Tamil softcore movie Playgirls at the age of 20. After failing her 10th, when her Dad asked her about her future, she told him that she wanted to be an actress, a makeup man know to her father took her to a director for a film where she played Silk smitha's younger sister's character.
Malayalam movie Kinnara Thumbikal (Lovelorn Dragonflies)(2000) a B movie directed by R J Prasad starring Hari Krishnan alongside Shakeela was the highlight of her career. The movie earned an estimated 4 Crores at the box office, at that time it was more than the mainstream movies. The movie was dubbed into many other languages and shown to a houseful of audience.
She even appeared topless during her early career, as she became famous she chose body doubles for some of the scenes.
With that began a series of famous movies. Between 2000 & 2003 she performed in about 40 movies, such was her popularity. Film chamber had to fight for theatres against B movies, Softcore movie were called "Shakeela movies" such was her popularity.
At the peak of her career in softcore movies it is said that her popularity in Kerala rivalled that of legends like Mammooty & Mohan Lal.
She has appeared in many languages, her works have been dubbed into non-Indian languages like chinese, Nepalese, Sinhalese as well.
Her contribution to Malayalam softcore industry is such that even today 100s of theatres across the state still run softcore movies. Malayalam satellite channels are re-running Shakeela's movies, and the TRP has been far higher than expected for such a late night show.
Entry into Mainstream Movies
After her fame in softcore movies, she started acting in Mainstream movies. Often in playful roles, mostly as a comic or in support roles.
Entry into Bigg Boss Kannada: Shakeela was already well known in Kannada industry through her appearances in Kannada films as comic in Monalisa(2004), Shree (2006 ), Circle Rowdy (2007), Kempa (2009) and others.
she was a contestant in the second version of Bigg Boss Kannada alongside Aadhi Lokesh, Akul Balaji, Deepika Kamaiah, Neethu Shetty, Srujan Lokesh, Swetha Changappa & others.
She was fondly called Chechi (Aunt) by the contestants, She was evicted after the 3rd week.
Shakeela's Autobiography: In 2013 shakeela's autobiography was released in Malayalam, next year it was translated into Kannada, later into many Indian languages.
She talks about difficulties of single women in Indian softcore film industry, sexual harassment by the producers and such, just because of the characters they played on screen.
She briefly talks about her mentor Silk Smitha , Shakeela was dubbed Silk Smitha's successor during her early days. Shakeela consider Silk Smitha to be her role model
Shakeela as Director: Shakeela has taken up the role of director in a mainstream movie titled "Neelakurinji Poothu" a Malayalam movie, The story of the movie is about the plight of women in society, shakeela is acting in of the pivotal roles. Her next directorial venture is "Romantic Target", a Telugu movie.
Marriage: She was first married to Arun Anthonypillai, next to Stavanagar; There were rumours that she was marrying a 28 year old (at the time of marriage) Engineer whom she met through whatsapp. She has clarified that it was just rumour and nothing else.