Biography
Silk Smitha was born on Friday, 2nd December,1960 as Vijayalakshmi (birth name) to Sarasamma (Mother) & Ramallu (Father) in Somavarappadu village, Eluru town of West Godavari District, Andhra Pradesh. She has a brother named V Naga Vara Prasad
She took the screen name of Smitha, meaning- Smile, to which the prefix "Silk" was added, Silk was the character she player in her first film Vandichakkaram(1979). Silk also indicates her glamorous roles.

Silk Smitha's brother V Naga Vara Prasad
Education: She studied till her Fourth Standard, she had to quit because of her family's poor conditions. She was married very early, her Husband was an abusive man and she ran away from him to Chennai, to live there with an Aunt of her's.
Film Career
Smitha while living with her Aunt in Chennai took a job as a makeup artist, eventually she got small character role to play. Eventually she agreed to take glamorous roles as cabaret singer & dancer, which brought her Demand & Fame. Her big lips, seductive eyes, boldness together with her voice made her the bombshell. She had uncles and other relatives who were in the film industry, but she was a self made star.
She made her debut through the Tamil film Vandichakkaram(1979), a block buster directed by K Vijayan. Smitha did not have a major role in the movie, but she certainly had a start with the movie.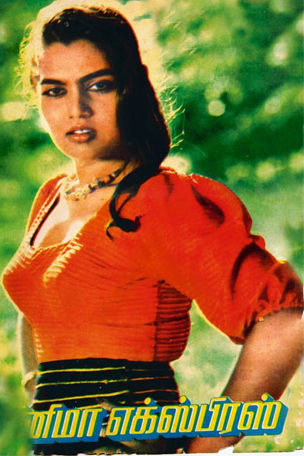 Silk Smitha on the cover of Cinema Express magazine
1980s were still the conservative years of Indian film industry, Smitha did show off some skin which made her the "Sex Symbol" of 1980s, she wanted to become popular for her acting skills, she remains popular as a seductress though, she couldn't break off the typecasting. She fileld the void of lack of softcore or any kind of sensual material during those times.
However her earlier films like Alaigal Oivathillai (1981) directed by P Bharathiraja starring Karthik & Radha, Moondram Pirai(1981) directed by Balu Mahendra with a cast of Kamal Haasan and Sridevi were much appreciated by the critics.
She has appeared in more than 450 movies in many languages including Malayalam, Telugu, Tamil, Kannada and Hindi. She has starred against the legends of every south Indian film industry, from Rajnikanth, Kamal Hasan in Tamil to Chiranjeevi in Telugu & Ravichandran in Kannada.
She performed in almost 200 movies in a short span of 3 years, she was so much sought after that she even used to charge up to 50000 Rupees per song, she would eventually make a lot more than the leading actresses of her time.
She produced a movie named "Silk", where she appeared in triple role. That movie is said to have consumed all her money and driven her depressed.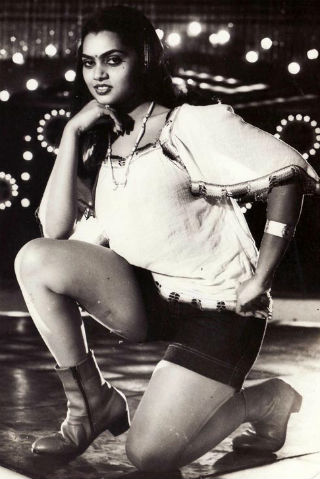 Silk Smitha, an unfinished journey of a star
Death
She died on 23 September 1996 in Chennai, she was found dead in her apartment hanging by the rope to the ceiling, it was assumed to be a suicide. By that time she was trying to produce movies, her failures in Love Life had driven her to alcohol and is said to be a prime reason for this drastic step.
Investigation research speculated that she could have been poisoned first before hanging, but nothing concrete was proved.
She was very depressed during the last years of her life after both the movies she produced failed at the box office. Her Partner at that time is said to have scammed some money luring her into production.
The fact that she could not escape being type casted and could not get roles where she could prove her acting skills could also be a factor leading to her depression.
Exploitation of women in film industry is a matter of serious concern, her death & her bio pics raise the issue again. Especially the women in item numbers aren't treated as artists at par with others, and are often under paid.
Silk Smitha tried calling her Kannada movie Halli Meshtru co-star V Ravichandran numerous times hours before her suicide, he was busy with the shooting of a movie, till this day he regrets not talking to her, he wishes 'only if I had talked to her, I might have saved her', he apparently tried to call her back a few times but with no luck, only to find her dead the next day.
Subash (1996) was her last movie.
She wanted to get married and settle down eventually, unfortunately that day never came in her life. She died without children or Husband but many fans who appreciate her. She has a brother who still lives
Silk Smitha's BoPic
In Hindi: Ekta Kapoor, A bollywood director (famous for her TV serials running for years) produced a biographical movie loosely based on the real life character of Silk smith, played on screen by Vidya Balan. Apparently the family wasn't happy about the movie, and the producer denied that it was indeed Silk Smitha's biographical film. The movie was "coincidentally" released on Silk Smitha's birthday, a tribute to the star.
In Kannada: Silk(2013)- Dirty Picture: Silk Sakkath Hot, was a Kannada movie based on the life story of Silk Smitha. Lead character was played by Veena Malik, movie was directed by Trishul
In Malayalam: Climax, a 2013 movie was based on Silk Smitha, it was directed by Anil Kumar, lead role was played by Sana Khan.
Silk Smitha & Shakeela
Shakeela entered the film industry through the movie Play Girls starring in Silk Smitha's sister's character. Shakeela considers Smitha to be her mentor & role model.
Shakeela remembers till day how Smitha slapped her hard for a scene in the movie, while she could have just faked the slapping.