Biography
Priyamani is an Indian film actress and model, who appears mainly in films made in southern India. Priyamani has worked in Malayalam, Kannada, Tamil, Telugu and Hindi languages. She is a multi-award winning actress who rose into fame in late 2000s through her performance in movies like Yamadonga, Muththazhagu, Thirakkatha, Chaarulatha.
Childhood, Family, Personal Life
Priyamani was born on Mondy, 4 June 1984 to Vasudeva Mani Iyer (Father) and Latha Mani Iyer (Mother) in Bangalore, Karnataka.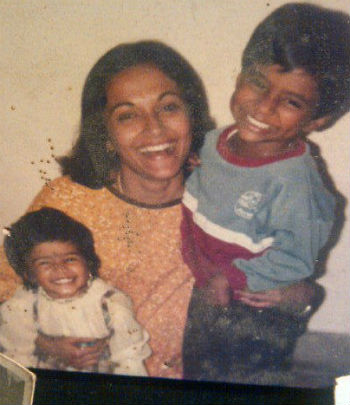 Priyamani childhood photo- with mother Latha iyer & brother Vishakh
Priyamani's father Vasudeva Mani Iyer comes from Palakkad, Kerala, He is belongs to Tamil Iyer community and owns a plantation. Her mother Lathamani is from Thiruvananthapuram, she was national level badminton player in her youth, now works as Bank Manager (Union bank). Lathamani is a Malayali.

Priyamani with mother latha iyer (recent)
She has a brother named Vishakh Iyer, who after studies has entered plantation business along with his Dad. Kamala Kailas, a renowned Carnatic vocalist is her grand mother. Hindi actress Vidya Balan is Priyamani's cousin. Singer Malgudi Subha is her aunt.
Boyfriend & Engagement: Priyamani was seeing Mustafa Raj an event management business professional for quite a while, She met him at Indian Premiere League (IPL) during a match in Bangalore a few years ago. Mustafa Raj & Priyamani Got engaged on 27 May 2016 in a private ceremony.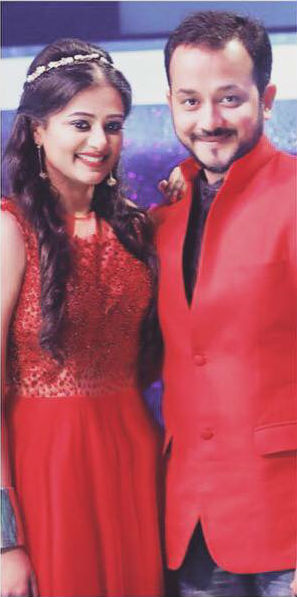 Priyamani with her fiancee Mustafa Raj
Education:
High School: Sri Aurobindo Memorial School, Banashankari, Bangalore
College: Bishop Cotton Women's College, J C Road, Bangalore
Graduation: She currently pursuing her B.A in Psychology through non-regular course.
Advertisements & Endorements:
Kancheepuram silks
Erode silks
Lakshmi silks
Film Career
Priyamani's movie "Kangalal Kaithu Sei" a 2004 Tamil Drama directed by Bharathiraja marked her debut int he film industry.
"Pellaina Kothalo" a 2006 Telugu romantic film directed by Madan was her first film in Telugu. The movie had Jagapati Babu in the lead.
With Sathyam, a 2004 Malayalam movie directed by Vinayan starring Prithviraj she entered Malayalam films.
Raam(200), a Romantic comedy movie with Puneeth Rajkumar directed by K.Madesh was her first in the Kannada industry, a rather late entry for a Bangalore girl.
Yamadonga, Malaikottai, Thirakkatha, Rakta Charitra, Raavan are among the films that were either successful commercially or got her the appreciation of the critics.
TV Appearances:
She is a multi-lingual, her fluency in many languages has got her the chance to play host/ judge in many languages, some of her shows are:
2014: D 4 Dance (Malayalam): Aired on Mazhavil Manorama, where she was one of the judges
2015: D2 - D 4 Dance (Malayalam): Aired on Mazhavil Manorama, where she was one of the judges
2015: Dancing Star 2 (Kannada): Aired on ETV Kannada, where she was one of the judges
2016: Kings of dance (Tamil): Aired on Star Vijay, where she was one of the judges
2016: D3 - D 4 Dance (Malayalam): Aired on Mazhavil Manorama, where she was one of the judges
2016: Dancing Star 3 (Kannada): Aired on Colors Kannada, where she was one of the judges