Biography
Prakash Raj is an Indian actor, particularly famous in south Indian films & generally known all over India for his versatile roles and efficiency to bring life to characters. He has re found himself as a director, producer and other creative roles as well.
Childhood, Family & Personal Life
Prakash Raj was born in St. Martha's Hospital, Bangalore, Karnataka as Prakash Rai on Friday, 26 March 1965 to Manjunath Rai (Father) & Swarnalatha (Mother). His father comes from a Tulu speaking family, his mother speaks Kannada. Prakash Raj speaks Tamil, Telugu, Hindi, Marathi, English, Malayalam, Tulu along with his mother tongue Kannada. His mother was a Nurse in nospital. His mother was a Christian by religion, he has both Christian & hindu upbringing.
Prakash Raj has a brother named Prasad Rai, Prasad is an actor too, he made debut in Tamil in 2010. Prasad & Prakash have a sister.
First Marriage: Prakash Raj married actress Lalitha Kumari in 1994, They have children, daughters named Meghana, Pooja and a son Sidhu. His Sidhu had an unfortunate early death in March 2004. Lalitha & Prakash divorced in 2009, ending their 15 year marriage.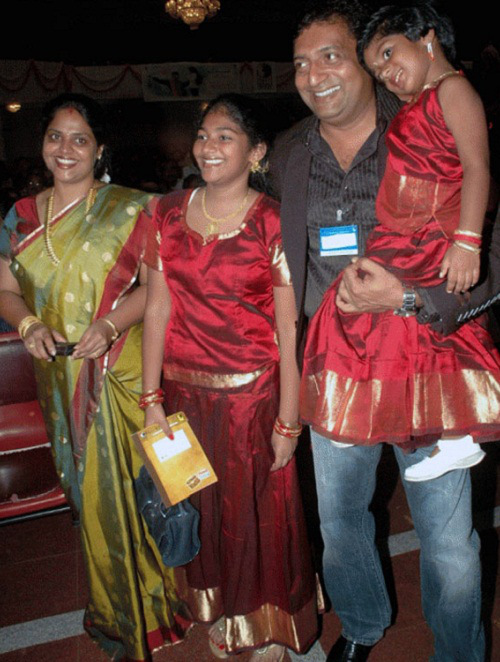 Prakash raj Family: with ex-wife Lalitha kumari, daughters Meghana and Pooja
Second marriage: Prakash Raj married Bollywood choreographer Pony Verma (born Rashmi Verma) on August 24, 2010, they had known each other for long time, they were friends before they decided to get married. The ceremony was conducted according to Hindu traditions in Punjabi style. The event was attended by his mother, daughters & wellwishes from the industry like his friend director Radha Mohan & others. Reception was arranged in Sahara hotel, Mumbai among other places. The couple had a baby boy in February, 2016, their son is named Vedhant.

Prakash Raj with wife pony verma & son vedhanth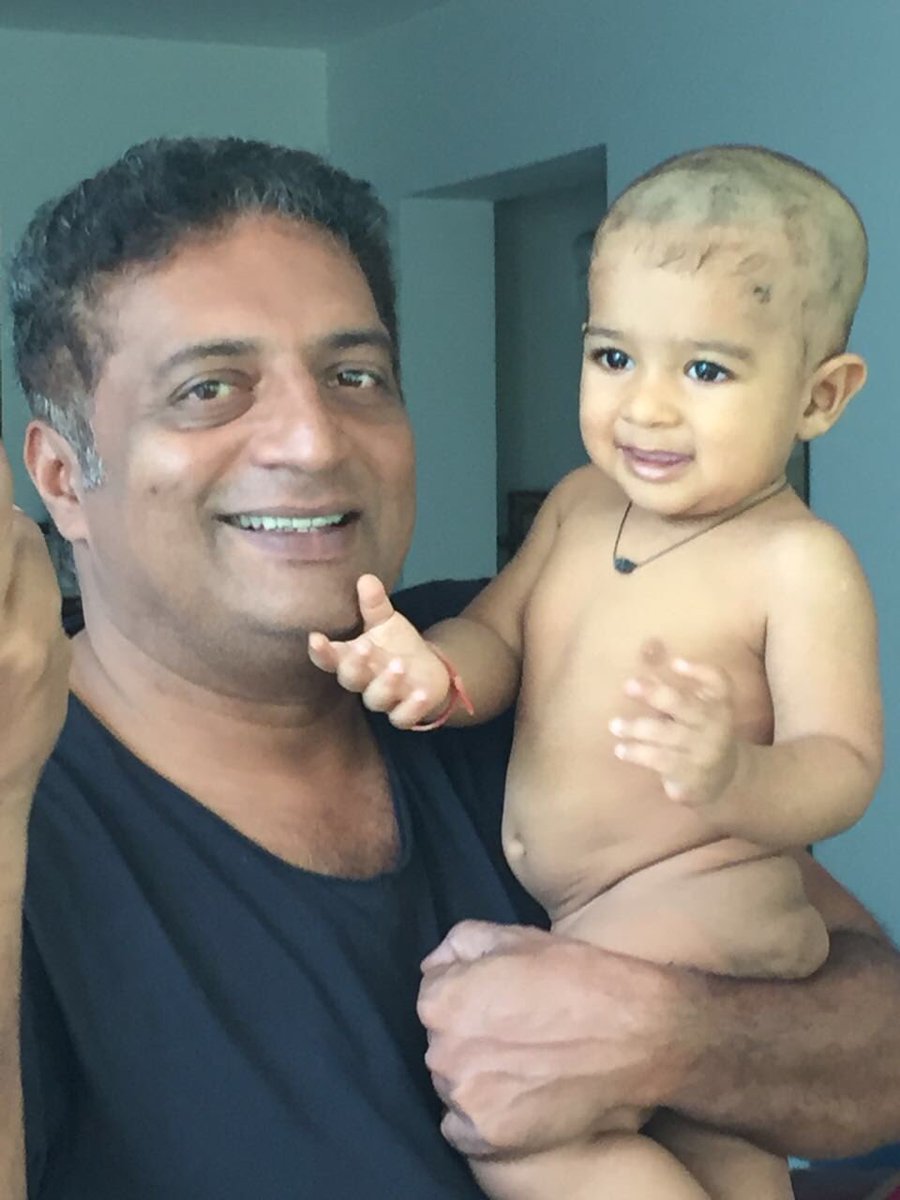 Prakash Raj with son Vedhanth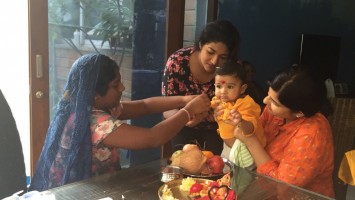 Prakash Raj children- daughters Meghana, Pooja & son Vedhanth
Education:
High School: St. Joseph's Boys' High School, Museum Road, Bangalore.
College: St. Joseph's College of Commerce, Brigade Road, Bangalore.
Drama: He started in theatres through Kalakshetra, Bengaluru.
Movie Career
Thatre Career: Prakash Raj started his career in acting through stage dramas of Kalakshetra, Bengaluru.
Prakash first entered the movies as a dubbing artist for Ravana Rajya(1987).
Prakash Raj started his career in acting in Kannada films, his made his debut through Mithileya Seetheyaru(1988), a Drama movie by S L Swamy (Ravi) starring: Geetha, B V Radha.
Prakash Raj had acted in around 20 Kannada movies like Baa Nalle Madhuchandrake, Bhavya Bharatha, Nishkarsha, Ramaachari, Anukoolakkobba Ganda, Mutthina Haara, Tarka before making his debut in Tamil industry through K. Balachander directed Duet (1994).
Prakash appeared in Malayalam movies starting from 1996 with "The Prince" starring Mohanlal directed by Suresh Krishna.
After his entry into Tamil films, Prakash Raj became a sensation in a short time period, he quickly became a sensation in Telugu industry as well. He has been among the most sought after anti-heroes of the South India.
As director: Prakash Raj started his directorial career through "Naanu Nanna Kanasu (2010 ), A remake of the Tamil movie "Abhiyum Naanum" which has him in the lead role. Dhoni, Oggarane are other hit movies created under his direction.
A Producer: Prakash Raj started producing movies starting from the Tamil movie Dhaya (2002) directed by Senthil Kumar, starring Meena, Lakshmi, Raghuvaran.
TV Appearances
Bisilu Kudure (Kannada): A Drama TV serial aired on Doordarshan Kannada.
Guddada Bhootha (1990) (Tulu and Kannada): A suspense thriller originally aired on DD Kannada & later reaired on Zee Kannada in 2014. It was an inspiration for the 2015 hit Kannada film RangiTaranga, the film has used the song "Dennaana Dennaana" from the TV series.
Neengalum Vellalam Oru Kodi (Tamil) : Prakash Raj hosted, this game show, a Tamil Version of the "Who wants to be a Millionaire." It was aired on Star Vijay.
Awards & Recognitions:
1996: Kalki (Tamil): Best Villain Award- Won (Tamil Nadu State Film Awards)
1997: Nagamandala(Kannada): The movie in which Prakash acts as the leading actor was selected for Indian Panorama in the International Film Festival.
1998: Iruvar(Tamil): National Film Award for Best Supporting Actor.
1998: Antahpuram (Telugu): National Film Award – Special Jury Award.
2000: Azad (Telugu): Best Character Actor- Won (Nandi Awards)
2000: Vaanavil (Tamil): Best Villain Award- Won (Tamil Nadu State Film Awards)
2002: Nuvve Nuvve (Telugu): Best Supporting Actor- Won (Filmfare Awards South)
2002: Khadgam (Telugu): Best Supporting Actor- Won (Nandi Awards)
2003: (Various Roles): Special Jury Award- Won (National Film Awards)
2003: Amma Nanna O Tamila Ammayi (Telugu): Best Character Actor- Won (Nandi Awards)
2003: Tagore (Telugu): Best Supporting Actor- Won (Filmfare Awards South)
2003: Kannathil Muthamittal (Tamil): Best Supporting Actor- Won (International Tamil Film Awards)
2003: Chokka Thangam (Tamil): Best Supporting Actor- Nominated (Filmfare Awards South)
2003: Gangotri (Telugu): Best Villain- Won (Nandi Awards)
2003: Okkadu (Telugu): Best Villain Award- Won (Santosham Film Awards)
2003: Khadgam (Telugu): Best Supporting Actor- Won (CineMAA Awards)
2004: Ghilli (Tamil): Best Villain- Won (Filmfare Awards South)
2004: Amma Nanna O Tamila Ammayi (Telugu): Best Supporting Actor- Won (CineMAA Awards)
2005: Sivakasi (Tamil): Best Villain- Won (Filmfare Awards South)
2005: (Various): Best Villain Award- Won (Tamil Nadu State Film Awards)
2006: Bommarillu (Telugu): Best Supporting Actor- Won (Nandi Awards)
2006: Sivakasi (Tamil): Favourite Villain- Won (Vijay Awards)
2007: Kanchivaram (Tamil): Best Actor- Won (National Film Awards)
2007: Mozhi (Tamil): Best Supporting Actor- Won (Vijay Awards)
2007: Pokkiri (Tamil): Best Villain- Nominated (Vijay Awards)
2008: Kotha Bangaru Lokam (Telugu): Best Supporting Actor- Nominated (Filmfare Awards South)
2008: Abhiyum Naanum (Tamil): Best Supporting Actor- Nominated (Filmfare Awards South)
2008: Abhiyum Naanum (Tamil): Best Supporting Actor- Nominated (Vijay Awards)
2009: Kanchivaram (Tamil): Best Actor- Won (Filmfare Awards South)
2009: Kanchivaram (Tamil): Best Actor (National Film Award)
2009: Kanchivaram (Tamil): Best Actor- Won (Vijay Awards)
2010: Singam (Tamil): Best Villain- Nominated (Vijay Awards)
2010: Naanu Nanna Kanasu (Kannada): Best Director- Nominated (Filmfare Awards South)
2010: Singam (Tamil): Best Supporting Actor- Nominated (Filmfare Awards South)
2010: Puttakkana Highway (Kannada): Best Film- Won (National Film Awards)
2010: Abhiyum Naanum (Tamil): Best Character Artiste- Won (Tamil Nadu State Film Awards)
2011: Dookudu (Telugu): Best Supporting Actor- Nominated (Filmfare Awards South)
2011: Dookudu (Telugu): Best Supporting Actor- Won (Nandi Awards)
2012: Singham (Hindi): Best Actor in a Negative Role- Won (Zee Cine Awards)
2012: Dookudu (Telugu): Best Supporting Actor- Won (CineMAA Awards)
2012: Singham (Hindi): Best Actor in a Negative Role (Apsara Film and Television Producers Guild Awards)
2012: Singham (Hindi): Best Performance in a Negative Role- Won (International Indian Film Academy Awards)
2012: Dookudu (Telugu): Best Supporting Actor- Won (South Indian International Movie Awards)
2013: Dhoni (Telugu): Best Supporting Actor- Nominated (South Indian International Movie Awards)
2013: Dhamarukam (Telugu): Best Supporting Actor- Nominated (South Indian International Movie Awards)
2013: Businessman (Telugu): Best Actor in a Negative Role- Nominated (South Indian International Movie Awards)
2015: Oggarane (Kannada): Best Director- Nominated (Filmfare Awards South)
2015: O Kadhal Kanmani (Tamil): Best Supporting Actor- Nominated
2015: O Kadhal Kanmani (Tamil): Best Actor in a Supporting Role- Won (South Indian International Movie Awards)
Controversies & Prakash Raj
Banned from Telugu film indistry "Sex" Times: Prakash Raj has been banned from the Telugu film industry for six times so far, he doesn't go by the conventional rules, "but why do they still hire me if they don't like Me, look at the results. I understand I'm bit unconventional" says Prakash.
Prakash went nude for a scene in the movie Ongole Githa: He was criticized for going fully nude for a scene in the movie, Prakash says that he wouldn't have done it unless the character demanded it. Thus only being truthful to the role.
For being part of the team which Produced Singham: Kannada fans & industry protested that Singham movie uses a derogatory dialogue, which puts people of Karnataka in bad light. Eventually the dialogue was cut-off and the director & producer apologized.
Fight at the Hyderabad Airport: According to Prakash Raj, a drunk man forced him to talk to his girlfriend on phone even after repeatedly politely choosing not to, the young man pushed it