Biography
Radhika Pundit is an Indian actress, who primarily works in Kannada movies & has worked in TV serials as well. She is one of the leading actresses of the industry and has been recognized for her works with many awards & accolades.
Childhood, Family, Personal Life
Radhika Pandit was born on Wednesday, 7 March 1984 in Bangalore, Karnataka (Bangalore Palace Nursing Home, Malleswaram) to D P Krishnaprasad Pandit (Father) & Mangala Pandit (Mother), her father hails from Uttara Kannada Saraswat Brahmin community (caste). Her mother Mangala is from Goa. Rama Pandit is her grandmother (father's mother).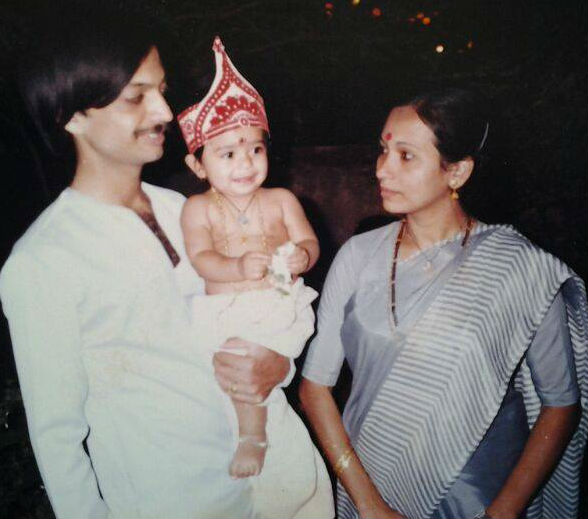 Radhika Pandit childhood photo with Parents

Radhika Pandit with brother Gaurang
Radhika has a younger brother named Gourang Pandit.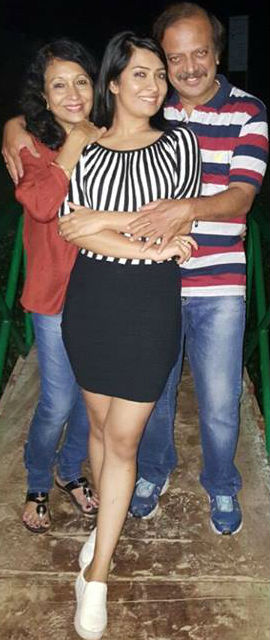 Radhika Pandit with parents- mother Mangala, father Krishnaprasad
Education:
School: She studied in Shirali Village, her native place.
High School: Radhika was schooeld in Cluny Convent High School, Malleshwaram, Bangalore.
Pre University College: Mount Carmel College.
Grduation: B.Com, Mount Carmel College, Vasanth Nagar, Bangalore.
Radhika Pandit & Yash marriage: Radhika & Yash had started seeing each other after they appeared in the movies together, the couple had kept the relationship private and stayed away from the media eye for a long time, Yash & Radhika got engaged on 12th August 2016 in Goa (her maternal home) and married in 9th December 2016 in Bangalore. The rituals were conducted according to both Konkani(Radhika) traditions as well as Vokkaliga Gowda (Yash) tradition.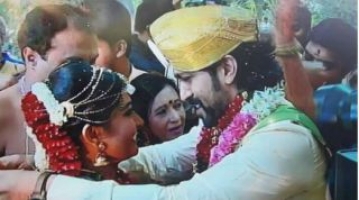 Yash & Radhika Wedding
They went to Hawaii, Miami & Chicago for honeymoon. Radhika has expressed that she will be acting in movies as before and there won't be changes as of now.
TV Career
Radhika started her acting career through TV serials, her first TV serial was Nandagokula, in which she acted with Yash, NandaGokula marked the debut of both Yash & Radhika who went on to star in many movies together in the leading roles and eventually got married. Yash & Radhika played brother & sister in the serial, it was aired on ETV Kannada. Radhika's friend Pooja, persuaded her to give an audition, Radhika was reluctant as she hadn't even completed her B.Com yet, she was in the final year of her course.
Sumangali was another TV serial she appeared in before moving on to the silver screen.
Movie Career
Radhika acted in the movie "18th Cross" in 2007, but the movie wasn't finished until 2012.
Moggina Manasu(2008) was her debut movie, coincidentally it was Yash's first movie as well. It was directed by Shashank starring Yash & Shubha Poonja as well. Radhika received state Award for her role in the movie.
Advertisements & Endorsements
KLF Nirmal Coconut oil
Orra Jewellery
Gillette's
Awards & Recognitions
2008: Moggina Manasu: Best Actress- Won (Karnataka State Film Award)
2008: Moggina Manasu: Best Actress- Won (Filmfare Awards South)
2008: Moggina Manasu: Best Actress- Won (South Filmfare Award)
2009: LoveGuru: Best Actress (South Filmfare Award)
2010: Krishnan Love Story: Best Actress- Won (South Filmfare Award)
2010: Olave Jeevana Lekkachaara: Best Actress- Won (Innovative Film Awards)
2010: Olave Jeevana Lekkachaara: Most Popular Actress- Nominated(Suvarna Film Awards)
2010: Love Guru: Best Actress- Won (Filmfare Awards South)
2010: Love Guru: Best Actress- Nominated (South Scope Cine Awards)
2010: Moggina Manasu: Best Actress- Won (Karnataka State Film Awards)
2011: Krishnan Love Story: Most Entertaining Heroine- won (BIG Kannada Entertainment Awards)
2011: Krishnan Love Story: Best Actress- won (BIG Kannada Entertainment Awards)
2011: Krishnan Love Story: Best Actress- won (Filmfare Awards South)
2011: Krishnan Love Story: Best Actress- won (Udaya Film Awards)
2012: Hudugaru: Best Actress- Nominated (TV9 Sandalwood Star Awards)
2012: Hudugaru: Best Actress- Nominated (Filmfare Awards South)
2012: Hudugaru: Best Actress- Nominated (The Bangalore Times Film Awards)
2013: Addhuri: Best Actress- Nominated (Filmfare Awards South)
2013: Addhuri: Best Actress- won (Udaya Film Awards)
2013: Addhuri: Best Actress- Nominated (South Indian International Movie Awards)
2013: Addhuri: Best Actress- Nominated (The Bangalore Times Film Awards)
2014: Dilwala: Best Actress- won (South Indian International Movie Awards)
2015: Most Popular Kannada actress (Bangalore Times poll)
2016: Mr. and Mrs. Ramachari: Best Actress- Nomination (Filmfare Awards South)
2016: Mr. and Mrs. Ramachari: Best Actress- won (South Indian International Movie Awards)
2016: Mr. and Mrs. Ramachari: Best Actress- won (IIFA Utsavam)
2016: Mr. and Mrs. Ramachari: Best Actress- Nomination (IBNLive Movie Awards)
2016: Most Popular Kannada actress (Vijaya Karnataka's LavalaVK poll)