Biography
Childhood & Family
Yash childhood Photo from Album
Kannada actor popularly known as Yash was born as Naveen Kumar Gowda on 8th January 1986, Wednesday in Bhuvanahalli, Hassan to Arun Kumar, a BMTC Driver by profession & Pushpa Arun Kumar, House wife. The word Yash means Success.
Sister: He has a sister named Nandini who is younger to him.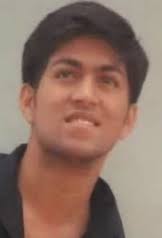 From His school Days
Childhood: Though he was born in Hassan, he was brought up in Mysore. He was a long time resident of Paduvarahalli locality of Mysore.
Education:
He studied in Mahajana High School, Mysore.
Later he joined Benaka, Drama team founded by the famous B V Karanth, where he gained formal experience in acting.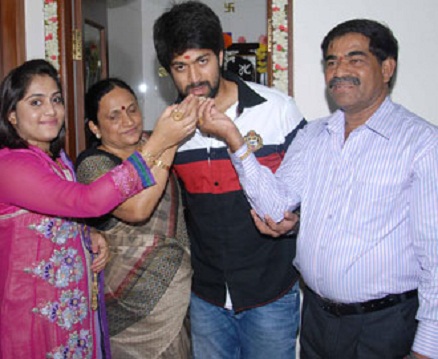 Yash Family
: Mother-Pushpa, Father-Arun & Sister Nandini.
He currently resides in his house at Banashankari 2nd stage, near water tank, Bangalore, Karnataka, India.
Love & Marriage
Yash met Radhik Pandit on the sets of his first ever TV serial "Nanda Gokula" where Radhika Pandit & Yash played Brother & Sister.
They have been said to be long time lovers, some speculate romance was in the air since their early days in TV.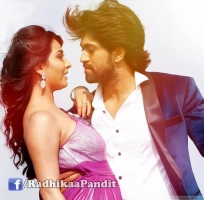 The duo got engaged in Goa on 12 August 2016, Goa is Radhika Pandit's grand parents' home, so it was both a traditional engagement as well as a modern one.
Wedding: Yash & Radhika Pandit got married on the 9th December 2016 at Taj West End,Bangalore the sets deigned by Arun Sagar resembled the Somanatheshwara temple of Kolar. Their Costumes were designed by their colleague fom the industry Sania
Yash is from the Vokkaliga Caste, While Radhika is from the Brahmin Caste, the marriage rites were conducted according to both the traditions, they wedded at 11:45 am, Friday.
The event was attended by many of the famous names of Sandalwood like Puneeth Rajkumar, Ravichandran, Sudeep, Shivarajkumar, Jayanthi, Bharathi among others.
Reception: Reception was held at the Palace Grounds, Bangalore on 11th December 2016 from 11 in the morning and the event was open to all to attend.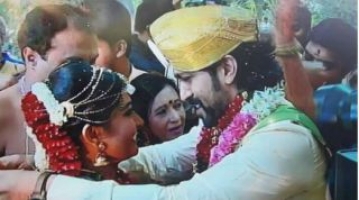 Yash & Radhika Wedding
Career in TV Serials & Films
TV Serials: Yash started his career as a TV actor, he incidentally met his future wife Radhika Pandit on the sets of "Nanda Gokula" , his first serial directed by Ashok Kashyap, which ran on ETV Kannada. Later he appeared in few other serials.
Nanda Gokula (2004)- Aired on ETV Kannada
Uttarayana (2004)- Aired on Udaya TV
Malebillu (2006)- Aired on ETV Kannada
Preeti Illada Mele (2006)- Aired on ETV Kannada
Shiva (2007)- Aired on DD Chandana
are some of the TV serials he appeared in.
Debut in Films: In 2007, Yash made debut into films through Jambada Hudugi, a directorial venture by Priya Hassan.
Debut as lead actor: Moggina Manasu (2008) directed by Shashank was Yash's first movie in the lead role. The movie had 3 leading female roles, coincidentally it was also the same movie which brought Radhika Pandit to limelight as the lead actress.
Later he starred in the movie Rocky (2008), he appeared in the title role, the movie was a failure, yet it brought Yash as a promising lead actor. His next movies Kallara Santhe (2009), Gokula (2009) wre modest in Box office collection.
Yash's big break came through Modala Sala (2010) a box office hit, a first for Yash, his next movies Kirathaka(2011), Rajadhani (2011) with Prakash Rai, Drama (2011) directed by Yograj bhat with Radhika Pandit in opposite him in the lead role, Jaanu (2012), Lucky (2012) with Ramya, Rajahuli (2012) with Meghana Raj, Googly (2013) with Kriti Kharbanda, Mr & Mrs Ramachari(2014) again with Radhika Pandit.
Yash in Collaboration with Jayanna-Bhogendra has acted in many hits in the Kannada film industry. Their collaboration has given successful movies year after year.
Awards
2009: Yash won the Filmfare Award for Best Supporting Actor for his role in the film "Moggina Manasu". (Filmfare Awards South)
2013: He was nominated in the Best actor category for Drama (Filmfare Awards South)
2014: He was nominated in the Best actor category for Googly (SIIMA Awards)
2014: He won the award in Best actor category for Googly (Filmfare Awards South)
2015: He won the award in Best actor category for Mr. and Mrs. Ramachari (SIIMA Awards)