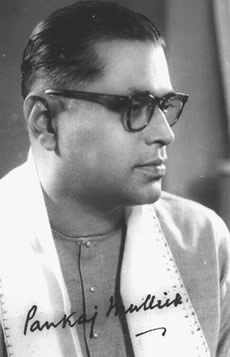 Pankaj Mullik
Pankaj Mullik (1905-1978) is a
Bollywood, Bengali
, Music Director
known for the movies
Devdas
(1935),
Dhoop Chhaon
(1935)
Name
Pankaj Mullik (পঙ্কজ কুমার মল্লিক)
Other Names
Pankaj Mullik
Date Of Birth
10 May 1905
Age
(Age at Death: 72 years 9 months 9 days)
Place Of Birth
Calcutta, Bengal Presidency, British India
Date Of Death
19 February 1978
Place Of Death
Calcutta, West Bengal, Republic of India
Father
Monimohan Mullick
Mother
Monomohini
Teacher
Durgadas Bandopadhaya
Education (Graduation)
Scottish Church College(University of Calcutta)
Biography
Pankaj Mullick, also known as Pankaj Kumar Mullick was a Bengali Indian music director, who was a pioneer of film music in Bengali cinema and Hindi cinema at the advent of playback singing, as well as an early exponent of Rabindra Sangeet
Pankaj Mullik: Photos, Pictures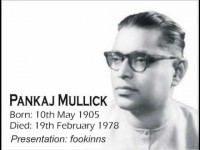 Pankaj mullick bengali music director.

Pankaj kumar mullick when he was young.
Interesting Facts and Trivia
[
Top ⇑
]
He contributed in various capacities to Bengali, Hindi, Urdu and Tamil language films for 38 years, starting in 1931. He worked as music director to artists like K.L. Saigal, S.D. Burman, Hemanta Mukherjee, Geeta Dutt and Asha Bhosle.
He acted with famous film actors like K L Saigal, P.C. Barua and Kanan Devi. Along with Nitin Bose and his renowned sound engineer brother Mukul Bose, Mullick introduced playback singing in Indian cinema.
He started his career with the Indian Broadcasting Corporation in Calcutta in 1927, the forerunner of All India Radio (AIR), along with composer R. C. Boral, where he contributed as a music director and artist for nearly fifty years.
He worked with one of the early film studios, New Theatres Calcutta for 25 years.
Pankaj Mullik: Filmography (2)
List By: