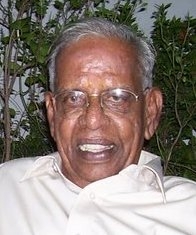 Nagesh
Nagesh (1933-2009) is a
Kannada
Actor
known for the movies
Sathya Harishchandra
(1965),
Praya Praya Praya
(1982),
Bhakte Shabari
(1960)
Other Names
Nageswaran C. Krishna Gundu Rao, Nageswaran Ceiyur Krishna Gundu Rao
Date Of Birth
27 September 1933
Age
(Age at Death: 75 years 4 months 4 days)
Place Of Birth
Dharapuram, Tiruppur, Tamil Nadu
Date Of Death
31 January 2009
Place Of Death
Chennai, Tamil Nadu
Wife
Regina
Sons
Ramesh Babu , Rajesh Babu , Anand Babu
Father
Krishna Rao
Mother
Rukmaniamma
Biography
He was a National Award-winning Tamil film actor, mostly remembered for his roles as a comedian during the 1960s. He is regarded as one of the most prolific comedians in Tamil cinema. He acted in over 1,000 films from 1958 to 2008, performing in variety of roles as comedian, lead roles, supporting actor and antagonist. Nagesh's style of comedy was largely inspired by Hollywood actor Jerry Lewis. Similarities between Nagesh and Lewis earned Nagesh the sobriquet "Jerry Lewis of India".
Interesting Facts and Trivia
[
Top ⇑
]
He received Kalamamani award in 1974
He has acted in more than 1000 movies
Nagesh: Filmography (15)
(
All Nagesh Movies
)
List By: