Bharath Reddy
Bharath Reddy is a
Kannada
Actor
known for the movies
Bheema Theeradalli
(2012),
Aaptha
(2011)
Place Of Birth
Tirupathi, Andhra Pradesh
Wife
Manila(gynaecologist)
Height
6 feet 3 inches
Wiki Page
https://en.wikipedia.org/wiki/Bharath_Reddy_(actor)
Education(College)
La Chateline Residential Junior College
Education (Graduation)
Medical degree from Yerevan State Medical University, Armenia
Education
Diploma in Cardiology
Debut Movie
Jalsa(2008)
Biography
Bharath Reddy is an Indian film actor who has appeared in Tamil and Telugu language films.
Bharath Reddy: Photos, Pictures
(
All Bharath Reddy Photos
)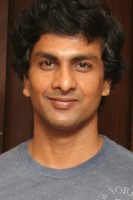 Bharath reddy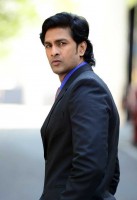 Bharath reddy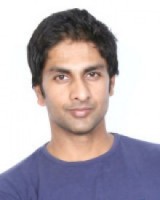 Bharath reddy

Bharath reddy
Interesting Facts and Trivia
[
Top ⇑
]
Unnaipol Oruvan (2009) is the movie which provided him the breakthrough.

Bharath Reddy is a doctor by profession, he balances his life as an actor and doctor.

Some of the popular movies he has had a powerful role include: Unnaipol Oruvan, Ragada, Greeku Veerudu, Businessman, Payanam, Mallukattu, Ragalaipuram, Idhu Kathirvelan Kadhal

After education he started working as a Cardiologist at Apollo Hospitals, Hyderabad

Bharat Reddy speaks 8 languages including two foerign languages- Russian and Armenian.

Bharat and wife Manila met in Armenia during their Medicine classes

Bharath Reddy was born in Tirupathi, but brought up in Chennai.

Bharath acted as a second villain or in small supporting roles in his first 10-15 movies
Bharath Reddy: Filmography (3)
List By:
Quotes
[
Top ⇑
]
One must pursue their passion despite being in other fields

On how his film career affected his practice of Medicine "my visitors have doubled as films gave me a new image"