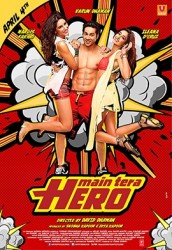 Main Tera Hero
(मैं तेरा हीरो)
4th April 2014- Action, Comedy

0
0/10, 0 Votes
A notorious boy decides to attend college in Bangalore, but instead falls in love with a girl who has to marry a terrorizing police officer
+Add Story Summary +Write Review
Movie Cast
[
Top ⇑
]
Movie Details
[
Top ⇑
]
| | |
| --- | --- |
| Movie Name | Main Tera Hero |
| Original Language Name | मैं तेरा हीरो |
| Year | 2014 |
| Release Date | 4th April 2014 |
| Languages | Hindi |
| Storyline | A notorious boy decides to attend college in Bangalore, but instead falls in love with a girl who has to marry a terrorizing police officer |
| Story Summary | Across a college in Ooty where Srinath Prasad aka 'Seenu' (Varun Dhawan) fails his final exam by two marks. Eager to get a degree, he kidnaps the professor's daughter during her wedding and demands his professor to give him two more marks in exchange for his daughter. Seenu accidentally lets go of her however while letting his parents in to his house, and his plan fails |
| Run Time | 128 Mins |
| Censor Rating | u/a |
| Movie Budget | INR 42500000 |
| Gross Income | INR 71000000 |
Movie Crew
[
Top ⇑
]
| | |
| --- | --- |
| Producer | Shobha Kapoor, Ekta Kapoor |
| Production Company | Balaji Motion Pictures |
| Distribution Company | IMGC Global Entertainment(Pakistan -theatrical), Ramesh Sippy Entertainment(worldwide -theatrical) |
| Cinematography | Sanjay F. Gupta |
| Writer (Dialogue) | Milap Zaveri |
| Assistant Director | Neil Shah(1st), Sanjeev Vig(1st) |
| Co-Producer | Alpana Mishra |
| Art Director | Nilesh Wagh |
| Choreography | Bosco Martis, Ganesh Acharya, Caesar Gonsalves |
| Playback Singer | Shalmali Kholgade, Benny Dayal, Arijit Singh, Javed Ali, Neeti Mohan |
| Background Music | Sandeep Shirodkar |
| Publicity Design | Himanshu Nanda, Rahul Nanda |
| Production Design | Sukant Panigrahy |
| Visual Effects | Sagar Aphandkar(Lead prep artist), Yogesh Badhe(senior compositor: prime focus), Nayan Bora(lighting artist), Shudhdodhan Milind Ambhore(background prep artist: Prime Focus World) |
| Musician | Sajid Ali |
| Costume Design | Shyamli Arora, Minar Katarnaware(2nd), Kunal Rawal |
| casting | Abhijeet Singh Baghel |
| lead compositor | Somesh Ghosh |
| sound editor | Siddharth Dubey, Anant Pawar |
| sound designer | Kunal Mehta, Parikshit Lalwani |
| digital compositor | Santosh Choudhary, Tuhin Rana, Sanchit Srivastava, Ashwin Joshi(Prime Focus), Amit Kumar(prime focus) |
| visual effects supervisor | Praveen Bareria |
| cg supervisor | Yogendra Tonke(primefocus) |
| visual promotions | Binny Padda, Ravi Padda |
| Associate producer | Sarita Patil |
| sound effects editor | Snell Creado, Satyabhan Patel |
| line producer | Prakash Pange |
| visual effect senior compositor | Akash Pakhidde |
| Visual Effects compositor | Govind Mohan(Prime Focus World), Virendra Prajapati |
| action coordinator | Mahendra Verma |
| creative supervisor | Saurabh H. Shah |
| visual effects artist | Swapnil Andraskar(prime focus), Yash Vinod Talwar |
| foley editor | Dipesh Patel |
| production head | Manan Sampat |
| visual effects coordinator | Sushant Kapdoskar, Mithil Kotwal |
| associate director | Umesh(as Umesh Ghadge) |
| second assistant director | Srimohi Roy |
| paint artist | Satyendra Sharma(VFX) |
| compositor | Dheeraj Chaudhary, Gaurav Baghel(compositor: Prime focus world) |
| still photographer | Jignesh Panchal |
| lyricist | Kausar Munir, Kumaar |
| grip and lighting equipment | Light n Light |
| story and screenplay | Tushar Hiranandani |
| creative supervision | Natasha Chopra |
| Animator | Digantamaun |
| post production coordinator | Sanjay Paraswani, Shruti Anand |
| Branding and Strategic Alliances | Shompa Mitra |
| digital film engineer | Vivek Kandasamy(as Viki Vivek) |
| song programming | Sandeep Shirodkar |
| marketing consultant | Devika Shroff |
| Visual Effects production coordinator | Vikram Donode(Prime Focus Ltd) |
| vfx supervisor | Vivek Gaur |
| senior texture artist | Abhijeet Lamture, Swapnil Khandagle, Avnish Jha |
| Visual Effects dynamics artist | Naveen Kosana(prime focus) |
| Visual Effects lighting artist | Nitesh Kumar, Navin Verma |
| Visual Effects background prep artist | Jimit Shah |
Interesting Facts and Trivia
[
Top ⇑
]
Veteran actor Anupam Kher will be seen alongside main cast in a supporting role.
Principal photography for the movie began on 30 May 2013, filming started on 5 July 2013 and was completed by 15 October.
The soundtrack is composed by Sajid-Wajid, while the lyrics are penned by Kumaar, except where noted.
Initial filming began on 5 July 2013, the filming locations include Bangalore, Bangkok and London.
It is a remake of the 2011 Telugu film Kandireega.
The first song, Besharmi Ki Height, sung by Benny Dayal and Shalmali Kholgade, released on 20 February 2014.
Number of songs for the movie has been choreographed by Bosco-Caesar in Bangkok.
Similar/ Related Movies
[
Top ⇑
]
a 2014 movie by Rajkumar Hirani
Actors & Actresses: Aamir Khan, Sanjay Dutt, Anushka Sharma
Science fiction, Drama, Comedy
a 2014 movie by Rajat Kapoor
Actors & Actresses: Saurabh Shukla, Brijendra Kala, Sanjay Mishra
Drama, Comedy
a 2014 movie by Sohail Khan
Actors & Actresses: Salman Khan, Tabu, Danny Denzongpa
Action
a 2014 movie by Abhishek Varman
Actors & Actresses: Ronit Roy, Alia Bhatt, Arjun Kapoor
Romance, Drama, Comedy
2014 movie by Nitesh Tiwari
Actors & Actresses: Amitabh Bachchan, Boman Irani, Ranbir Kapoor
Fantasy, Drama, Comedy
2014 movie by Saket Chaudhary
Actors & Actresses: Rati Agnihotri, Farhan Akhtar, Vidya Balan
Romance, Comedy
a 2014 movie by Bhushan Patel
Actors & Actresses: Parvin Dabas, Sunny Leone, Saahil Prem
Thriller, Horror
2014 movie by Sai Kabir
Actors & Actresses: Vir Das, Kangana Ranaut, Zakir Hussain
Drama, Crime, Comedy
a 2014 movie by Subhash Ghai
Actors & Actresses: Rishi Kapoor, Anil Mange, Mishti
Musical, Drama
a 2014 movie by Umesh Bist
Actors & Actresses: Vijay Raaz, Salman Khan, Pulkit Samrat
Comedy