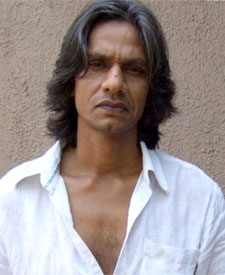 Vijay Raaz
Vijay Raaz (1963-0) is a
Bollywood, Urdu
Actor
known for the movies
Dedh Ishqiya
(2014),
Mr Joe B. Carvalho
(2014),
O Teri
(2014)
Name
Vijay Raaz (विजय राज़)
Date Of Birth
30 November 1963
Age
55 years 3 months 24 days
Place Of Birth
Allahabad, Uttar Pradesh, India
Wife
Krishna Raaz
Education (Graduation)
Kirori Mal College
Son
Tanishka Raaz
Biography
Vijay Raaz is an Indian film actor. His breakthrough came when he played the role of Dubeyji in the movie Monsoon Wedding and is also famous for his memorable performance in the movie Run in which his Kauwa Biryani act became highly and critically acclaimed. Since then, Raaz has been cast in small, often comedic roles, in many Hindi movies, often depicting the character of a common man.

He marks his directorial debut with the upcoming release of Kya Dilli Kya Lahore.
Interesting Facts and Trivia
[
Top ⇑
]
Raaz was arrested at Abu Dhabi airport in February 2005 for possession of drugs.
Vijay Raaz: Filmography (3)
List By: