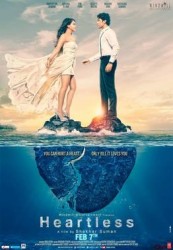 Heartless
(बेरहम)
7th February 2014- Drama, Family, Romance, Thriller

0
0/10, 0 Votes
A young man, Aditya Singh (Adhyayan), who fell deeply in love with a beautiful girl (Ariana). Soon he had a severe heart-attack, and when consulted with his doctor-friend (Shekhar Suman)
+Add Story Summary +Write Review
Movie Cast
[
Top ⇑
]
Movie Details
[
Top ⇑
]
| | |
| --- | --- |
| Movie Name | Heartless |
| Original Language Name | बेरहम |
| Year | 2014 |
| Release Date | 7th February 2014 |
| Languages | Hindi, Urdu |
| Storyline | A young man, Aditya Singh (Adhyayan), who fell deeply in love with a beautiful girl (Ariana). Soon he had a severe heart-attack, and when consulted with his doctor-friend (Shekhar Suman) |
| Story Summary | The film focuses on anesthesia awareness, where a patient cannot move or communicate, but is aware to varying degrees of what is happening during surgical procedures |
| Run Time | 131 Mins |
| Censor Rating | u/a |
Movie Crew
[
Top ⇑
]
| | |
| --- | --- |
| Writer (story) | Shekhar Suman |
| Writer (Screenplay) | Nina Arora |
| Music Director | Gaurav Dagaonkar |
| Producer | Alka Suman |
| Executive Producer | Sajid Rizvi |
| Production Company | Windmill Entertainment |
| Writer (Lyrics) | Shekhar Suman, Arafat Mehmood, Seema Saini |
| Writer (Dialogue) | Niranjan Iyengar |
| Film Editing | Akshara Prabhakar |
| Assistant Director | Megha Bisaria, Kislaya Dwivedi, Appdeep Meshram, Siddharth Sengupta(1st) |
| Art Director | Vasudha Saklani(art direction for song "Main dhoondne jab"), Rakesh Yadav |
| Playback Singer | Arijit Singh |
| Background Music | Santosh Mulekar |
| Special Effects | Prem Panigrahi(compositor), Pixion Studio(FX LEAD) |
| Visual Effects | Pixion Studio |
| Costume Design | Alka Suman, Disha Pahadi |
| casting | Shekhar Suman |
| sound designer | Abhishek S. Bhattathiri, Mrityunjay Shahi |
| line producer | Javed Shafi |
| digital matte painter | Vibhas Mathkar |
| director of photography | Nicholas Eriksson(2nd unit), Derrick Fong |
| music producer | Dipanjan Guha(and programmer) |
| fx artist | Viresh Raut(FX Lead) |
| on-line editor | Amit Hegde |
| music mixing and mastering | R. Nitish Kumar |
| D.O.P | Derrick Fong |
| marketing and public relations | Neeta Shah |
| digital post-production | Pixion Studio |
| digital and social media | Epigram Digital |
Interesting Facts and Trivia
[
Top ⇑
]
The lyrics are by Arafat Mehmood, Seema Saini, Shekhar Suman & S.K. Khalish.
The theatrical trailer of Heartless was released on 14 November 2013.
The audio of the film was released by Sachin Tendulkar at Reliance Digital Xpress, Prabhadevi on 19 December 2013.
Times of India gave 3.5 stars to the music of the film. Koimoi gave 2.5 stars to the album.
Similar/ Related Movies
[
Top ⇑
]
a 2014 movie by Anurag Kashyap
Actors & Actresses: Rahul Bhat, Ronit Roy, Tejaswini Kolhapure
Thriller
a 2014 movie by Abhishek Chaubey
Actors & Actresses: Naseeruddin Shah, Arshad Warsi, Vijay Raaz
Thriller, Comedy
2014 movie by Vinil Mathew
Actors & Actresses: Anil Mange, Manoj Joshi, Sameer Khakhar
Romance, Drama, Comedy
a 2014 movie by Divya Khosla
Actors & Actresses: Himansh Kohli, Vivek Bhatnagar, Nicole Faria
Romance, Adventure
2014 movie by Rajesh Pandey
Actors & Actresses: Shiv Darshan, Hasleen Kaur, Image Devices P Ltd
Romance, Action
a 2014 movie by Ashim Ahluwalia
Actors & Actresses: Nawazuddin Siddiqui, Niharika Singh, Anil George
Thriller, Romance, Drama
2014 movie by Sachin Gupta
Actors & Actresses: Mohinder Gujral, Yuvraj Haral, Vijayant Kohli
Romance, Comedy
a 2014 movie by Devika Bhagat
Actors & Actresses: Rati Agnihotri, Abhay Deol, Preeti Desai
Romance, Drama, Comedy
a 2013 movie by Aditya Datt
Actors & Actresses: Paresh Rawal, Rajeev Khandelwal, Tina Desai
Thriller, Mystery, Horror
2014 movie by Faizal Khan
Actors & Actresses: Atif Jamil, Ibra Khan, Roselyn Dsouza
Thriller