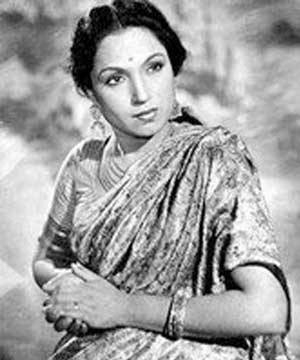 Lalita Pawar
Lalita Pawar (1916-1998) is a
Bollywood
Actress
known for the movies
Samaj Ki Bhool
(1934),
Qatil Katar
(1935),
Baghi Sipahi
(1936)
Other Names
Amba Laxman Rao Sagun, Ambika Laxman Sagun, Ambu, Lalitha Pawar, Lalita Powar
Date Of Birth
18 April 1916
Age
(Age at Death: 81 years 10 months 6 days)
Place Of Birth
Nasik, Bombay Presidency, British India
Date Of Death
24 February 1998
Place Of Death
Aundh, Pune, India
Husbands
Ganpatrao Pawar(first one) , Rajprakash Gupta(Ambika studios, Bombay Owner)
Biography
Lalita Pawar was a prolific Indian actress, who later became famous as a character actress, appearing in over 700 films in Hindi and Marathi cinema.

she gave hits like, Netaji Palkar (1938), made by Bhalji Pendharkar, New Hana Pictures' Sant Damaji, Navyug Chitrapat's Amrit, written by VS Khandekar, and Chhaya Films' Gora Kumbhar.

Her other memorable roles were in film, Anari (1959), Shri 420 and Mr & Mrs 55, and the role of Manthara, in Ramanand Sagar's television epic serial, Ramayan.
Interesting Facts and Trivia
[
Top ⇑
]
Started acting as a nine year old in the era of silent movies.
Acted in more than 600 Hindi and Marathi films
Her father Laxman Rao Shagun was a rich silk and cotton piecegoods merchant.
Had a squint in her left eye as a result of an accident during the shooting of a film in 1942
Played many roles as a wicked mother-in -law
she started her acting career at age nine in the film, Raja Harishchandra (1928).
Lalita Pawar: Filmography (9)
(
All Lalita Pawar Movies
)
List By: