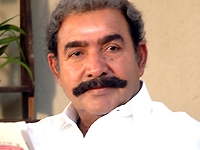 Vijayakumar
Vijayakumar (1943-0) is a
Bollywood, Telugu, Tamil
Actor
known for the movies
Lingaa
(2014),
Manikya
(2014)
Name
Vijayakumar (விஜயகுமார்)
Other Names
Vijayakumar tamil actor
Date Of Birth
29 August 1943
Age
80 years 3 months 7 days
Place Of Birth
Nattuchalai, Pattukottai, Tamil Nadu
Wives
Manjula(actress. (1976–2013)) , Muthukannu((1969–present))
Birth Names
Panchaksharam Rangasamy , Panchatcharam
Son
Arun Vijay(Tamil film actor)
Daughters
Vanitha Vijayakumar(actress) , Preetha vijaykumar(real name Rukmini, actress) , Sridevi vijaykumar(Actress, youngest child) , Kavitha Vijayakumar , Anitha Vijayakumar
Sons In-Law
Akash(Vanitha's husband) , Hari(Preetha's husband)
Father
Rangasamy
Mother
Chinnammal
Wiki Page
https://en.wikipedia.org/wiki/Vijayakumar_(actor)
Debut Movies
Sri Valli(1964) , Aval Oru Thodar Kathai(1974)(first major break)
Daughter In-Law
Aarti
Biography
Vijayakumar is a Tamil film actor and politician. Along with predominant work in Tamil cinema since 1973, he has acted in Hindi, Kannada, Tamil and Telugu movies.
Vijayakumar: Photos, Pictures
(
All Vijayakumar Photos
)

Tamil actors vijayakumar and manjula family photo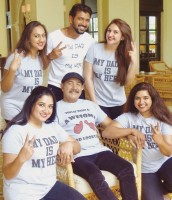 Vijayakumar with his children- son arun vijay & daughters vanitha vijayakumar, preetha vijaykumar, sridevi vijaykumar, kavitha vijayakumar, anitha vijayakumar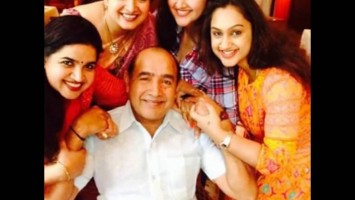 Vijaykumar family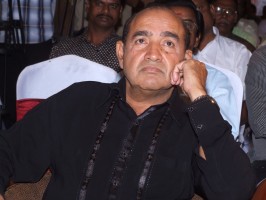 Vijayakumar
Interesting Facts and Trivia
[
Top ⇑
]
Vijayakumar acted as the vice-president of South Indian Nadigar Sangam, Chennai till 2015.

He is a politician, he worked with the AIADMK party till 2016, In 2016 Vijaykumar joined B.J.P

Other than playing supporting roles to lead actors like Kamal Haasan and Sivaji Ganesan, Vijaykumar has also acted in lead roles in the movies like Aval Oru Thodarkathai, Mathura Geetham, Azhage Unnai Arathikkiren

Some of the serials Vijaykumar has acted in are- Thangam, Vamsam, Talambralu, Nandini.

Vijayakumar has acted in over 400 films, primarily in Tamil, but also brief stints in Telugu cinema.

His first major role was in Kailasam Balachander's Aval Oru Thodar Kathai in 1974.

Vijayakumar has taken to serials and has been quite popular as well.

Vijaykumar plays the roles of Father, Uncle and Grandfather later in his career.

His wives Muthukannu & Manjula are said to have been very close and lived like sisters

Vijayakumar & his son Arun Vijay have acted together in movies like- Pandavar Bhoomi, Malai Malai, Maanja Velu.

Vijaykumar was nominated for the National Film Award for the movie Anthimanthaarai, he lost the Award by just one vote.

On 23 July 2013, Vijayakumar's wife, Manjula, died at Chennai. She was 59.

Kailasam Balachander's movie Aval Oru Thodar Kathai(1974) was the first movie to break him into the mainstream.

Vijayakumar made his journey through the film Sri Valli(1961) at the age of 18. He played the role of Lord Murugan in the movie.
Vijayakumar: Filmography (4)
List By:
Quotes
[
Top ⇑
]
When you play a character role, irrespective of whether the film flops or succeeds people will remember your acting

I am hardworking, as work for me, is worship.