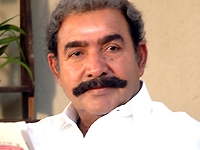 Vijayakumar
Vijayakumar (1943-0) is a
Bollywood, Telugu, Tamil
Actor
known for the movies
Lingaa
(2014),
Manikya
(2014)
Other Names
Vijayakumar tamil actor
Date Of Birth
29 August 1943 (Age: 73 years 8 months 0 days)
Place Of Birth
Nattuchalai, Pattukottai, Tamil Nadu
Wives
Manjula(actress. (1976–2013)) , Muthukannu((1969–present))
Birth Names
Panchaksharam Rangasamy , Panchatcharam
Son
Arun Vijay(Tamil film actor)
Daughters
Anitha , Vanitha Vijayakumar(tamil actress) , Preetha vijaykumar(real name Rukmini. tamil actress) , Sridevi vijaykumar(Actress)
Biography
Vijayakumar is a Tamil film actor and politician. Along with predominant work in Tamil cinema since 1973, he has acted in a few Hindi and Telugu movies. He also works in television serials.

He debuted in the 1961 Tamil movie Sri Valli. Again in 1964 with the help of his uncle, he came to Chennai and tried for chances but could not make it but he only got a small role in the movie Kandhan Karunai as one of the devargal, errested by the Asura king, Surapadma. Later in 1973 he got an offer to act in films.
Vijayakumar: Photos, Pictures

Tamil actors vijayakumar and manjula family photo
Vijayakumar: Filmography (3)
List By:
2016
Nenu Sailaja[Actor(Sailaja\'s grandfather)]

2014
Lingaa[Actor(Village head)]
A 2014 Tamil, Hindi, Telugu Action, Drama movie by K S Ravikumar starring: J. Brandon Hill, K S Ravikumar, William Orendorff
2014
Manikya[Actor]
A 2014 Kannada Drama, Family movie by Sudeep starring: Sudeep, V Ravichandran, Ramya Krishnan
Interesting Facts and Trivia
[
Top ⇑
]
Vijayakumar has acted in over 400 films, primarily in Tamil, but also brief stints in Telugu cinema.
On 23 July 2013, Vijayakumar's wife, Manjula, died at Chennai. She was 59.
His first major role was in Kailasam Balachander's Aval Oru Thodar Kathai in 1974.