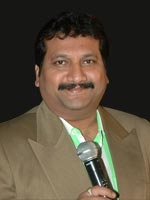 Mano
Mano (1963-0) is a
Kannada
Singer
known for the movies
Sriramachandra
(1992),
Om
(1995),
Ramaachari
(1991)
Other Names
Manu, Nagoor Babu
Date Of Birth
26 October 1963
Age
59 years 7 months 15 days
Place Of Birth
Sattenapalli, Andhra Pradesh, India
Wife
Jameela Babu
Sons
Rafi Babu , Shakir Babu
Mother
Shaheeda Babu
Birth Name
Nagoor Babu
Wiki Page
https://en.wikipedia.org/wiki/Mano_(singer)
Father
Rasool Babu
Occupation
Singer, actor, producer, voice dubbing
Biography
Nagoor Babu known by his stage name Mano (born 26 October 1963) is an Indian playback singer, voice-over artist, actor, producer, television anchor and music composer. He is a recipient of several awards such as the Nandi Awards from the Government of Andhra Pradesh and Kalaimamani award from the Government of Tamil Nadu.

Mano has recorded more than 30,000 songs for various Telugu, Bengali, Kannada, Malayalam, Tamil, Oriya and Bollywood films.

He has also performed for over 3000 live concerts across the continents.
Mano: Photos, Pictures

Mano
Interesting Facts and Trivia
[
Top ⇑
]
Mano has sung almost 1,200 songs in Tamil, Telugu, Oriya, Malayalam, Kannada and Hindi.
Mano: Filmography (150)
(
All Mano Movies
)
List By: