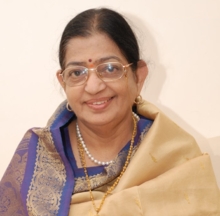 P Susheela
P Susheela (1935-0) is a
Kannada
Singer
known for the movies
Bangaarada Manushya
(1972),
Thulasidala
(1985),
Jenu Goodu
(1963)
Name
P Susheela (పి.సుశీల, ಪಿ. ಸುಶೀಲ , पी सुशीला, பி. சுசீலா, പി. സുശീല)
Other Names
Pulapaka Susheela
Date Of Birth
13 November 1935
Age
84 years 8 months 1 days
Place Of Birth
Vizianagaram, Andhra Pradesh
Father
Pulapaka Mukunda Rao,(advocate)
Uncle
Pulapaka Seethapathi Rao
Husband
Mohan Rao
Son
Jayakrishna
Granddaughter
Jayashree , Subashree
Daughter In-Law
Sandhya Jayakrishna(singer)
Education
Maharaja , Diploma in Music (Andhra University)
Mother
sheshamma
Biography
Susheela is widely acclaimed as a singer and is well known for her mellifluous vocal performances for thousands of film songs across South Indian languages. She is also considered one of the rich voiced singers whose pronunciation of the syllables to be more clear and precise in any of the languages she sang
Interesting Facts and Trivia
[
Top ⇑
]
She has sung over 40,000 songs in her career
She was awarded the Padma Bhushan by the Government of India in January 2008.
P Susheela: Filmography (242)
(
All P Susheela Movies
)
List By: