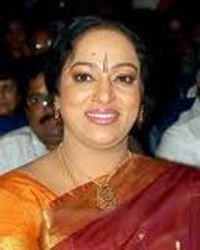 Nalini
Nalini (1954-0) is a
Kannada
Actress
known for the movies
Kavirathna Kalidasa
(1983),
Namma Bhoomi
(1989),
Gandandre Gandu
(1989)
Date Of Birth
22 March 1954
Age
69 years 0 months 10 days
Son
Arun
Daughter In-Law
Pavithra
Wiki Page
https://en.wikipedia.org/wiki/Nalini_(actress)
Husband
Ramarajan(m.1987-2000)
Daughter
Aruna
Son In-Law
Ramesh Subramanian
Biography
Nalini is an Indian actress who worked in Tamil and Malayalam with few Kannada and Telugu films from 1981 to 1987

Nalini fell in love with actor Ramarajan and they got married in 1987. However, they divorced citing differences in their relationship and got divorced in 2000. They have twin children, daughter Aruna,and son Arun born in 1988. His Daughter Aruna is married to Ramesh Subramanian on 06 May 2013. His Son Arun is married to Pavithra on 25 April 2014.
Nalini: Filmography (6)
(
All Nalini Movies
)
List By: