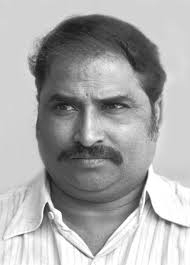 P Lankesh
P Lankesh (1935-2000) is a
Kannada
Writer, Director, Actor
known for the movies
Deveeri
(2000),
Samskara
(1970),
Anuroopa
(1977)
Name
P Lankesh (ಪಿ. ಲಂಕೇಶ್)
Other Names
Palyada Lankeshappa
Date Of Birth
8 March 1935
Age
(Age at Death: 64 years 10 months 17 days)
Place Of Birth
Kongavalli, Shivamogga, Karnataka
Date Of Death
25 January 2000
Place Of Death
Bangalore, Karnataka
Wife
Indira Lankesh
Daughters
Gauri Lankesh(writer) , Kavitha Lankesh(director)
Son
Indrajit Lankesh(director/writer)
Education (Graduation)
honours degree in English from Central College at Bengaluru
Education
Master of Arts degree in English from Maharaja's College, Mysore
Biography
an Indian poet, fiction writer, playwright, translator, screenplay writer and journalist who wrote in the Kannada language. He was also an award-winning film director. He is generally regarded as the most radical, outspoken and socially committed intellectual of the great Navya triumvirate of him, Poornachandra Tejaswi and U.R. Ananthamurthy.

Lankesh died in his bed on 25 January 2000 of a heart attack. He was 65 years old. His funeral was attended by thousands of people from all over Karnataka, an attendance comparable only with those of Kuvempu and Dr.Rajkumar.
Interesting Facts and Trivia
[
Top ⇑
]
Lankesh was the Editor of Lankesh Patrike from 1980 until his death in 2000
He received Sahitya Akademi Award in 1993
P Lankesh: Filmography (8)
(
All P Lankesh Movies
)
List By:
| | |
| --- | --- |
| 2014 | Bahuparak[Writer (Lyrics)] |
| 2008 | Avva[Writer (story),Writer (Dialogue)] |
| 2000 | Deveeri[Writer (Novel),Writer (Lyrics),Writer (Dialogue)] |
| 1980 | Ellindalo Bandavaru[Director,Writer (story),Writer (Screenplay),Writer (Lyrics),Writer (Dialogue)] |
| 1979 | Khandavideko Mamsavideko[Director,Writer (story),Writer (Screenplay),Producer,Writer (Lyrics),Writer (Dialogue)] |
| 1977 | Anuroopa[Director,Writer (story),Writer (Screenplay),Producer,Writer (Lyrics),Writer (Dialogue)] |
| 1976 | Pallavi[Actor,Director,Writer (story),Writer (Screenplay),Writer (Dialogue)] |
| 1970 | Samskara[Actor] |