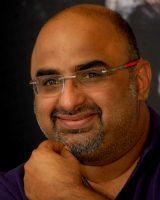 Chi Gurudutt
Chi Gurudutt is a
Kannada
Actor
known for the movies
Edegarike
(2012),
Jeevana Chaithra
(1992),
Belli Kalungura
(1992)
Other Names
Chi Guru Dutt,Gurudatt
Debut Movie
Anand
Wiki Page
https://en.wikipedia.org/wiki/Chi._Guru_Dutt
Father
Chi. Udaya Shankar(writer)
Biography
Guru Dutt is an Indian actor and director primarily concentrating on Kannada and Tamil feature films. He debuted along with Shivrajkumar in the 1986 blockbuster Anand. He was launched in Tamil by K. Balachander with the 1989 smash hit Pudhu Pudhu Arthangal. He has acted in more than 100 films.

His major Tamil appearance was opposite Kamal Haasan in musical Kalaignan as the psychopath doctor. He is the son of Chi. Udaya Shankar.
Chi Gurudutt: Filmography (56)
(
All Chi Gurudutt Movies
)
List By: