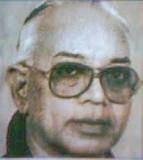 C S Rao
C S Rao (1924-2004) is a
Kannada
Director, Writer
known for the movies
Valmiki
(1963),
Bhayankara Bhasmasura
(1985),
Sri Renukadevi Mahathme
(1977)
Other Names
Chittajallu Srinivasa Rao
Date Of Birth
1924
Age
(Age at Death: 79 years 11 months 7 days)
Place Of Birth
Kakinada, Godavari, Andhra Pradesh
Date Of Death
8 December 2004
Place Of Death
Chennai, India
Wife
Rajasulochana(actress)
Father
C Pullaiah(director)
Biography
an Indian film actor, writer and director. He was the son of director Chittajallu Pullayya. He directed about 70 films in Telugu, Tamil, Malayalam and Oriya languages. He has garnered two National Film Awards for directing blockbuster films like Lava Kusha (1963), and Desamante Manushuloyi (1970). Directors like Muktha V.Srinivasan and K. S. Sethu Madhavan worked as Assistants to him.
C S Rao: Filmography (4)
List By: