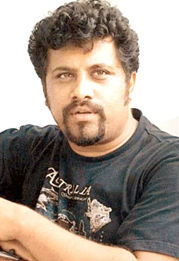 Raghu Dixit
Raghu Dixit (1974-0) is a
Kannada
Singer, Music Director, Writer
known for the movies
Minchina Ota
(2008),
Bewakoofiyaan
(2014),
Just Math Mathalli
(2010)
Name
Raghu Dixit (ರಘು ದೀಕ್ಷಿತ್)
Other Names
Raghupathi Dwarakanath Dixit
Date Of Birth
11 November 1974
Age
48 years 0 months 25 days
Place Of Birth
Mysore, Karnataka
Genres
Folk, Fusion
Official Website
http://raghudixit.com/
Brother
Vasu Dixit
Music group
Antaragni
Hair color
Black
Eye color
Black
Mother Tongue
Kannada
Wiki Page
https://en.wikipedia.org/wiki/Raghu_Dixit
Wife
Mayuri Upadhya(choreographer)
Contact (Email)
music@raghudixit.com
Contact(Phone)
+91-99005-16145
Twitter Profile
https://twitter.com/Raghu_Dixit
Facebook Profile
https://www.facebook.com/theraghudixitproject/
YouTube ID
https://www.youtube.com/user/theraghudixitproject

Biography

Raghu Dixit is an Indian singer,lyricist, film composer based in Bangalore, Karnataka. His rendition of folk music is very popular wmong the young, he is giving the old lyrics new passion among listeners.

Childhood, Family & Personal Life

Raghu Dixit was born as Raghupathi Dwarakanath Dixit on 11 November 1974 in Mysore, Karnataka. His father is an engineer.

Raghu has a brother named Vasu Dixit, who is also involved with music.

Education:

Graduation: B.Sc, Yuvaraja College, Mysore.

Love & Marriage: Raghu and Mayuri Upadhya, a dancer and a choreographer fell in Love and got married with the blessing of their families.


Raghu Dixit & wife Mayuri Upadhya at an event

Career

Raghu was working in Belguim in a pharmaceutical company. The owner of the paying guest he was staying in was so impressed that he got Raghu a chance to sing in Belgian radio, he gained popularity quite quickly that assured him of his future and he left to India to become a full time musician.

Raghu is part of the band Antaragni, it is famous for bringing the old folk songs into fashion among the youngsters.

As a music director: Psycho(2008) was the first attempt at music composition taken by Raghu Dixit. After that he has composed songs for Hindi, Tamil, Malayalam movies.
Raghu Dixit: Photos, Pictures
(
All Raghu Dixit Photos
)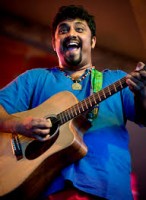 Raghu dixit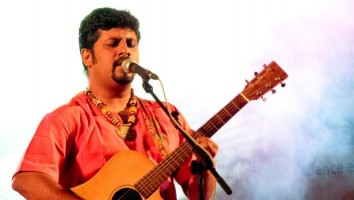 Raghu dixit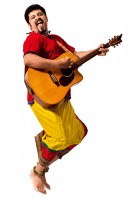 Raghu dixit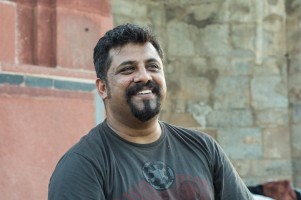 Raghu dixit
Interesting Facts and Trivia
[
Top ⇑
]
Raghu Dixit founded RDX Productions, a record label company.

His works are in various languages including: Hindi, Kannada, English, Tamil among others

He was asked by couple of Heavy metal musicians to stop singing in English try it in his own language.

Raghu started the band Antaragni with H N Bhaskar

He started singing in English with a guitar to impress girls.

In April 2012, Raghu performed for Queen Elizabeth II of England and her husband the Duke of Edinburgh Prince Philip

When Radhu asked music composer C Ashwath's permission to use the tunes he had composed, he politely rejected, thus Raghu made his own tunes and they became popular.

He has conducted concerts all aroung the world with many collaborators.

He is a trained Indian classical dancer, he was trained in Bharatanatyam for 15 years.

He was gold medalist in his Masters in Microbiology

He made his Bollywood debut with the film Mujhse Fraaandship Karoge in 2011.

Music directors who were among the audience in a bar Raghu was singing approached him and offered to produce his music, that changed his career for ever. He became popular throughout India.

When he was in the initial stage of his career a fan of his- Hariharan helped him financially, giving him 30,000 Rs to make his democ CDS. Raghu and Hariharan have become friends, he takes his suggestions on projects.

In 2013 he debuted in Malayalam recording with Bijibal for North 24 Kaatham.

He was also nominated and awarded as best Newcomer in the Songlines for the year 2011.

Raghu has performed in Over 1500 concerts, in more than 30 countries.

He is popular among Kannada people for his rendition of Shishunala Shareef songs.

His brand of Lungi and T-shirt is quite popular among fans. It was strange at the time, now has become fashion.

Raghu 's father had an LML scooter, he did not allow Raghu to ride it.

He likes Yakshagaana. according to him it is a rich, raw & valuable form classical form.
Raghu Dixit: Filmography (15)
(
All Raghu Dixit Movies
)
List By:
Quotes
[
Top ⇑
]
Every 200 kilometres in this country, languages change, the dialects change and the food changes, lives and lifestyles change.

Wear Lungi, be happy, it has good air conditioning

When asked if music is in Rock, Pop? "It is best to call my music contemporary folk music"