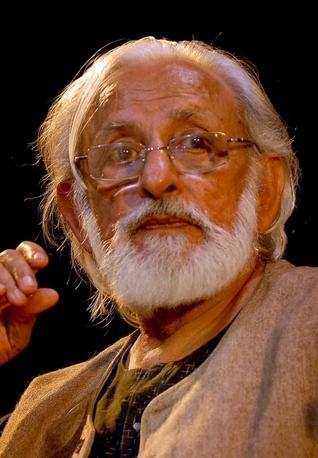 M S Sathyu
M S Sathyu (1930-0) is a
Kannada
Director, Art Director, Producer
known for the movies
Bara
(1980),
Kakana Kote
(1977),
Kanneshwara Rama
(1977)
Name
M S Sathyu (ಮೈಸೂರು ಶ್ರೀನಿವಾಸ ಸತ್ಯು)
Other Names
Mysore Shrinivas Sathyu
Date Of Birth
6 July 1930
Age
92 years 8 months 26 days
Place Of Birth
Mysore, Karnataka
Debut Movie
Haqeeqat
Biography
a leading film director, stage designer and art director from India. He is best known for his directorial film Garam Hawa (1973) is based on the partition of India

Sathyu conducted his schooling and higher education at Mysore and Bangalore. In 1952 he quit college while working on his Bachelors of Science degree and instead plunged into the uncertain world of films in Bombay.
He freelanced as an animator in 1952–53. After being unemployed for nearly four years, he got his first salaried job as assistant director to film-maker Chetan Anand.
Interesting Facts and Trivia
[
Top ⇑
]
He was awarded Padma Shri in 1975
M S Sathyu: Filmography (6)
(
All M S Sathyu Movies
)
List By: