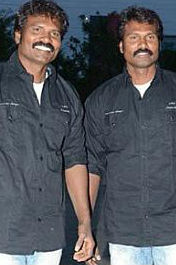 Ram Lakshman
Ram Lakshman is a
Kannada
Movie Personality
known for the movies
Arasu
(2007),
Jaguar
(2016),
Mourya
(2004)
Other Names
Laxman Ram
Date Of Birth
1968
Age
53 years 11 months 9 days
Place Of Birth
Prakasam, Andhra Pradesh
Residence
Hyderabad, Telangana
Facebook Profile
https://www.facebook.com/fightmasters.ramlaxman
Twitter Profile
https://twitter.com/twinduoRL
Biography
Laxman Ram are twin brothers who are stunt masters, they work in Tollywood film industry
Ram Lakshman: Photos, Pictures
(
All Ram Lakshman Photos
)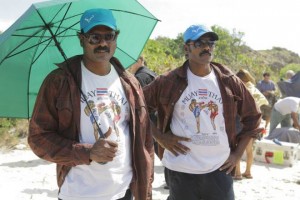 Ram lakshman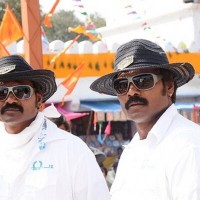 Ram lakshman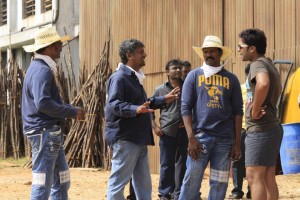 Ram lakshman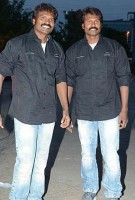 Ram lakshman
Ram Lakshman: Videos

Open Heart With RK - Fight Masters Ram Laxman Brothers

Interview with Twin fighters Ram Lakshman

Khaidi Brothers - Fighting Scene Ram Lakshman
Interesting Facts and Trivia
[
Top ⇑
]
Two brothers are very close, they never have disagreements outside the work, they often think differently while on sets.

Ram and Lakshman were both living in the village looking after goats, when they got an offer from the city to join stunts team they were excited, excited to be leaving the village to city and to be wearing pants instead of Lungis that they usually wore.

They do not celebrate their birthdays, they do not know the exact date, though the villagers have given them an approximate date, they prefer not to celebrate their birthdays and wish theey are celebrated for their work.

While shooting a sequence in a Tamil movie Lakshman was injured and was in Coma for two years, Ram too has had severe injuries, they take it as occupational hazard.

Ram Lakshman have worked for two decades in the Tollywood industry.

Fitness routine: They get up at 3:30 AM, they do Yoga & Surya Namaskara

The twins remember Puri Jagannadh as the one who gave them break through.

Ram Lakshman won Nandi award 5 times consecutively.

They update their skills and techniques watching lot of Hollywood movies.

When leaving the village they had promised their grand mother that they would never get into bad habits, In thei two decades they have not gotten into drinking, smoking and other bad habits.
Ram Lakshman: Filmography (15)
(
All Ram Lakshman Movies
)
List By:
Quotes
[
Top ⇑
]
Current generation of stunt masters live a fast life, they want immediate benefits and promotions. We should live for today, work hard and the rest will follow

We love our work and shudder to think of any other job. As we aren't educated, we don't apply our minds on anything else.

A huge boulder was our first guru. It was lying in the middle of the village and people were pondering over removing it some day. We were 18 years then, we lifted it and threw it aside