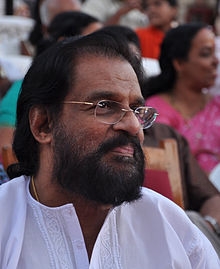 K J Yesudas
K J Yesudas (1940-0) is a
Kannada
Singer
known for the movies
Bhujangayyana Dashavathara
(1991),
Swathi Mutthu
(2003),
Mouna Geethe
(1986)
Name
K J Yesudas (കാട്ടാശ്ശേരി ജോസഫ്‌ യേശുദാസ്, ಡಾ. ಕಾಟ್ಟಶೇರಿ ಜೋಸೆಫ್ ಯೇಸುದಾಸ್)
Titles
Gana Gandharvan, Dasettan
Other Names
Jesudas, Kattassery Joseph Yesudas
Date Of Birth
10 January 1940
Age
83 years 2 months 22 days
Place Of Birth
Fort Kochi, Cochin, Kerala
Father
Augustine Joseph
Mother
Alicekutty
Teachers
Semmangudi Srinivasa Iyer , Chembai Vaidyanatha Bhagavatar , K. R. Kumaraswamy , Thripunithura Shri K.C Kalyanasundaram Master , Kunjuvelan Aasan , V. Dakshinamoorthy , Ramankutti Bagavathar , Sivaraman Nayar
Wife
Prabha Yesudas
Sons
Vinod Yesudas , Vijay Yesudas(singer) , Vishal Yesudas
Biography
Yesudas sings Indian classical, devotional, and popular music. He has recorded more than 70,000 songs in many languages including Malayalam, Tamil, Hindi, Kannada, Telugu, Bengali, Gujarati, Oriya, Marathi, Punjabi, Sanskrit, Tulu, Malay, Russian, Arabic, Latin and English during a career spanning five decades.
Interesting Facts and Trivia
[
Top ⇑
]
He was awarded the Padma Shri in 1975 and the Padma Bhushan in 2002 by the Government of India for his contributions towards the arts
In 2006, he sang 16 film songs in four South Indian languages on the same day at AVM Studio, Chennai
In 2011 Yesudas was honoured with the CNN-IBN outstanding achievement award having recorded over 50,000 songs in a five-decade career.
He owns estates in Fort Lauderdale, Florida, USA and Flower Mound, Texas, USA for personal and business reasons
K J Yesudas: Filmography (124)
(
All K J Yesudas Movies
)
List By: