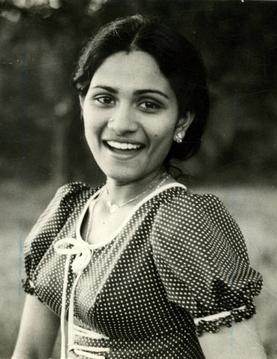 Shobha
Shobha (1962-1980) is a
Kannada
Actress
known for the movies
Aparichita
(1978),
Kokila
(1977),
Benkiya Bale
(1983)
Other Names
Mahalakshmi Menon, Urvashi Shoba, Baby Mahalakshmi, Baby Shoba
Date Of Birth
23 September 1962
Age
(Age at Death: 17 years 7 months 8 days)
Date Of Death
1 May 1980
Place Of Death
1 May 1980 (aged 17)[1] Chennai, Tamil Nadu
Mother
Prema
Debut Movie
Utrada Raatri
Husband
Balu Mahendra(1978–1980; her death)
Father
K. P. Menon
Biography
Shobha was a South Indian film actress. She started her career as a child artist in the Tamil film Thattungal Thirakkappadum. Her first film as a heroine was Utrada Raatri.
Shobha: Photos, Pictures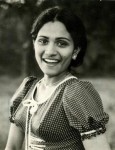 Balu mahendra's second wife shobha
Interesting Facts and Trivia
[
Top ⇑
]
She won the National Film Award for Best Actress for her role in the Tamil film Pasi at the age of 17.
Shobha: Filmography (4)
List By: