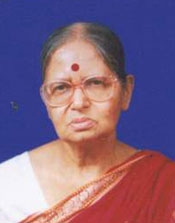 N Pankaja
N Pankaja (1929-0) is a
Kannada
Writer
known for the movies
Sipayi Ramu
(1972),
Gagana
(1989)
Name
N Pankaja (ನುಗ್ಗೇಹಳ್ಳಿ ಪಂಕಜ)
Other Names
Nuggehalli Pankaja
Date Of Birth
2 June 1929
Age
89 years 6 months 15 days
Place Of Birth
Bangalore, Karnataka
Education
high school
Biography
Nuggehalli Pankaja is an Indian writer and poet in the Kannada and English languages. She is considered one the notable writers in the Kannada language. Her works include novels, short stories, and plays. She was conferred the Excellence in World Poetry Award by the International Academy for English Poetry.
Interesting Facts and Trivia
[
Top ⇑
]
Her husband is in textile business, she has a daughter married and settled in America.
Two popular Kannada movies- Sepoy Ramu and Gagana were based on her novels.
N Pankaja: Filmography (2)
List By: