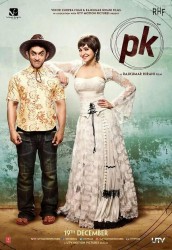 PK
(पीके)
19th December 2014- Comedy, Drama, Science fiction
The story of an alien(Aamir Khan) who comes to Earth on a research mission. He befriends a television journalist(Anushka Sharma) and questions religious dogmas and superstitions. P. K. is a comedy of ideas about a stranger in the city, who asks questions that no one has asked before. They are innocent, child-like questions, but they bring about catastrophic answers.
..
PK: Pictures, Posters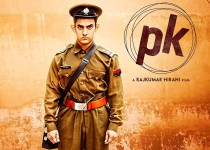 Peekay pk - movie poster of aamir khan

Peekay pk - movie poster of aamir khan and anushka sharma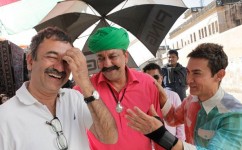 Rajkumar hirani, sanjay dutt and aamir khan on the sets of movie p.k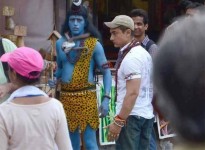 P.k. shooting in delhi aamir khan and shiva dressed anil mange.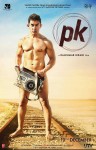 Aamir khan's pk poster shot at real location in rajasthan
Movie Cast
[
Top ⇑
]
Movie Details
[
Top ⇑
]
Movie Name
PK
Original Language Name
पीके
Alternative Names
Peekay , P.K
English Translation
Perfectionist Keeda
Year
2014
Release Date
19th December 2014
Languages
Hindi
Storyline
The story of an alien(Aamir Khan) who comes to Earth on a research mission. He befriends a television journalist(Anushka Sharma) and questions religious dogmas and superstitions. P. K. is a comedy of ideas about a stranger in the city, who asks questions that no one has asked before. They are innocent, child-like questions, but they bring about catastrophic answers.
Story Summary
Pk storyline - A humanoid alien (Aamir Khan), lands on Earth on a research mission in Rajasthan but is stranded when his beacon to his spaceship, a locket/remote around his neck, is stolen. PK, not knowing Earth's customs, learns to fit in among humans by wearing clothes and using money that he steals from couples having sex in 'dancing cars'. He attempts to learn to communicate by grabbing peoples' hands and absorbing their memories through touch, but they chase him away when he tries. The passenger vehicle that carries Bhairon Singh (Sanjay Dutt) strikes him and renders him unconscious. Bhairon takes him to a doctor who declares PK is a person suffering from amnesia. Bhairon assumes the amnesia is as a result of the collision PK has had with his vehicle. Bhairon now knows that the victim of the accident won't be able to complain about the accident. So Bhairon decides to run away. Later, he takes pity, changes his mind and takes PK along with his troop. Over time PK becomes his friend. Later, interpreting the alien's hand-grabbing as sexual interest, takes him to a brothel. There, the alien holds a prostitute's (Reema Debnath) hand for six hours and thus learns the Bhojpuri language.

The alien travels to Delhi in search of his stolen remote. Due to his strange behaviour, the people in the city assume he is tipsy (tipsy translates to pee-kay in Hindi) and call him PK. Delhi turns out to be a very large city, and people tell him that only God can help him find his remote. PK tries to find God, but is confused by India's various religions and their confusing traditions. He later discovers that a godman, Tapasvi Maharaj (Saurabh Shukla), has his remote. However, Tapasvi falsely claims to have attained the object from God in the Himalayas and refuses to return it to PK. Bewildered, PK concludes that Tapasvi and other religious heads must be calling a "wrong number" to God and, as a result, spreading misunderstandings and meaningless rituals.

Meanwhile in Bruges, television reporter Jaggu (Anushka Sharma) falls in love with a man named Sarfaraz (Sushant Singh Rajput). Jaggu's father (Parikshit Sahni) objects to their relationship because Sarfaraz is a Muslim from Pakistan; he consults Tapasvi who predicts that Sarfaraz will betray Jaggu. Determined to prove them wrong, Jaggu proposes to Sarfaraz. She is heart-broken at the wedding chapel when she receives a letter calling off the marriage due to their differences. She returns to India where she is intrigued while watching PK distributing leaflets about a missing God. After hearing his story, Jaggu devises a plan to expose Tapasvi and recover PK's remote.

Jaggu encourages thousands of people to send in videos of their own experiences with religious heads calling "wrong numbers". However, during this period, PK contacts Bhairon Singh who says he will come to Delhi the next day. The next day, when PK goes to pick Bhairon very sadly as he found out Jaggu had a failed love, the station blasts killing Bhairon with nothing happening to PK. Later it is revealed that terrorist had planted the bomb to protect their faith in retaliation to PK's protests.

Finally, Tapasvi is forced to come into the studio and confront PK on-air. Tapasvi claims he has a direct connection to God and refers to his prediction of Sarfaraz's betrayal as proof. However, PK absorbs Jaggu's memories and discovers that Sarfaraz did not write the letter she received. Jaggu contacts the Pakistan Embassy in Belgium where Sarfaraz worked part-time; the embassy tells her that Sarfaraz still loves her and calls them daily to inquire whether she has called. Jaggu and Sarfaraz reconnect and Tapasvi, exposed as a fraud, is forced to return PK's device.

In the course of the film, PK falls in love with Jaggu but refrains from telling her because she loves Sarfaraz. He instead records tapes of her voice and fills his suitcases with batteries so that he can listen to the tapes on his home planet. While departing, he lies to Jaggu regarding the content of the tapes; Jaggu, despite knowing the truth, keeps quiet. She later publishes a book about PK and, at a book reading, claims that she misses him deeply.

The film ends with PK returning to Earth a year later on a new research mission with another alien (Ranbir Kapoor).
Run Time
153 Mins
Movie Budget
INR 850000000
Gross Income
INR 6350000000
Movie Crew
[
Top ⇑
]
| | |
| --- | --- |
| Writer (story) | Rajkumar Hirani |
| Writer (Screenplay) | Sreerag Nambiar, Abhijat Joshi |
| Music Director | Atul Gogavale, Shantanu Moitra |
| Producer | Vidhu Vinod Chopra, Rajkumar Hirani |
| Executive Producer | Anil Davda, Sanjiv Kishinchandani |
| Production Company | Rajkumar Hirani Films, Vinod Chopra Productions |
| Cinematography | C.K. Muraleedharan |
| Writer (Lyrics) | Swanand Kirkire, Amitabh Varma |
| Film Editing | Rajkumar Hirani |
| Assistant Director | Lakshmipriya Devi, Kirti Nandakumar, Junaid Khan |
| Sound Recording | Yogi Dholakia |
| Choreography | Ganesh Acharya, Brinda, Stanley D'Costa, Caesar Gonsalves |
| Makeup | Vikram Gaikwad, Puneet b Saini |
| Playback Singer | Sonu Nigam, Shreya Ghoshal, Shaan |
| Production Manager | Sachin Utekar |
| Camera (Assistant) | Ramani Ranjan Das |
| Production (Assistant) | Ankita Batra, Harish Iyer, Aakash Motiani |
| Publicity Design | Rahul Nanda, H-One |
| Director (Associate) | Karan Narvekar |
| Stunts | Sham Kaushal |
| Special Effects | Riva Digital |
| Management | Chanpreet Singh |
| Sound Recording (Dialogues) | Subir Kumar Das |
| Distribution | UTV Motion Pictures |
| Production Design | Salil Deshpande, Acropolis, Snigdha Basu, Sumit Basu, Rajnish Hedao |
| Visual Effects | Kotamraju Karthik |
| Costume Design | Manoshi Nath, Rushi Sharma |
| Narration | Anushka Sharma |
| casting | Mukesh Chhabra |
| cg production coordinator | Yogesh Chautel |
| CG PRODUCTION EXECUTIVE | Yogesh Chautel |
| lead compositor | Anup Kumar |
| sound editor | Abhishruti Bezbaruah |
| boom operator | Gyana Mishra |
| sound designer | Resul Pookutty |
| sound mixer | Nihar Ranjan Samal |
| lighting technical director | Gv Prashanth |
| digital compositor | Natwar singh Rathore, Jitendra Yadav |
| visual effects supervisor | Viral Thakkar |
| visual effects producer | Shilpan Vyas Tinu |
| cg supervisor | Sudhir Trivedi |
| casting (Asistant) | Mandar Gosavi, Mahesh Balraj |
| Costume Designer (Assistant) | Bhagyashree D. Rajurkar |
| Digital Intermediate (DI) | Makarand Surte |
| Editor (Assistant) | Vaibhav Bhadana |
| Marketing Head | Sameer Rao |
| foley mixer | Vijay Kumar |
| associat film mix engineer | Hengul Medhi |
| sound re-recording mixer | Anup Dev |
| Casting (Associate) | Aakash Dahiya |
| digital intermediate conformist | Rohit Karkera |
| Digital intermediate colorist | Makarand Surte |
| Head Production digital intermediate (DI) | Salil Deshpande |
| editor: behind-the-scenes | Rahoul Daswani |
| location third assistant | Jerina Devolder |
| Soundtrack | T-Series |
| media consultant | Spice |
| visual promotions | Trigger Happy Entertainment |
Songs
[
Top ⇑
]
Interesting Facts and Trivia
[
Top ⇑
]
Shooting officially began on 1 February 2013, with the filming scheduled to occur over a 45-day period. A 26-day schedule of shooting of PK started in Delhi from 27 September 2013.
Hirani denied rumours that the film would be delayed, stating that principal filming had always been intended to begin in mid-January 2013 in Delhi and Rajasthan to "capture the winter of Delhi".
Koimoi reports rumors of a satellite deal in which the satellite rights were sold for INR85 crore (US$13 million) if the domestic business reaches INR 300 crores domestic nett. The music rights were sold for INR15 crore (US$2.4 million).
PK earned INR260 million (US$4.1 million) nett on its opening day. The film showed growth on its second day, earning around INR290 million (US$4.6 million) nett. On its third day, the film brought in INR370 million (US$5.8 million) nett, one of the highest single day collections ever,[citation needed] taking its weekend to INR925 million (US$15 million) nett, again among the highest ever.
First Bollywood movie to earn more than 300 crores in India and 600 crores worldwide.
Filming Locations - Old Delhi, Central Delhi, Rajasthan, Chandni Chowk, Delhi, India. Bruges, West Flanders, Belgium
When the shoot of the film was going on in Chandni Chowk area of Delhi, an FIR was lodged against makers of the film for allegedly hurting religious sentiments in October 2013. The objection was regarding a scene in the film where a man dressed as the Hindu deity, Lord Shiva pulls the rickshaw with two burqa clad women as passengers.
PK is 200th Bollywood release in 2014. PK release was later expanded to 6000 screens wordwide including 844 screens overseas. PK was initially released in 4844 screens worldwide. PK has been made tax-free in Uttar Pradesh and Bihar.
The film's first poster sparked a controversy[vague] as it featured Aamir Khan posing almost nude with only a transistor covering his genitals. Although the Central Board of Film Certification had already cleared the film, a PIL was filed in the court by the All India Human Rights and Social Justice Front to ban its release saying it promoted nudity and vulgarity. The Supreme Court dismissed the plea and gave the movie a green signal.
Aamir Khan stated that PK will have a poster campaign in which a new poster would be introduced every two to three weeks. By the time of release, 8 to 10 posters would have been launched. The teaser released on October 23.
Hirani has stated that the film will be a satire on "God and godmen".
PK is the Bollywood highest grossing movie till now and in history of Indian cinema. Worldwide INR611 crore (US$96 million)collected. Released in 60000 screens world wide. Pk breaks the Dhoom3 release record 4,500 screens.
The first poster came out on 31 July 2014. A motion poster was also released on the same day on YouTube. The second poster was launched on 20 August 2014 at an event in Mumbai.
The co-director Khan began looking for shooting locations in July 2012. Second unit filming was set to begin in late 2012, which was stalled after the rumoured departure of three department heads for the film and bad weather stalling initial shoots.
The film's soundtrack is composed by Shantanu Moitra, Ajay-Atul and Ankit Tiwari with lyrics written by Swanand Kirkire, Amitabh Varma and Manoj Muntashir. The full soundtrack was released on 17 November 2014.
What does PK mean? - PK: Perfectionist Keeda?, Poocho Kyon? or Pixie Kanya.
Similar/ Related Movies
[
Top ⇑
]
a 2014 movie by Anurag Kashyap
Actors & Actresses: Rahul Bhat, Ronit Roy, Tejaswini Kolhapure
Thriller
a 2014 movie by Rajat Kapoor
Actors & Actresses: Sanjay Mishra, Rajat Kapoor, Seema Pahwa
Drama, Comedy
a 2014 movie by Imtiaz Ali
Actors & Actresses: Alia Bhatt, Randeep Hooda, Durgesh Kumar
Romance, Drama, Adventure
a 2014 movie by Abhishek Varman
Actors & Actresses: Arjun Kapoor, Alia Bhatt, Amrita Singh
Romance, Drama, Comedy
2014 movie by Vinil Mathew
Actors & Actresses: Sidharth Malhotra, Parineeti Chopra, Adah Sharma
Romance, Drama, Comedy
2014 movie by Nitesh Tiwari
Actors & Actresses: Amitabh Bachchan, Boman Irani, Parth Bhalerao
Fantasy, Drama, Comedy
a 2014 movie by Kaushik Ghatak
Actors & Actresses: Rajeev Khandelwal, Madalsa Sharma, Gopal Dutt
Thriller, Mystery, Drama
2014 movie by David Dhawan
Actors & Actresses: Salman Khan, Nargis Fakhri, Varun Dhawan
Comedy, Action
a 2014 movie by Subhash Ghai
Actors & Actresses: Mishti, Kartik Aaryan, Rishi Kapoor
Musical, Drama
a 2014 movie by Umesh Bist
Actors & Actresses: Pulkit Samrat, Bilal Amrohi, Dipanjan Guha
Comedy