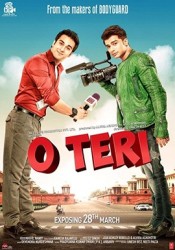 O Teri
(ओ तेरी)
28th March 2014- Comedy
Prantabh and Anand, associated with a news channel in Delhi, are in search of a big scam to prove a point to their senior. A dead body accidentally lands up in their car.
..
Movie Cast
[
Top ⇑
]
Movie Details
[
Top ⇑
]
Movie Name
O Teri
Original Language Name
ओ तेरी
Year
2014
Release Date
28th March 2014
Languages
Hindi
Storyline
Prantabh and Anand, associated with a news channel in Delhi, are in search of a big scam to prove a point to their senior. A dead body accidentally lands up in their car.
Story Summary
Prantabh Pratap aka PP Pulkit Samrat and Anand Ishwaram Devdutt Subramanium/AIDS Bilal Amrohi are two journalists and roommates. Their boss MonsoonSarah-Jane Dias always seems to insult them for the horrid quality of their work. She never seems to believe them and threatens to fire them from their jobs if they lie to her. One day PP and AIDS discover CBI Officer Avinash Tripathi's dead body in their car and attempt to take it to their office.

However, by the time PP and AIDS have brought Monsoon, the dead body has vanished causing Monsoon to think PP and AIDS lied and hence she fires them from their jobs. Frustrated, one day PP and AIDS are walking on a bridge which somehow collapses on the highway. On the news some people suggest the reason for the collapse could be a sonic boom, no blessings or the screw driver not inserted.

PP and AIDS somehow discover that the dead body had caused the bridge to fall. The police take it away from them and later they end up with a CD that could expose a corrupt politician. The politicians chase PP and AIDS into a warehouse where eventually the police arrives and Monsoon realises that the men were telling the truth all this while. The politicians get arrested and PP and AIDS become nationwide heroes
Run Time
107 Mins
Censor Rating
u/a
Movie Crew
[
Top ⇑
]
| | |
| --- | --- |
| Producer | Atul Agnihotri |
| Cinematography | R Ganesh(Ganesh Rajavelli) |
| Film Editing | Devendra Murdeshwar |
| Art Director | Sailesh Mahadik |
| Choreography | Mudassar Khan, Remo DSouza |
| Musician | Gj Singh |
| Costume Design | Ashley Rebello, Alvira Khan |
| sound editor | Siddharth Dubey |
| sound designer | Kunal Mehta, Parikshit Lalwani |
| digital compositor | Yatin Bhave, (Reliance Media Works), Selvakumar, Pradeep Gownipuram, Gsanjeevandreason, Abdul Rasheed, Jitendra Yadav(Reliance MediaWorks) |
| visual effects producer | |
| digital intermediate conformist | Rohit Karkera |
| Digital intermediate colorist | Makarand Surte |
| Associate producer | Nikhil Namit |
| stunt coordinator | Anbariv, Pradyuman Kumar |
| post-production supervisor | Yogiraj Shetty |
| Marketing Manager | Gagan Meshram |
| associate editor | Sandeep Kurup |
| foley editor | Dipesh Patel |
| post line producer | Vicky Bhatia, Kapil Madnani |
| second assistant director | Manish Sharma |
| asst re-recording mixer | Ashim Sonowal |
| compositor | Nadeem Mohd(RelianceMediaWorks) |
| head of production | Salil Deshpande |
| steadicam operator | Devendra Dash |
| Writer | Umesh Bist, Neeti Palta |
| jib camera operator | Piyush Acharya |
| assistant editor | Kamlesh Parui |
| Song Editor | Manan Sagar(Remo) |
| post production manager | Kunal Borkar, Sayyed Nizam |
| on location editor | Sailesh Dubey |
| on location publicity stills | Ajay Singh |
| vfx sequence lead | Suryaji Suryavanshi |
Interesting Facts and Trivia
[
Top ⇑
]
The movie is shot primarily at the Mindmill Corporate Towers in Noida, NCR.
Upon release, the film received generally negative reviews and went on to become a box office disaster. O Teri has been noted to have similarities with the 1983 Bollywood film "Jaane Bhi Do Yaroo".
The film which released—alongside Dishkiyaoon and Youngistaan—in approximately 1000 theatres across India saw a "poor" opening occupancy of 5-10%.
Similar/ Related Movies
[
Top ⇑
]
a 2014 movie by Rajkumar Hirani
Actors & Actresses: Aamir Khan, Anushka Sharma, Sushant Singh Rajput
Science fiction, Drama, Comedy
a 2014 movie by Rajat Kapoor
Actors & Actresses: Sanjay Mishra, Rajat Kapoor, Seema Pahwa
Drama, Comedy
a 2014 movie by Sohail Khan
Actors & Actresses: Salman Khan, Tabu, Danny Denzongpa
Action
a 2014 movie by Abhishek Varman
Actors & Actresses: Arjun Kapoor, Alia Bhatt, Amrita Singh
Romance, Drama, Comedy
a 2014 movie by Kaushik Ghatak
Actors & Actresses: Rajeev Khandelwal, Madalsa Sharma, Gopal Dutt
Thriller, Mystery, Drama
2014 movie by Samir Tewari
Actors & Actresses: Soha Ali Khan, Arshad Warsi, Rajesh Balwani
Comedy
a 2014 movie by Syed Ahmed Afzal
Actors & Actresses: Jacky Bhagnani, Neha Sharma, Boman Irani
Drama
2014 movie by Sai Kabir
Actors & Actresses: Kangana Ranaut, Vir Das, Zakir Hussain
Drama, Crime, Comedy
2014 movie by David Dhawan
Actors & Actresses: Salman Khan, Nargis Fakhri, Varun Dhawan
Comedy, Action
a 2014 movie by Subhash Ghai
Actors & Actresses: Mishti, Kartik Aaryan, Rishi Kapoor
Musical, Drama