► Watch Movie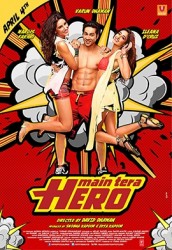 Main Tera Hero
(मैं तेरा हीरो)
4th April 2014- Action, Comedy
A notorious boy decides to attend college in Bangalore, but instead falls in love with a girl who has to marry a terrorizing police officer. After winning the girl's heart, he is also unaware of his other lover who is the daughter of the biggest gangster in all of Asia.
..
Movie Cast
[
Top ⇑
]
Movie Details
[
Top ⇑
]
Movie Name
Main Tera Hero
Original Language Name
मैं तेरा हीरो
Year
2014
Release Date
4th April 2014
Languages
Hindi
Storyline
A notorious boy decides to attend college in Bangalore, but instead falls in love with a girl who has to marry a terrorizing police officer. After winning the girl's heart, he is also unaware of his other lover who is the daughter of the biggest gangster in all of Asia.
Story Summary
Across a college in Ooty where Srinath Prasad aka 'Seenu' (Varun Dhawan) fails his final exam by two marks. Eager to get a degree, he kidnaps the professor's daughter during her wedding and demands his professor to give him two more marks in exchange for his daughter. Seenu accidentally lets go of her however while letting his parents in to his house, and his plan fails.

Although Seenu's father offers him a job at his grocery store, Seenu plans to get a degree at Tift College in Bengaluru. He leaves Ooty on a train headed for Bengaluru. On the train, he beats up a gang harming a group of teenage girls. When Seenu arrives in Bengaluru, a friend of his who lives there reluctantly allows him to stay in his house.

Once Seenu arrives in Tift College, he prays to Krishna to concentrate on nothing but studies. However once he finishes, he sees a girl named Sunaina (Ileana D'Cruz) and gets attracted to her. He tries to get her attention, but she ignores him constantly. She tells him that she has been forced into marrying a corrupt policeman named Angad Negi (Arunoday Singh) since he tricked her father into shooting Angad's sidekick and friend Peter's arm. Angad's goons chase Seenu until he beats up two of them and scares away the rest. Seenu goes to Angad to make a truce with him and leave Sunaina, but Angad (believing he cannot do it) gives Seenu a chance to try to woo Sunaina for up to three days. Seenu publicly tells Sunaina he loves her and tells her not to be afraid of Angad and his goons. She gains courage, scares off Angad's goons, and falls in love with Seenu. Angad finds Seenu, finds out what happened, and attempts to shoot Seenu, but instead accidentally shoots Peter. The media quickly finds out and Angad gets suspended as a police officer.

All seems well until Sunaina is kidnapped and taken away in a helicopter. Seenu learns from Angad that Sunaina will be taken to the mansion of Vikrant Saigal (Anupham Kher), one of Asia's most notorious gangsters. Vikrant's daughter, Ayesha (Nargis Fakhri), was on the Ooty to Bangalore train Seenu was in and was attracted by his impressive fighting skills. She told her father about the experience as well as her interest in marrying him. Angad and Peter told Vikrant's men that in order to get Seenu, they would have to take Sunaina to lure him to their place, forcing Seenu to marry Ayesha.

In the second half of the film, Seenu goes to Vikrant's residence in Bangkok, Thailand. He tricks Vikrant and his friend and associate Balli into thinking that he wants to marry Ayesha. However, he requests that he is given ten days to get to know Ayesha before the wedding day, which Vikrant initially refuses until Ayesha tells her father to "do as [Seenu] says". Ayesha lets Sunaina wear any of her clothes because she has an "extra piece" for all of her clothing. Ayesha and Seenu spend the day together; later, Seenu tells Ayesha that she does not love him. When Angad and Peter come later, she then falls in love with Angad through a sheer coincidence.

Seenu and Sunaina use Ayesha's love for Angad as a way of solving their problem. Sunaina wears identical clothes to Ayesha; in result, Angad confuses Sunaina for Ayesha, making Ayesha believe that Angad loves her. The plan later fails, though, when Angad realizes this and tricks Ayesha once again into marrying Seenu. However, when Angad is tricked by Seenu and Sunaina into kissing Ayesha, Vikrant realizes his daughter loves Angad and reluctantly tells Seenu that Ayesha will marry Angad. Ayesha marries Angad, and Seenu and Sunaina are back together again.
Run Time
128 Mins
Censor Rating
u/a
Movie Budget
INR 42500000
Gross Income
INR 71000000
Movie Crew
[
Top ⇑
]
| | |
| --- | --- |
| Producer | Ekta Kapoor, Shobha Kapoor |
| Production Company | Balaji Motion Pictures |
| Distribution Company | IMGC Global Entertainment(Pakistan -theatrical), Ramesh Sippy Entertainment(worldwide -theatrical) |
| Cinematography | Sanjay F. Gupta |
| Writer (Dialogue) | Milap Zaveri |
| Assistant Director | Neil Shah(1st), Sanjeev Vig(1st) |
| Co-Producer | Alpana Mishra |
| Art Director | Nilesh Wagh |
| Choreography | Bosco Martis, Ganesh Acharya, Caesar Gonsalves |
| Playback Singer | Javed Ali, Neeti Mohan, Shalmali Kholgade, Benny Dayal, Arijit Singh |
| Background Music | Sandeep Shirodkar |
| Publicity Design | Himanshu Nanda, Rahul Nanda |
| Production Design | Sukant Panigrahy |
| Visual Effects | Nayan Bora(lighting artist), Shudhdodhan Milind Ambhore(background prep artist: Prime Focus World), Sagar Aphandkar(Lead prep artist), (senior texture artist), Yogesh Badhe(senior compositor: prime focus) |
| Musician | Sajid Ali |
| Costume Design | Shyamli Arora, Minar Katarnaware(2nd), Kunal Rawal |
| casting | Abhijeet Singh Baghel |
| lead compositor | Somesh Ghosh |
| sound editor | Siddharth Dubey, Anant Pawar |
| sound designer | Kunal Mehta, Parikshit Lalwani |
| digital compositor | Amit Kumar(prime focus), Santosh Choudhary, Ashwin Joshi(Prime Focus), Tuhin Rana, Sanchit Srivastava |
| visual effects supervisor | Praveen Bareria |
| cg supervisor | Yogendra Tonke(primefocus) |
| visual promotions | Binny Padda, Ravi Padda |
| Associate producer | Sarita Patil |
| sound effects editor | Snell Creado, Satyabhan Patel |
| line producer | (Visual Effects, vfx:), Prakash Pange |
| visual effect senior compositor | Akash Pakhidde |
| Visual Effects compositor | Govind Mohan(Prime Focus World), Virendra Prajapati |
| action coordinator | Mahendra Verma |
| creative supervisor | Saurabh H. Shah |
| visual effects artist | Swapnil Andraskar(prime focus), Yash Vinod Talwar |
| foley editor | Dipesh Patel |
| production head | Manan Sampat |
| visual effects coordinator | Sushant Kapdoskar, Mithil Kotwal |
| associate director | Umesh(as Umesh Ghadge) |
| second assistant director | Srimohi Roy |
| paint artist | Satyendra Sharma(VFX) |
| compositor | Dheeraj Chaudhary, Gaurav Baghel(compositor: Prime focus world) |
| still photographer | Jignesh Panchal |
| lyricist | Kumaar, Kausar Munir |
| grip and lighting equipment | Light n Light |
| story and screenplay | Tushar Hiranandani |
| creative supervision | Natasha Chopra |
| Animator | Digantamaun |
| post production coordinator | Sanjay Paraswani, Shruti Anand |
| Branding and Strategic Alliances | Shompa Mitra |
| digital film engineer | Vivek Kandasamy(as Viki Vivek) |
| song programming | Sandeep Shirodkar |
| marketing consultant | Devika Shroff |
| Visual Effects production coordinator | Vikram Donode(Prime Focus Ltd) |
| vfx supervisor | Vivek Gaur |
| senior texture artist | Abhijeet Lamture, Avnish Jha, Swapnil Khandagle |
| Visual Effects dynamics artist | Naveen Kosana(prime focus) |
| Visual Effects lighting artist | Navin Verma, Nitesh Kumar |
| Visual Effects background prep artist | Jimit Shah |
Interesting Facts and Trivia
[
Top ⇑
]
Veteran actor Anupam Kher will be seen alongside main cast in a supporting role.
Principal photography for the movie began on 30 May 2013, filming started on 5 July 2013 and was completed by 15 October.
The soundtrack is composed by Sajid-Wajid, while the lyrics are penned by Kumaar, except where noted.
Initial filming began on 5 July 2013, the filming locations include Bangalore, Bangkok and London.
The film's official trailer was released online on 23 January 2014 with presence of the main cast. Positive responses came along for the young stars' vibe and one of the tabloid reviews compared the movie to Archie Comics characters.
It is a remake of the 2011 Telugu film Kandireega.
The first song, Besharmi Ki Height, sung by Benny Dayal and Shalmali Kholgade, released on 20 February 2014.
Ekta Kapoor producer confirmed her big budget movie in January 2013 as she bought the rights for her next venture from Telugu movie Kandireega for ₹20 million (US$300,000).
Number of songs for the movie has been choreographed by Bosco-Caesar in Bangkok.
Quotes
[
Top ⇑
]
Taran Adarsh of Bollywood Hungama gave the movie 3.5/5 stars and wrote, "On the whole, MAIN TERA HERO is a wild, wacky, madcap entertainer that has the unmistakable stamp of the master of entertainers – David Dhawan.
Similar/ Related Movies
[
Top ⇑
]
a 2014 movie by Rajkumar Hirani
Actors & Actresses: Aamir Khan, Anushka Sharma, Sushant Singh Rajput
Science fiction, Drama, Comedy
a 2014 movie by Sohail Khan
Actors & Actresses: Salman Khan, Tabu, Danny Denzongpa
Action
a 2014 movie by Abhishek Varman
Actors & Actresses: Arjun Kapoor, Alia Bhatt, Amrita Singh
Romance, Drama, Comedy
2014 movie by Nitesh Tiwari
Actors & Actresses: Amitabh Bachchan, Boman Irani, Parth Bhalerao
Fantasy, Drama, Comedy
2014 movie by Saket Chaudhary
Actors & Actresses: Farhan Akhtar, Vidya Balan, Vir Das
Romance, Comedy
a 2014 movie by Bhushan Patel
Actors & Actresses: Sunny Leone, Saahil Prem, Parvin Dabas
Thriller, Horror
2014 movie by Samir Tewari
Actors & Actresses: Soha Ali Khan, Arshad Warsi, Rajesh Balwani
Comedy
2014 movie by Sai Kabir
Actors & Actresses: Kangana Ranaut, Vir Das, Zakir Hussain
Drama, Crime, Comedy
a 2014 movie by Subhash Ghai
Actors & Actresses: Mishti, Kartik Aaryan, Rishi Kapoor
Musical, Drama
a 2014 movie by Umesh Bist
Actors & Actresses: Pulkit Samrat, Bilal Amrohi, Dipanjan Guha
Comedy