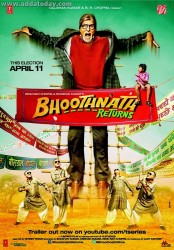 Bhoothnath Returns
(भूतनाथ रिटर्न)
11th April 2014- Comedy, Drama, Fantasy
Bhootnath, a ghost, comes back to Earth to redeem himself. He meets Akhrot, who convinces him to fight the elections and stand against Bhau, a criminal-turned-politician.
..
Movie Cast
[
Top ⇑
]
Movie Details
[
Top ⇑
]
| | |
| --- | --- |
| Movie Name | Bhoothnath Returns |
| Original Language Name | भूतनाथ रिटर्न |
| Year | 2014 |
| Release Date | 11th April 2014 |
| Languages | Hindi |
| Storyline | Bhootnath, a ghost, comes back to Earth to redeem himself. He meets Akhrot, who convinces him to fight the elections and stand against Bhau, a criminal-turned-politician. |
| Story Summary | The plot is linked with the previous film Bhoothnath. When Bhoothnath, although his real name in the two films is Kailash Nath, (Amitabh Bachchan) enters the Bhoothworld, (a ghosts' world) he is mocked and questioned about his abilities as a ghost as he was unsuccessful to scare any child. To redeem himself, he returns to Earth where he tries his best to scare children but is unsuccessful with his attempts as children have becoming strong physically and mentally and also skilled in giving bad words. However, a boy named Akhrot (Parth Bhalerao) can see him in his true form. Akhrot is not scared of Bhoothnath, but helps him to scare a few children. In return, he asks Bhoothnath to act scared of him and to run away from a haunted house while he chants mantras in front of his friends, so that his friends can accept him in their cricket team. Bhoothnath decides to help him further by helping him earn money by giving ghosts living in under-construction high rises peace by fulfilling the wishes they were still staying back on Earth as ghosts for. In the process, they come to know why the ghosts died, and help their families get insurance money by scaring corrupt insurance officers. In the process, he gets to know about Bhau (Boman Irani), a former criminal who is now a corrupt politician. After having seen the amount of corruption in India and encouraged by Akhrot, Bhoothnath decides to contest the upcoming elections. Soon, the rivalry between Bhoothnath and Bhau heats up, to the extent that Bhoothnath sacrifices his powers to win. One day before the elections, a rally is to be held by Bhoothnath to encourage a high turnout on election day. Bhau's men threaten to kill Akhrot unless he prevents the rally from happening, but Akhrot refuses and is ready to face the consequences. On the day of the rally, Bhau's men injure Akhrot grievously for his non-compliance, which makes Bhoothnath leave his rally to be with Akhrot in the hospital. He goes to the Bhoothworld and begs for Akhrot's life. They tell him that if Bhoothnath wins the election, they will spare Akhrot's life. Meanwhile, Bhau uses Bhoothnath's absence at the rally to his advantage and tries to influence the audience to vote for him. However, on election day, the majority of the public voted for Bhoothnath. The next day, Bhootnath sees Akhrot's heartbeat rising and realises that he won the election. The film ends with Akhrot regaining consciousness and everybody celebrating the success of Bhoothnath. |
| Story Tagline | This Election Aprill 11th |
| Run Time | 155 Mins |
| Movie Budget | INR 29000000 |
| Gross Income | INR 53000000 |
Movie Crew
[
Top ⇑
]
| | |
| --- | --- |
| Writer (story) | Nitesh Tiwari, Piyush Gupta |
| Music Director | Meet Bros Anjann |
| Producer | Krishan Kumar, Bhushan Kumar |
| Executive Producer | Ajay Rai, Hanif Chunawala |
| Production Company | T-Series, B R Films |
| Cinematography | Kamaljeet Negi |
| Film Editing | Chandrashekhar Prajapati |
| Assistant Director | Khyati Gosar(1st), Ranjit Govind(Second Unit), Madhur Mohan Sharma(4th), Rohit Sharma(2nd) |
| Co-Producer | Ajay Kapoor |
| Choreography | Ganesh Acharya, Bosco Martis(as Bosco Caesar) |
| Playback Singer | Yo Yo Honey Singh, Aman Trikha, Mika Singh |
| Production Manager | Saraiya Richail |
| Background Music | Hitesh Sonik |
| Costume (Assistant) | D. Sangit Gaikor |
| Production Design | Wasiq Khan |
| Musician | Ram Sampath, Yo Yo Honey Singh, Palak Muchhal |
| Costume Design | Sachin Lovalekar |
| casting | Mukesh Chhabra |
| lead compositor | Anup Kumar |
| sound editor | Saumit Deshmukh |
| digital compositor | Irshad Patel(Prana Studios), Balachandar Chandrasekaran, Rakesh Venugopalan, Sagar Mehta, Praveen Allu, Ram Mohan Nadam Reddy |
| visual effects supervisor | Prabhat Thakur, P. Mohan(Prasad EFX) |
| visual effects producer | Ashwin Agrawal, Kavan Ahalpara, Deepak Shrivastav |
| cg supervisor | Sudhir Trivedi |
| sound re-recording mixer | Subir Kumar Das, Ajay Kumar P.B. |
| Soundtrack | T-Series |
| line producer | Ashwani Chopra(UK), Madhav Roy Kapur, Navmeet Singh |
| Assistant art director | Laxmi Keluskar, Priya Shree, Sonam Singh |
| assistant sound re-recording mixer | Koteswara Rao S.V. |
| Visual Effects compositor | Siddharthan Raman, Mithun Jacob Alex(uncredited) |
| assistant camera | Sushil Gautam |
| adr engineer | Prasanna Hanuwate(B.R.Studio) |
| visual effects artist | Pranav Gangapurkar, Ankush Gawande, Ajay Gurram, Wineeth Wilson |
| supervising producer | Satish Mane |
| digital post-production | Kondareddy Suresh(Head) |
| visual effects coordinator | Yogesh Chautel, Aniket Mhatrev |
| associate director | Punarvasu Naik |
| key grip | Arjun Singh Bhurji(Camera and Electrical Department) |
| casting assistant | Shoumie Mukherjee |
| Distributor | White Hill Production(Canada theatrical), B R Films(India theatrical) |
| composer additional music | Tanuj Tiku |
| wardrobe supervisor | Kirti Kulhari |
| foley recording engineer | Abhijeet V. Sapre |
| digital effects artist | Ananya Bose |
| song programming | Bunty Rajput |
| additional script writer | Shreyas Jain, Nikhil Mehrotra |
| concept aritst | Aravind Jayaraman |
| extras casting | J.K. Management Casting and Extras, Jason Ash |
| Jimmy Jib operator | Sagar Singh |
| assistant costume designer | Salvi Chandrshekhar |
| digital film grade producer | Arvind Singh |
| key makeup artist | Dhananjay Prajapati |
| Extra coordination | Jason Ash |
| acting workshops | Mukesh Chhabra |
| creative consultant | Ashwiny Iyer Tiwari |
| Visual Effects matte painter | Sibi Chakaravarthi |
| Visual Effects rigging technical director | Hitesh Chikate(Rhythm & Hues Studios) |
| senior fx artist | Dipansu Haldar |
| Visual Effects digital roto and prep supervisor | Ravi Shekhar(Prana Studio), Samapika Karmakar(Prana Studio) |
| Visual Effects compositing technical director | Achal Muchhala(Rhythm & Hues) |
| Visual Effects vfx & cg editor | Rajesh Raul Puthran |
| Visual Effects pipeline and tools supervisor | Abhay Sagar |
Interesting Facts and Trivia
[
Top ⇑
]
The film that released in over 1,300 theatres saw a "grand" opening of 93%%[12] collecting ₹32.5 million (US$490,000)—₹35 million (US$520,000) on its first day with stiff competition from the film Disco Singh.
Bhoothnath returns collected ₹300 million (US$4.5 million) domestic and ₹20 million (US$300,000) overseas(as of 20 April 2014).
Satellite rights of the film is sold to Sony for ₹210 million (US$3.1 million); made it a good profitable venture for producers.
Granting tax-free status to this film would make people aware about their rights as voters like making voter ID cards or not treating polling day as holiday". The Uttar Pradesh Government has declared tax-free status to film on 30 April 2014.
Election Commission of India demanded tax-free status for Bhoothnath Returns, stating, "The state governments should support the strong social message that emanates from the film.
With a growth of 60% over its first day collection, it collected ₹55 million (US$820,000) on its second day.[14] After the completion of the films' first weekend, it managed a "fair" collection of ₹165 million (US$2.5 million).
Quotes
[
Top ⇑
]
Taran Adarsh from Bollywood Hungama gave the movie 3.5 stars and said that "Bhoothnath Returns is made with noble intentions and the message it conveys resonates in the second hour".
Similar/ Related Movies
[
Top ⇑
]
a 2014 movie by Rajkumar Hirani
Actors & Actresses: Aamir Khan, Anushka Sharma, Sushant Singh Rajput
Science fiction, Drama, Comedy
a 2014 movie by Rajat Kapoor
Actors & Actresses: Sanjay Mishra, Rajat Kapoor, Seema Pahwa
Drama, Comedy
a 2014 movie by Nagesh Kukunoor
Actors & Actresses: Monali Thakur, Vibha Chhibber, Ram Kapoor
Drama
a 2014 movie by Abhishek Varman
Actors & Actresses: Arjun Kapoor, Alia Bhatt, Amrita Singh
Romance, Drama, Comedy
2014 movie by Vinil Mathew
Actors & Actresses: Sidharth Malhotra, Parineeti Chopra, Adah Sharma
Romance, Drama, Comedy
a 2014 movie by Girish Malik
Actors & Actresses: Tannishtha Chatterjee, Saidah Jules, Purab Kohli
Fantasy, Drama
a 2014 movie by Kaushik Ghatak
Actors & Actresses: Rajeev Khandelwal, Madalsa Sharma, Gopal Dutt
Thriller, Mystery, Drama
a 2014 movie by Devika Bhagat
Actors & Actresses: Abhay Deol, Preeti Desai, Lillete Dubey
Romance, Drama, Comedy
2014 movie by Nupur Asthana
Actors & Actresses: Ayushmann Khurrana, Sonam Kapoor, Rishi Kapoor
Romance, Drama, Comedy
a 2014 movie by Raju Mavani
Actors & Actresses: Disha Choudhary, Sachin Khedekar, Manoj Joshi
Romance, Family, Drama