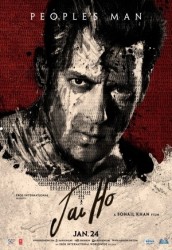 Jai Ho
(जय हो)
24th January 2014- Action
An ex-army officer initiates a unique idea of propagating social responsibility among ordinary people and in doing so, crosses paths with a powerful political family.
..
Movie Cast
[
Top ⇑
]
Movie Details
[
Top ⇑
]
Movie Name
Jai Ho
Original Language Name
जय हो
Year
2014
Release Date
24th January 2014
Languages
Hindi
Storyline
An ex-army officer initiates a unique idea of propagating social responsibility among ordinary people and in doing so, crosses paths with a powerful political family.
Story Summary
Jai (Salman Khan), an ex-army officer, is passionate about helping people and overcomes criminals single-handedly. He was a major in the Indian Army, but was suspended because of a disciplinary action after he ignored the orders of the high command and went ahead to rescue a bunch of children from terrorists. He now lives with his mother (Nadira Babbar) as well as his sister Geeta (Tabu), whom are not on speaking terms with each other since Geeta married a Muslim man against her mother's wish.
Jai once helped a physically disabled girl, Suman (Genelia D'Souza) to write her examination, but on another day, during one of her other examinations, no one turned up to help, despite her persistent begging. Depressed, Suman commits suicide, by jumping of the building. Disturbed by this incident, Jai feels that unlike himself, people don't help others and hence plans to start a network system that works on the concept that everyone should help three people and should ask them to help three more people and so on. Jai believes that this network will help develop a better attitude among the people but faces disappointment.
One day, Jai beats a rich man who injured a child beggar. To take revenge, the rich man employs some goons who take Jai's sister Geeta and friend Rinky (Daisy Shah) into their custody. Jai saves them and breaks the hand of a goon who happens to be the henchman of an MLA (Mukul Dev), who is also the son-in-law of Home Minister Dashrat Singh (Danny Denzongpa).
The Home Minister takes it as a prestige issue and tries to avenge Jai by kidnapping his nephew but loses his son-in-law (Mukul Dev) in the process. When the Chief Minister Ashok Pradhan (Mohnish Bahl) comes to know about Jai's concept, as his own life was saved by a school girl, he intervenes to bring in a patch-up between Jai and Dashrat Singh. Instead, Dashrat Singh plans to kill him and frame Jai in the murder. But Jai runs away with the injured Chief Minister and saves him. Dashrat Singh's son Arjun Singh (Haroon Qazi) along with his goons attack Jai. Jai kills him but gets severely injured after getting hit by a knife that was punched in his back by Dashrat's daughter (Sana Khan) before he killed Arjun. A rickshaw driver (Mahesh Manjrekar) and army officer and former colleague Arjun Kaul (Sunil Shetty) help him to get to the hospital. Meanwhile, Dashrat Singh spreads the rumour in the media that Jai was responsible for trying to kill the Chief Minister but finally the Chief Minister recovers and reveals the truth leading to a crowd beating Dashrat Singh. Finally, the doctors successfully save Jai. Jai comes to know that his help-three-people concept worked well and the same concept saved his life. He walks out of the hospital to find thousands of people waiting for him and he thanks them all for making his concept a success. The plot of the story gives a message among the youth that one must practice and follow goodness.
Story Tagline
People's Man
Run Time
135 Mins
Censor Rating
u/a
Movie Budget
INR 65000000
Gross Income
INR 18300000
Movie Crew
[
Top ⇑
]
Interesting Facts and Trivia
[
Top ⇑
]
The first poster was unveiled by Salman Khan on 6 December 2013. It consists of a digitally merged image of thousands of fans rendering a portrait of Khan and was created by his fans.
Salman Khan and Co-Actress Tabu,Further Shooting was brought to Kolhapur was shot in March 2013.In April 2013 Shooting was shifted to Lavasa where few action scenes and A Song 'Baaki Sab First Class' was shot.
Jai Ho had the ninth highest first week of all time as it grossed INR81.72 crore (US$13 million) nett in its first week.
The film suffered losses from piracy as a pirated print of the film was uploaded on YouTube by a Dubai-based user on January 28, 2014. The video had 1,08,151 views till the time it was taken off by the video-sharing site on February 1. A better print of the film was put up on Feb 2 morning.
Shooting Was Done in Goa Karjat Mumbai Hyderabad Rome. Majority of the film has been shot in Mehboob Studios,whereas Salman Khan and Amitabh Bachchan Met in October 2013.
Principal Photography Begun From 27th February 2013,shooting 12days shooting schedule in Dubai action scenes were shot in Wonderland.
About the piracy DNA reported that Khan had requested that the ticket prices be kept at the minimum so that people could see the movie because of its message.
Shooting started on 27 February 2013 but was then postponed from February to March. Shooting began in late March 2013.
In July 2013 high octane action scenes was shot in Ramoji Film City.
Jai Ho had around INR40 crore (US$6.3 million) spend on the production side. The film cost around INR65 crore (US$10 million) including marketing and prints but not including Khan's remuneration.
The film is an official remake of the 2006 Telugu film Stalin directed by A. R. Murugadoss, with the plot of the film being inspired from Pay it Forward.
Jai Ho was released on around 3900 screens in India. The domestic and overseas theatrical rights were sold for INR1.10 billion (US$17 million).
The soundtrack of Jai Ho is composed by Sajid–Wajid (3 tracks), Devi Sri Prasad (1 track) and Amaal Mallik (3 tracks). The soundtrack was released on December 24, 2013, consisting of nine tracks.
Quotes
[
Top ⇑
]
Subhash K. Jha gave it 4 stars out of 5 and says, "'Jai Ho' makes for an engaging if somewhat incomplete view of present-day corruption-ridden India".
Anupama Chopra gave the movie 2.5 out of 5, wondering if it is even a film.
Taran Adarsh gave it 4.5 stars out of 5 and calls it a "noble, well-intentioned message narrated in an entertaining format".
Similar/ Related Movies
[
Top ⇑
]
a 1975 movie by Ramesh Sippy
Actors & Actresses: Amitabh Bachchan, Dharmendra, Sanjeev Kumar
Adventure, Action
a 2007 movie by K Madesh
Actors & Actresses: Darshan Thoogudeep, Navya Nair, Master Hirannaiah
Drama, Action
2014 movie by Vinil Mathew
Actors & Actresses: Sidharth Malhotra, Parineeti Chopra, Adah Sharma
Romance, Drama, Comedy
2014 movie by Nitesh Tiwari
Actors & Actresses: Amitabh Bachchan, Boman Irani, Parth Bhalerao
Fantasy, Drama, Comedy
2014 movie by
Actors & Actresses: J. Brandon Hill, Natasha Sikka, Alex Peters
Thriller, Drama, Action
a 2014 movie by Sanamjit Singh Talwar
Actors & Actresses: Harman Baweja, Harsh Chhaya, Sunny Deol
Thriller, Action
2014 movie by David Dhawan
Actors & Actresses: Salman Khan, Nargis Fakhri, Varun Dhawan
Comedy, Action
a 2014 movie by Ali Abbas Zafar
Actors & Actresses: Ranveer Singh, Irrfan Khan, Priyanka Chopra
Romance, Drama, Crime
a 2014 movie by Umesh Bist
Actors & Actresses: Pulkit Samrat, Bilal Amrohi, Dipanjan Guha
Comedy
a 2004 movie by Vijay Krishna Acharya
Actors & Actresses: Aamir Khan, Abhishek Bachchan, Katrina Kaif
Thriller, Action