► Watch Movie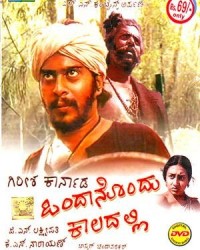 Ondanondu Kaladalli
(ಒಂದಾನೊಂದು ಕಾಲದಲ್ಲಿ)
1st August 1978- Action, Adventure, Drama, Martial Arts, Political, War
Gandugali is a mercenary who rescues couple of wounded soldiers, he is haired by the chieftain to train his soldiers
..
Ondanondu Kaladalli: Pictures, Posters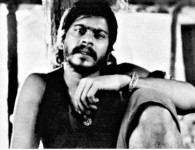 Shankar nag from ondanondu kaladalli
Movie Cast
[
Top ⇑
]
Movie Details
[
Top ⇑
]
Movie Name
Ondanondu Kaladalli
Original Language Name
ಒಂದಾನೊಂದು ಕಾಲದಲ್ಲಿ
English Translation
Once Upon a Time
Year
1978
Release Date
1st August 1978
Languages
Kannada
Storyline
Gandugali is a mercenary who rescues couple of wounded soldiers, he is haired by the chieftain to train his soldiers
Story Summary
Gandugali (Shankar Nag) is a mercenary who comes across a band of soldiers on the trail of a couple of wounded enemy soldiers. He ends up rescuing them and is taken to their chieftain who hires him to train his soldiers to fight his brother - his enemy. While there, Gandugali befriends the son of the chieftain's eldest brother, Jayakeshi, who is consigned to tending to cattle by his uncle. Jayakeshi asks Gandugali to help him reclaim his land and reinstate him as the chief. Gandugali refuses saying he is only a mercenary and that the youngster has no money to offer.

Gandugali helps the chieftain earn minor victories against his brother, much to the envy of the chief's commander. After one battle where Gandugali manages to steal the enemy's cattle, on the day of a festival, the commander of the enemy Peramadi(Sundar Krishna Urs) ends up trapped by Gandugali and his men. Gandugali releases him saying that he did not wish to shed any blood on a festival day.

Gandugali returns to his chief with the cattle only to realise that the chief and the commander are dead set against him for releasing Peramadi. The Chief refuses to see him and the commander assigns men to keep an eye on him. Later that night an attempt is made on Gandugali's life, but the men looking out kill the assassin. Gandugali ends up furious when he realizes that men had been assigned to keep an eye on him. Gandugali also realizes that now with Peramadi defeated they don't have anything to fear, and don't have any need for him. He collects his salary and leaves them in anger.

On the way he is confronted by Peramadi who challenges him to a duel. After a long fight where both end up exhausted Peramadi tells him that it was his son who was out to kill Gandugali as his chief had humiliated him for losing the cattle and being defeated by Gandugali, and believes that Gandugali killed him. Peramadi swears to wipe out the whole family of the chiefs including Jayakeshi. Gandugali swears to hunt him down and kill him wherever he is if anything happens to Jayakeshi. Finally, Peramadi makes a deal with Gandugali to help him destroy the family in return for letting Jayakeshi go.

The next few days they send out a warning and a challenge to the chiefs which unites them and their armies. Slowly, Peramadi and Gandugali isolate the chiefs, first by scaring away half the army and then killing some. On the way to the final decisive battle, Peramadi tells Gandugali that if he died in the battle, he would not hold himself to the promise of sparing Jaykeshi and kill him. Gandugali, knowing that Peramadi was not be trusted ensures that Jaykeshi is hidden by that time.

In the final battle, they destroy the chiefs' armies and Gandugali kills the commander in a duel. During this time Jaykeshi escapes from his hideout wanting to fight the war, but holes up with some soldiers who hedge their bets on him becoming the next chief. Gandugali having realized that Jaykeshi has escaped, comes down to the palace looking for him and ends up facing his old chief. He refuses to kill him saying that he served as his servant and ate his salt, and his deal with Peramadi was only to help him get to them. The chief, however, attacks him at an opportune moment, fatally injuring him. Peramadi comes in after killing his chief(the younger brother) and kills the older chief and sounds the bugle to signal the end of the war. Jaykeshi runs down to the palace on hearing that, but on seeing Gandugali dead, breaks down near his corpse. Peramadi comes from behind and raises his sword to kill him, but Jaykeshi escapes after being warned. Peramadi realizes that Jaykeshi was crying over Gandugali, and after a change of heart reinstates him as the chief and walks away.
Run Time
138 Mins
Movie Crew
[
Top ⇑
]
| | |
| --- | --- |
| Writer (story) | Girish Karnad, Krishna Basarur |
| Writer (Screenplay) | Girish Karnad, Krishna Basarur |
| Music Director | Bhaskar Chandavarkar |
| Producer | K N Narayana, G N Lakshmipathi |
| Cinematography | Apurba Kishore Bir |
| Writer (Lyrics) | Chandrashekhara Kambara |
| Writer (Dialogue) | G B Joshi |
| Film Editing | P Bhakthavathsalam |
| Art Director | Jaya Nachiketha |
| Makeup | K V Shanmugam |
| Playback Singer | Kavitha Krishnamurthy |
| Production Manager | Ramakantha Joshi, Sathish Thagarapura |
| Stills | Pragathi Studio |
| Publicity Design | S G Vasudev |
| Director (Associate) | T S Nagabharana, Kanakanahalli Gopi, Krishna Basarur |
| Production (Banner) | L N Combines |
| Stunts | V K Gopalan Gurukkal |
| Sound Recording (Songs) | Bombay Sound Service, Gemini Picture Circuit |
| Sound Recording (Dialogues) | Chamundeshwari Studios |
| Sound Recording (Rerecording) | S P Ramanathan |
| Dubbing Artist | V V Avadhani, Smt Katageri, Sathish Thagarapura, Parimala Nadigera, V M Mantura, Srinivasa Kasanur, Veeranna Kurli, Sri Burli, Nrusimha Katageri, Vijaya Ekkundi, Jayatheertha Joshi, S N Surendra |
Interesting Facts and Trivia
[
Top ⇑
]
The film paved the way for actor and director Shankar Nag's career in Kannada cinema
Kalaripayattu, the ancient indian martial arts is used in the movie
It screened at 14th IFFI Homage to shanker nag.
This movie screened at 7th IFFI competition section. Shanker nag won best actor.
Similar/ Related Movies
[
Top ⇑
]
a 1984 movie by Shankar Nag
Actors & Actresses: Ananth Nag, Shankar Nag, Ramesh Bhat
Drama, Action
a 1980 movie by Shankar Nag
Actors & Actresses: Ananth Nag, Shankar Nag, C H Lokanath
Drama, Crime
1977 movie by B V Karanth, Girish Karnad
Actors & Actresses: Paula Lindsay, Lakshmi Krishnamurthy, Manu
Drama
a 1981 movie by Shankar Nag
Actors & Actresses: Shankar Nag, Akshatha Rao, K S Ashwath
Romance, Musical, Drama
a 1983 movie by T S Nagabharana
Actors & Actresses: Ananth Nag, Girish Karnad, Smita Patil
Thriller, Mystery, Drama
1980 movie by Shankar Nag
Actors & Actresses: Ananth Nag, Shankar Nag, Jayamala
Thriller, Mystery, Drama
a 1979 movie by Chandrashekhara Kambara
Actors & Actresses: Manu, Sundarashree, Swaranamma
Drama, Action
a 1973 movie by Girish Karnad
Actors & Actresses: Master Nataraj, Nandini Bhaktavatsala, Amrish Puri
Drama, Action
1980 movie by M P Shankar, K S L Swamy (Ravi)
Actors & Actresses: M P Shankar, Ashok, Manjula
Family, Drama, Adventure
a 1981 movie by Chandrashekhara Kambara
Actors & Actresses: Lokesh, Jayamala, Manu
Drama