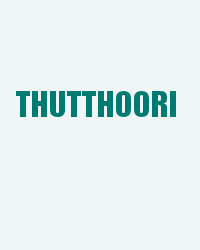 Thutthoori
(ತುತ್ತೂರಿ)
12th May 2006- Drama, Kids
Thuttoori deals with a bunch of children lost in the confines of their homes and computer games.
..
Movie Cast
[
Top ⇑
]
Movie Details
[
Top ⇑
]
Movie Name
Thutthoori
Original Language Name
ತುತ್ತೂರಿ
Alternative Names
Thutturi, Tuthuri ,
English Translation
The Bugle
Year
2006
Release Date
12th May 2006
Languages
Kannada
Storyline
Thuttoori deals with a bunch of children lost in the confines of their homes and computer games.
Story Summary
Put a few children together to be themselves. Lo! They create a wonderful world of their own deriving immense pleasure in PLAYING - and 'learning' through it sub-consciously. Playing in open space is quite different from playing within the four walls of home. Open space provides greater scope for interaction, experimentation and learning besides multiplying the thrill of playing. There lies the imperative need for playgrounds. But where are the playgrounds! Thanks to the indiscriminate growth of concrete jungles of ever-growing cities, there is hardly any open space, let alone proper playgrounds - particularly in the localities where poor and middle class children reside.

This film Thutturi (The Bugle) is an attempt to highlight this problem to raise the consciousness of society about the imperative need of nearby playground for children in each locality.

The story goes like this. Confined to homes for most of the year with heaps of homework and preparation for dreaded examinations, children jump with joy with declaration of summer holidays. That is when they are 'allowed' to go out and play.

Lack of playground in the locality compels them to play in streets. Thanks to blazing publicity, cricket and computer games seem to be the only games these city children are exposed to. The arrival of a village boy opens them up to the joys of rustic village games. Broken glasses, obstruction to traffic etc leads parents to advise children not to play in the streets. They go out in search of a place to play and find a vacant land full of stones & thorns. They plead with the owner of that land - a well-meaning lonely old man left to himself with a lot of riches and also a lot of health complaints. They get his permission to play there. Old man is quite impressed with the way children were clearing up the whole place. He becomes one with them in creating a beautiful playground there with novel ideas drawn from David Werner's famous book on creative use of readily available things around. He proclaims that the playground henceforth belongs to them. Mingling closely with children helps him regain his zest for life. In their company he finds a new meaning to his life. He starts spending more and more time playing and roaming around joyfully with children. His health starts improving.

Old man's only son (Hari), settled in America, is not happy with his father's association with 'street children' as he calls them. He arrives on the scene with his little son (Abhi). Abhi is quite attached to his grandfather. Abhi derives great joy playing with other kids, unmindful of Hari's objections. Hari's admonition of Abhi embarrasses and hurts the old man. To retrieve Abhi and old man from 'street children', Hari virtually orders them to pack-up and move to America immediately, much against his wishes. Hari's rudeness puts old man in a state of shock. He loses his speech and becomes bed-ridden. Hari cleverly uses this opportunity to keep the children away from Abhi and old man. Hari is unmoved by children's pleadings & parents request and, arranges for demolition of the playground to build a commercial complex. Unable to see their fruits of labor (playground) going out of their hands, children obstruct demolition. Children & parents are taken to police station. Embarrassed parents punish their children and order them to remain indoors...

Finally, these children manage to regain their playground with the help of old man. Hari endorses the old man's gift of playground to children.

The film ends with the old man appealing to all parents for dealing with children the right way and grooming them for their all round development providing space for both studies and play.
Movie Crew
[
Top ⇑
]
| | |
| --- | --- |
| Writer (story) | J M Prahlad |
| Writer (Screenplay) | P Sheshadri |
| Music Director | Hamsalekha |
| Producer | Jayamala |
| Cinematography | H N Ramachandra Hande |
| Writer (Dialogue) | J M Prahlad |
| Film Editing | B S Kemparaj |
| Art Director | Shashidhar Adapa |
| Playback Singer | Ajay Warrier, Chetan Sosca, Nandakumar, Deepika, Shruthi, Karthik Sharma, Anirudh, Madhu Balakrishnan, Latha Hamsalekha, Manoj, Divya, Kruthi, Nandini |
| Costume | Anupama Sheshadri |
| Publicity Design | Ammu |
| Production (Banner) | Sri Soundarya Films |
| Public Relations | D V Sudheendra |
Similar/ Related Movies
[
Top ⇑
]
1995 movie by Nagathihalli Chandrashekhar
Actors & Actresses: Vijay Raghavendra, Karibasavaiah, Umashree
Sports, Kids, Drama
a 2001 movie by T N Seetharam
Actors & Actresses: Ananth Nag, Devaraj, Thara
Drama
2006 movie by Kishan Shrikanth
Actors & Actresses: Kishan Shrikanth, Jackie Shroff, Saurabh Shukla
Drama
a 2005 movie by P Sheshadri
Actors & Actresses: Suchendra Prasad, Dattatreya, M P Venkatarao
Drama
1993 movie by T S Nagabharana
Actors & Actresses: Vijay Raghavendra, Krishne Gowda, Avinash
Kids, Drama
1993 movie by K S L Swamy (Ravi)
Actors & Actresses: Master Jayanth, Umashree, Kala
Kids, Drama
a 2000 movie by P Sheshadri
Actors & Actresses: Dattatreya, Thara, Shashikumar
Drama
a 2002 movie by P Sheshadri
Actors & Actresses: Prakash Raj, Dattatreya, Baby Raksha
Drama
a 2010 movie by P Sheshadri
Actors & Actresses: Ramakrishna, Bhavana, Ms Hoda
Drama
a 2011 movie by P Sheshadri
Actors & Actresses: Dattatreya, Suchendra Prasad, Rameshwari Varma
Family, Drama